Tim Ulmer Wins the WSOP Sydney 6-Max Event for $93,787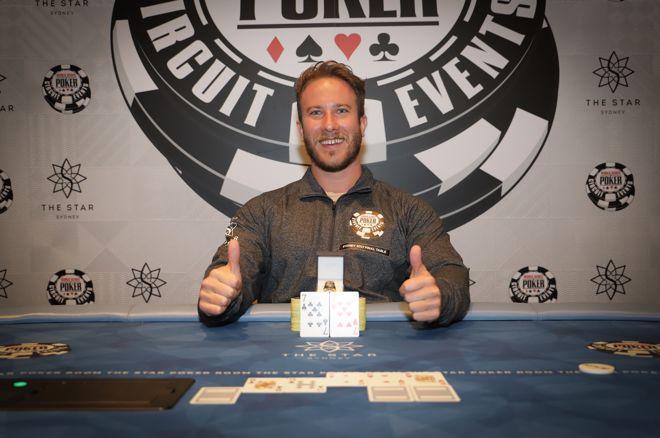 There were 341 players that contributed to the $375,100 prize pool hoping to claim a World Series of Poker Circuit ring at the Star Poker Room in Sydney, Australia on Sunday. The tournament attracted local and national talent for two days of action, culminating in the crowning of a new 2017 WSOP Sydney Circuit 6-Max Event champion.
It was the United States-turned-Sydney resident, Tim Ulmer, who rose to the top and won a third 6-max title of his live poker career, establishing himself as somewhat of a 6-max specialist.
"It's so crazy," Ulmer told the Star Poker Live Reporting Team. "I have never thought of myself as a 6-max player".
On his way to the top, Ulmer avoided plenty of landmines with the likes of Antonis "Toothpick Tony" Karambouroglou, Daniel "Moses" Neilson, and his good friend Jarrod Thatcher standing in his way.
It took just two and a half days of play before the tournament hit the unofficial final table full of big names and a lot skill.
Unofficial Final Table
| Seat | Name | Chips |
| --- | --- | --- |
| 1 | Kevin Flenady | 750,000 |
| 2 | Mai Ha | 780,000 |
| 3 | Antonis "Toothpick Tony" Kambouroglou | 560,000 |
| 4 | Daniel Neilson | 800,000 |
| 5 | Tim Ulmer | 750,000 |
| 6 | Jarrod Thatcher | 515,000 |
| 7 | Tristan Wade | 510,000 |
After about ninety minutes of chips moving around the table and a few big pots that resulted in a few big stacks emerging, Tristan Wade found himself all in with
after losing nearly all of his stack the previous hand. He found a caller when Kevin Flenady turned over
. The board fell
and Wade left with a $10,499 for his two days of work.
The elimination of Wade in seventh-place set up a final table with two big stacks and the rest hoping for some run good.
The Final Table
| Seat | Name | Chips |
| --- | --- | --- |
| 1 | Kevin Flenady | 550,000 |
| 2 | Mai Ha | 890,000 |
| 3 | Antonis "Toothpick Tony" Kambouroglou | 1,600,000 |
| 4 | Daniel Neilson | 400,000 |
| 5 | Tim Ulmer | 1,200,000 |
| 6 | Jarrod Thatcher | 480,000 |
Neilson, sitting on the short stack, found himself looking down at
from the button. What probably looked like a dream, turned out to be a nightmare when Thatcher woke up with
in the big blind. The board paired Neilson's ten but it wasn't enough and he hit the rail in sixth-place and $14,437.
Thatcher couldn't find the momentum after eliminating Neilson and found himself heading home in fifth-place after his flush draw failed to improve against the set of fours of Kambouroglou. Thatcher has been posting some amazing results of late, and the $20,079 he earned here puts him near $150,000 in earnings for the last six months.
Mai Ha never really got anything going during the final table and found himself all in preflop with
. Ulmer made the call with
. The
flop gave Ma some hope, but a spade never materialized ending Ha's run in fourth-place earning him $28,248.
Soon after doubling through Ulmer, Flenady and Ulmer found themselves all in again preflop. Flenady's
was a favorite against Ulmer's
but the poker Gods were especially cruel when they dealt the
board. Flenady hit the rail in third-place collecting a solid $40,214.
The heads-up battle between Ulmer and Kambouroglou was pretty standard up until the last hand. Ulmer raised and Kambouroglou moved all in, putting Ulmer to the test and after some serious thought, he made the call.
Ulmer:

Kambouroglou:
The
board couldn't find a two-outer for Kambouroglou improving his recent final table appearance in the $5K by several spots. His second-place finish earned him $57,945.
Final Table Results
| Seat | Name | Prize |
| --- | --- | --- |
| 1 | Tim Ulmer | $93,787 |
| 2 | Antonis "Toothpick Tony" Kambouroglou | $57,945 |
| 3 | Kevin Flenady | $40,214 |
| 4 | Mai Ha | $28,248 |
| 5 | Jarrod Thatcher | $20,079 |
| 6 | Daniel Neilson | $14,437 |
Obviously, Ulmer is pleased with the result, but he was also pleased with his play. "I never get too hung up on where I am coming in the tournament or how I am doing," Ulmer said. "I take each hand how it comes and try to think of every hand individually".
Ulmer has plans to play some more tournaments during the final week of WSOP Sydney. "I love playing at the Star," Ulmer continued. "The staff are great, the games are great. Although do you know what the best thing about playing in Australia is? The people. The people are so much fun here. Everyone has a good time, it is such a great environment to play poker in."
The Tournament Action Continues
There one week left for your chance at WSOP Circuit ring. The tournament series continues through Dec. 18, 2017, and you can find the full schedule on the StarPoker website.
Finding a trustworthy room to play online poker can be a monumental burden. That's all the more true if you're just looking for a place to play poker for free. We've listed five of the best play-money poker sites to enjoy and help hone your skills.