In Memoriam: Former PokerNews CEO Robbie Davies Passes Away Aged 38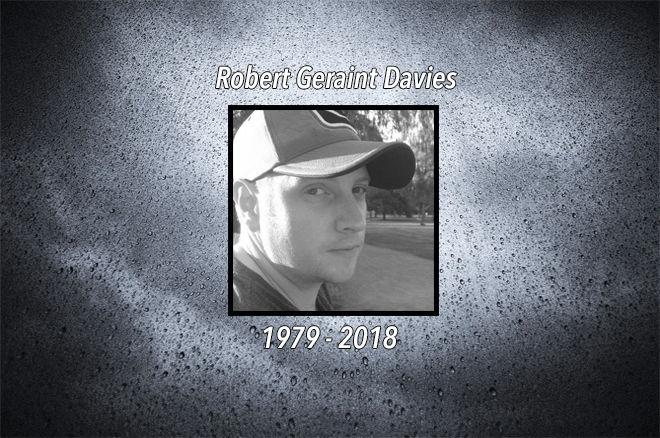 It's with great sadness that we have learned of the sudden passing of PokerNews' former CEO Robert "Robbie" Davies. Robbie passed away Sunday, 1st April.
Robbie joined PokerNews in 2009 after previous roles at eBay and Boeken Media. His skill sets and value to the company were plain to see, and he quickly grew within the ranks, eventually becoming the CEO and overseeing all PokerNews operations at the young age of 29. Robbie steered PokerNews through its darkest days as Black Friday changed the poker landscape indefinitely and, despite the significant challenges this brought, ensured the company continued to grow in stature.
After parting ways with PokerNews in 2014 to take on new challenges, he joined Vancouver based Advisor Websites, a financial website design and marketing company and provided consultancy services to various companies via his company RGD Consulting.
Robbie had had two brain tumors removed, one in 2011 and the other in 2016. The tumor removed in 2016 tested positive for cancer (a grade III Anaplastic Astrocytoma tumor), but the surgery was deemed successful in removing all the cancer and Robbie was luckily spared any further cancer treatments. However, Robbie was given a grim life expectancy, knowing that the tumor in all likelihood would grow into cancer again within five years and surgery would ultimately be too dangerous a third time around. Robbie's cognitive abilities declined steeply after the second surgery, and he even suffered a seizure. Robbie was also afflicted by ADHD, diagnosed late in life. His mental health suffered terribly due to all of this. It saddened him deeply to realize that in all probability he would not see his boys grow up, or be able to provide for his family.
---
PokerNews' Founder - Tony Guoga: "Robbie was a key part of a major transformation in iBus. With his leadership the company went to a whole new level, he was a great leader."
---
PokerNews' Director - Jon Sykes: "Robbie to me was one of a kind and a true gent, it was a real pleasure to work with him over the years and to be able to call him my friend. The news of his passing has shocked me to the core, and my sincerest condolences go out to his family and friends."
---
PokerNews' Head of Content - Frank Op de Woerd: "I'm devastated by the unexpected news that Robbie is no longer with us. I'm saddened by the understanding he could not find his peace here in this world.
I've always known Robbie as someone with a strong opinion and direct approach, something I valued in him as a superior when I worked with him in Amsterdam. You always knew what you were going to get with him, something incredibly important when working together in my opinion.
Robbie was a man of the world, knowing the best places in Amsterdam and many other cities in the world, ready to supply you with insider tips wherever you'd go."
---
PokerNews CEO Jon Squires: "Robbie will be sorely missed by both the iBus community and the poker world at large. He was a well-loved leader in iBus, and it is thanks to the wise decisions that he made during 2011 and 2012 that PokerNews remained a strong brand during difficult times. Everyone who spent time with him enjoyed his company, and we are all crushed by this news."
---
Matthew Parvis, former Head of Content at PokerNews: "I'm deeply saddened by the news of Robbie's passing. While Robbie was my boss for many years at PokerNews, we shared a close friendship that was cemented by numerous European work adventures that I will look back on with a smile. While he was misunderstood by those who didn't know him well, he was a deeply passionate and loyal man who cared so much about his work, his friends, and his family.
While looking through old emails this morning, I came across this one which might be one of my favorites. It epitomizes his quirky, odd sense of humor. We were working crazy hours out of the Lithuanian office, and a few of us got the below email late on a Thursday night…
"Friday is suit up day.
Ask anyone you want in the office to participate, but us 5 are non-negotiable. I want us to look good on Friday for a few reasons. No exceptions.
Regards,
Robbie"
The office was super casual normally. However, Friday morning, needless to say, the core group of managers at the time rolled into the office Friday suited up for no reason whatsoever. We laughed and feigned that we were in the midst of super important meetings when in reality Robbie just wanted us to look and feel good going into the weekend.
Rest in peace, homie. You'll be missed."
---
Our sincerest condolences go out to Robbie's loved ones at this tragic time. The Robbie Davies Memorial Fund has been established in Robbie's loving memory, to create a trust fund to provide support over the coming years for his twins.
At the time of his death, Robbie was receiving disability benefits. He was living with his parents who supported him, and he used his benefits for his children as much as he could.
But with his medical history, Robbie, unfortunately, had no life insurance. With Robbie's absence comes a heavy financial burden for Julie, Robbie's ex-partner and the boys' mother, as well as, more importantly, the lasting psychological impact on Alistair and Evan that the loss of their Dad will bring.
All money raised will go towards filling that gap and lessening the tragic impact, as much as can be. Due to their Dad's health struggles, the twins' lives have been difficult thus far, and although they, fortunately, have a lot of assistance and love from family, the weight the loss of their Dad will bring is not one carried lightly.
You can donate to the Robbie Davies Memorial Fund via GoFundMe.com.