European Law Forces Hendon Mob Database to Offer Account Deletion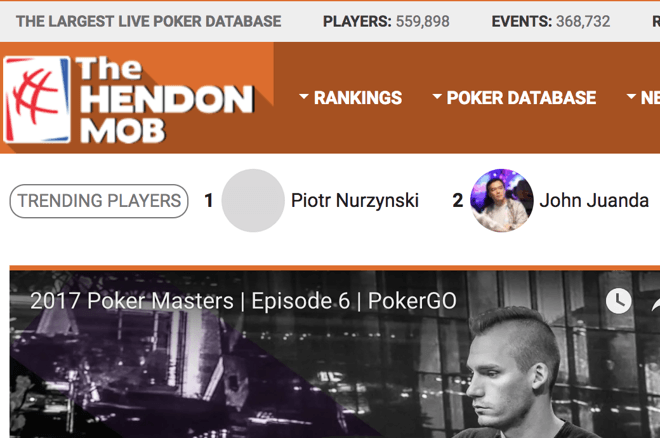 Earlier this week a TwoPlusTwo thread sprung up stating that account deletion on Hendon Mob, poker's most comprehensive results database, was now possible as a result of the European Union's General Data Protection Regulations (GDPR). Additionally, European players can request their existing account be renamed with a nickname.
A representative from Hendon Mob (THM) took to the thread to not only provide some clarification but also to defend the company from those who suggested they engage in "abusive data collection."
"By publishing the results and pay-outs of major tournaments Hendon Mob is no more guilty of 'abusive Data-collection' than the APT or the PGA," wrote RolandTHM. "The information published on THM has already been released by a Casino or Tour in line with their own T&Cs, which a player agrees to by registering the tournament."
Hendon Mob: "Yes, GPDR has caused some changes to the way we operate."
He continued: "Yes, GPDR has caused some changes to the way we operate, but we will continue to work hard to serve the community, to improve the product we offer to poker fans, players and media and to continue to grow our traffic year on year. We would like to thank those who support Hendon Mob by visiting the site, following us on Social Media and interacting with us via any of our sites or initiatives."
The GDPR rules, which allow European citizens to request corrections or deletion to their online data, went into effect on May 25. If a company fails to honor such requests, they can be fined up to €20 million (£16.5 million) or four percent of global annual revenue.
Hendon Mob, which was acquired by the Global Poker Index (GPI) in July 2013, collects results from many casinos and most major poker tours and events. To date, the site has profiles on just under 560,000 players, info on 368,732 events, and more than 2.5 million results. The site was originally established in 2000 by UK poker pros Joe Beevers, Ram Vaswani, and brothers Ross and Barney Boatman.
Players React
The TwoPlusTwo thread quickly filled with reactions of the news. Many players thought the new development was a bit ridiculous given the database is comprised of public records.
"When you register a tournament in a casino it should be expected for your name to appear in chip counts lists, in blog posts, and possibly in pictures and live streams," wrote GrimeRat420. "I think finding loopholes around this is an unreasonable expectation of privacy in a context where it doesn't make sense to expect it in any form."
Boss716: "People should be allowed to play poker and not have it posted to the Internet for everyone to see."
NickMPK added: "So do major league baseball players have the right to have their stats removed from ESPN.com if they have a bad season? I don't understand the specifics of this law. This isn't personal data, it is all public record. And doesn't everyone sign a waiver when they enter a poker tournament allowing the casinos to publicize winners?"
On the flip side, plenty of players applauded the move. Boss716 was one of the most vocal in the thread.
"Because grownups with real jobs might not want it public that they play poker," he wrote. "Or how much they've won / how often they play... People should be allowed to play poker and not have it posted to the Internet for everyone to see. I am a huge fan of this move. I've personally been asked by employers about it because all you see when you Google me are poker results. And even though players see poker differently, you have to consider public perception, and that 99% of people don't consider it a legitimate game of skill or intellect but just gambling, and that doesn't look good to a lot of people."
Others suggested the GDPR laws will allow players to hide results from backers and the tax man. We'll leave it up to you to determine whether that's a good or bad thing.
Those European players interested in either removing or altering their profile can contact Hendon Mob administrators at [email protected].
Executive Editor US, PokerNews Podcast co-host & 2013 WSOP Bracelet Winner.