Adrian Mateos Clinches First Super MILLION$ Title ($428,624)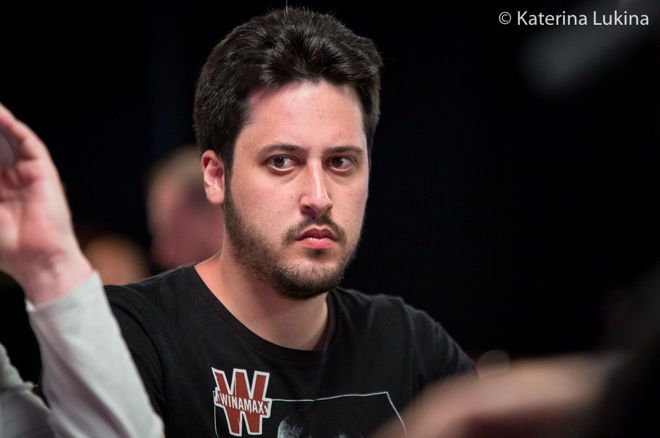 There are very few major poker titles that Adrian Mateos has not one. Mateos can scratch the GGPoker Super MILLION$ off his list of to-do events after he took down the 42nd edition of the $10,300 buy-in tournament on March 30.
Super MILLION$ Final Table Results
| Place | Player | Country | Prize |
| --- | --- | --- | --- |
| 1 | Adrian Mateos | Mexico | $428,624 |
| 2 | Aliaksei Boika | Mexico | $330,514 |
| 3 | Nator | Mexico | $254,861 |
| 4 | Art Papazyan | Mexico | $196,525 |
| 5 | David Coleman | Canada | $151,541 |
| 6 | Joao Vieira | Luxembourg | $116,854 |
| 7 | RRomashka | Russia | $90,170 |
| 8 | Sam Greenwood | Canada | $69,482 |
| 9 | Yuri Dzivielevski | Brazil | $53,578 |
Last week's Super MILLION$ champion Yuri Dzivielevski sat down at the final table seventh in chips, which was the same spot he begin his title-winning final table in. There was no epic comeback this week because the Brazilian was the first player out of the door.
Blinds were 25,000/50,000/6,000a, and Mateos open-shoved from the small blind with king-ten. Dzivielevski tank-called off his 1,267,199 stack with pocket sixes, and it was off to the races. A ten on the flop handed the pot to Mateos and sent Dzivielevski to the showers.
Back-to-Back Pocket Nines Send Greenwood Home
Another superstar in the shape of Sam Greenwood was the next to fall. Aliaksei Boika min-raised on the button with queen-ten, and David Coleman ripped it in from the small blind for 1,377,276 with ace-five of clubs. Greenwood shoved for 1,678,373 with pocket nines, which folded out Boika. An ace on the turn left Greenwood with only 3.5 big blinds in his stack. That micro stack went into the middle on the next hand, again with pocket nines. Joao Vieira called in the big blind with king-ten of clubs before improving to a Broadway straight on the river.
Get Ready for GGPoker's Biggest Spring Series Ever!
Russia's "RRomashka" saw his tournament end in seventh-place, for $90,170, the last prize not to weigh in at six-figures. RRomashka open-shoved five big blinds with king-ten of spades from late position, and "Nator" looked him up with pocket deuces on the button. The pair of twos held despite RRomashka having a plethora of outs.
Sixth-place and $116,854 went to Vieira who raised to 126,000 at the 30,000/60,000/7,500a level. Nator three-bet to 393,750 with ace-queen in the small blind, and Vieira called. Nator flopped a boat, aces full of queens, and the writing was on the wall. Nator bet 294,525 and Vieira called with his diamond flush draw. The turn completed a diamond flush for Vieira; Nator checked its arrival. Vieira bet 390,000 and was called. A brick river saw Nator check again. Vieira took the bait and 660,000 into the 2,261,550 pot, leaving himself only 395,000 behind. Nator raised, and Vieira called off his remaining chips with what turned out to be an expensive second-best hand.
Head to the NEW GGPoker Hub
Want to stay up-to-date on all the latest GGPoker news right here on PokerNews? Why not try out the new GGPoker Hub!
Coleman Loses Key Coinflip
Coleman lost all but 6.5 big blinds when his jacks lost to the ace-queen of Boika. Unsurprisingly, Coleman was the next player out of the door. Cash game specialist Art Papazyan min-raised to 200,000 with king-ten of diamonds, and Coleman called in the big blind with eight-seven. Coleman paired his seven on the flop and shoved his last 3.5 big blinds and was called. A king on the turn sent Coleman home.
Papazyan could not put those chips to good use because he was the next player eliminated. His demise came at the hands of Boika, who open-shoved from the small blind with jack-eight of spades, and Papazyan called off his 13 big blinds with ace-five of hearts. An eight on the flop put Boika into the lead, which is where he stayed through the turn and river.
That hand pushed Boika further into the lead. he had, in fact, more than twice the number of chips as Mateos and Nator combined. Mateos cut that lead by helping himself to Nator's stack.
Nator raised three-times the big blind, from the small, blind with ace-ten, and Mateos called with four-three of hearts. The flop fell jack-high with two hearts, and Nator greeted it with a 252,450 bet. Mateos jammed, and Nator did not believe him because he called off the 1,690,388 chips he had behind. The queen diamonds turn changed nothing, but a three on the river sent Nator to the rail.
Win Bounty Prizes in the $5k Showdown with Russell Peters on GGPoker
Mateos Trails At The Start of Heads-Up
Mateos trailed by 7,562,628 to 13,637,372 chips to Boika but a player of Mateos' stature is always in with a shot with even a single chip at their disposal. Mateos pulled level in the opening exchanges, before claiming the lead for himself. Boika reclaimed the lead, but Mateos went on a charge to take down the tournament.
The final hand took place during the 125,000/250,000/30,000a level and saw Mateos raise to 550,000 with queen-jack. Boika three-bet to 1,826,000 with seven-six, which Mateos called. Boika paired his seven, but Mateos paired his jack. Both players checked. A five on the turn saw Boika lead for 1,224,960 and Mateos call. The turn was a queen, Boika checked, Mateos set him all-in for his 5,925,156 stack, and Boika called only to discover the bad news.
Boika collected $330,514 while Mateos banked $428,624. No doubt we will see both these poker Goliaths in action during the upcoming $150 million guaranteed Spring Series.