Natural8's Help Fight Covid-19 in India Campaign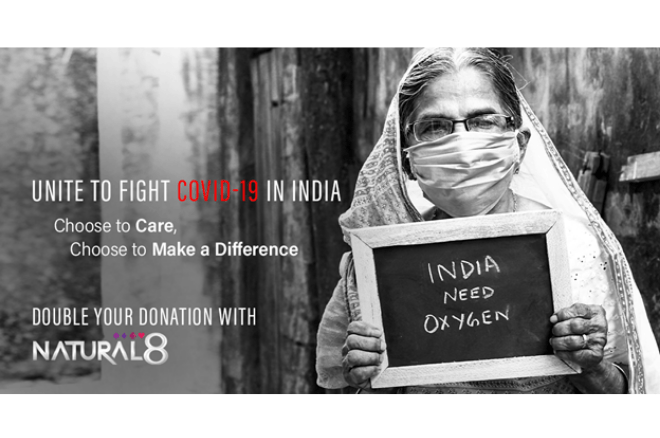 Table Of Contents
In the late first quarter of 2021, the world was taken by surprise by the exponentially increasing numbers of Covid-19 patients in India. From daily confirmed cases of less than 20,000 in February 2021, it suddenly went out of proportion, and by May 2021, the daily infected patients have reached over 300,000 daily, with the highest number of confirmed infected patients at over 400,000 in some days.
As the second most populated country in the world, this has gone way beyond what the country is ready for. As a result, hospitals all over the country are at full capacity and running out of medical equipment such as medical oxygen, which is an essential treatment of Covid-19.
Your Donations
Seeing the desperate situation in India that is only getting worse by day, Natural8 organized the Unite To Fight Covid-19 Fundraising Campaign. Through this campaign, Natural8 hopes to make a plea to all Natural8 players from around the world to come together and take a stand against Covid-19. Along with this campaign, Natural8 has promised that for every dollar players contribute, it will match it dollar for dollar.
This campaign has been underway for more than a week now. So far, thanks to the generous donations of Natural8 players and its partners, they have managed to raise more than $25,000 for the cause.
When asked about the fundraising campaign, Natural8's CSR Program Manager said "We're so proud of our partners and players for coming together and contributing to the fundraising efforts. There are limits to what we can do for our friends in India, but the thoughts behind your donations are what matters most, as together, we can make a change."
As you may know, all contributions made during this campaign will be contributed to Cryptorelief, a community-run fund that aims to deliver relief during the ongoing covid crisis in India.
As to why Natural8 decided on Cryptorelief, this is largely due to the alignment in our missions. Cryptorelief's mission is to "reduce suffering by providing healthcare and essentials to those fighting for survival against Covid", which is what Natural8 wants as well.
Coming Together
In this difficult moment, in the face of a pandemic that has taken over 3.45 million lives, it is heartwarming to see a community of people put their differences aside to focus instead on the more important matter at hand—helping their fellow humans.
Natural8 ambassadors and members of Team Hot such as Michael Soyza, Danny Tang, Kitty Kuo and Pete Chen have also contributed to the fundraising efforts. When asked for his thoughts on the fundraising campaign and the situation in India, professional poker player and Team Hot member Michael Soyza said, "The current situation in India is a crisis that will have ripple effects seen across the globe. It is important that we come together and help those in need."
As such, Natural8 would like to use this opportunity to wholeheartedly thank everyone who has contributed to this campaign. "Your contributions will go to providing aid in the forms of medicines, oxygen, and other essential items that are crucial for the fight against Covid-19, and in the process, help to rebuild hope in those whose lives have been severely affected by the disease. We applaud your generosity and extend our heartfelt thanks to all those who have contributed." said the Managing Director of Natural8.
At the same time, we would also like to use this moment to encourage everyone else who hasn't done so to join in on the Unite To Fight Covid-19 Fundraising Campaign. Every dollar helps in providing relief to those who are suffering in India, and the smallest of charity can make a huge impact on another person's life.
Natural8 is Asia's largest online poker room that is geared towards recreational players, with the aim of making poker fun again. A skin on the reputable GGPoker Network, Natural8 is fully licensed and authorized. Anyone can join for free, and there are no hidden fees. On top of the $120 million guaranteed prize pool for tournaments every month, Natural8 also offers players extra incentives in the form of monthly promotions and cashback program.
Sponsor-generated content by Natural8