Stranger Things & Black Widow Star David Harbour Talks Poker & Rounders Movie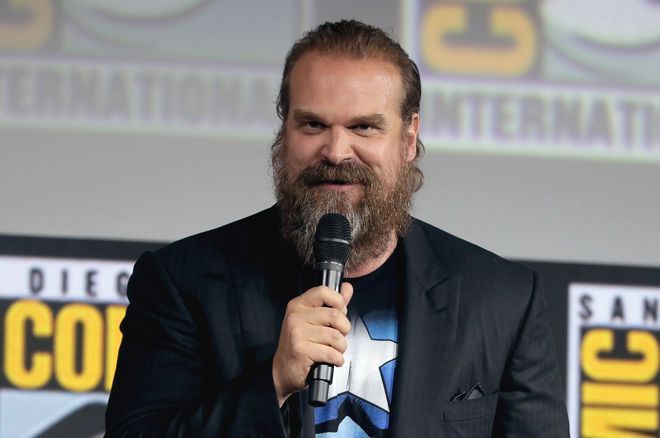 Table Of Contents
There are few Hollywood stars hotter right now than David Harbour, who stars in Netflix's Stranger Things as well as in the latest Marvel movie, Black Widow. As it turns out, Harbour used to grind poker as revealed in a recent interview with First We Feast, an online magazine focused on food, drink, and pop culture.
In the video interview posted to their YouTube Channel on July 15 that already has more than 1.4 million views in just three days, Harbour sat down with host Sean Evans to chat. During the conversation, guests must answer questions as they eat progressively spicy chicken wings. The show has featured A-list celebrities including Ed Sheeran, Billie Eilish, Gordon Ramsay, Kevin Hart, and Shaq.
Among the topics covered in the interview included Shakespeare, penguins, and most applicable to our readers, poker!
New York Underground Poker Clubs
Early on in the interview, Evans asked, "What's the most harrowing experience you had as a young man and member of an underground New York City poker club?"
Harbour immediately broke out in laughter wondering how the interviewer even knew about the topic.
"Did we play together?" Harbour asks.
Evans responded in the negative and then asked Harbour if he ever saw a brazen armed-robbery attempt or play in a high-stakes game.
"Yeah, I used to play in some high-stakes games," Harbour said while wiping his mouth. "I never saw anything go down but one of the reasons those places got shut down because they were sort of sanctioned, I mean under the table, by the cops for a long time. And then what happened was guys would break-in, a guy broke in, I guess a couple guys broke in with shotguns and accidentally one of them went off and shot an old guy. It's not as romantic as you think it is."
Fond Memories of Rounders
Harbour then referenced a cult favorite flick amongst poker fans – Rounders. It was in those New York City games that Harbour claims to have crossed paths with screenwriters David Levien and Brian Koppelman, who have since gone on to write the hit Showtime series Billions.
"That movie Rounders, that's what is like in my head," Harbour said. "Those guys who wrote that movie, I used to play with, and I know the guy who is Teddy KGB and he does not look like John Malkovich, he looks like kind of a dumpy, little dude. But yeah, there was a real beautiful moment in the underground poker scene in New York that I wish lasted forever."
Here's a look at the First We Feast interview with David Harbour. The poker talk starts at the 5:32-mark.
*Lead image from wiki.commons
Executive Editor US, PokerNews Podcast co-host & 2013 WSOP Bracelet Winner.