The Muck: Did Phil Hellmuth's F-Bomb Rant Cross the Line?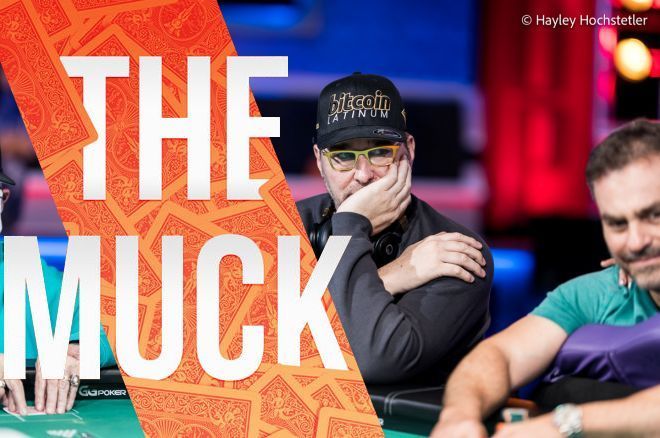 It's time to have a discussion about Phil Hellmuth and his behavior. On Monday at the final table of Event #19: $10,000 Seven Card Stud Championship, the "Poker Brat" went on a 15-minute profanity laced rant, which also included him "jokingly" threatening to burn down the casino (yes, really) and tossing his cards off the table in frustration.
Losing Pot Puts Phil Hellmuth on Max Tilt
Hellmuth, who entered the final table with a big stack, busted in fourth place for $54,730, just shy of his 16th bracelet. A couple hours before his bust-out hand, he lost a crucial pot to Anthony Zinno, the eventual winner. In the now infamous hand, Hellmuth began with a pair of queens, but lost to a well disguised nut flush on seventh street.
Hellmuth's hand never improved, and losing the pot greatly diminished his chances to win the bracelet. The reality that a 16th bracelet likely wasn't in the cards put the Poker Hall of Famer on max tilt, and he may have even crossed the line of decency in the process.
"This mother****r, he peels the five of diamonds like it's nothing and makes a f*****g flush," Hellmuth ranted while standing up as the other players waited for him to just muck his cards so they could move on to the next hand. "Nice f*****g river."
"They f*****g overplay their hands against me. That's why I win all these f*****g tournaments."
Hellmuth then began mumbling more f-bombs under his breath, which PokerGO cameras captured, as the next hand was dealt. Moments later, he smacked the table, stood back up and shouted, "god damn mother****r!"
"F*****g punish me, he pops me on the f*****g turn with a diamond draw and an ace," Hellmuth continued, talking to himself while the others were more focused on the next hand. "There's like one ace left. F**k! How does he get rewarded for that bulls**t f*****g play? They f*****g overplay their hands against me. That's why I win all these f*****g tournaments."
Zinno was the chip leader at the time and began the hand with four diamonds, one being the ace, in the first five cards dealt. He picked up his flush on seventh street. Hellmuth had the lead in the hand throughout with a pair of queens from the start but had nothing to go with it.
"Miracle f*****g river," Hellmuth continued ranting as Zinno sat silently. "God dammit, what the f**k is going on here? A mother*****g diamond, he popped it every street like he was gonna get me out of there or some f*****g bulls**t."
Hellmuth then mucked his next hand by tossing them off the table. He then stood up again and walked around the feature table area inside the Amazon room, and continued firing profanities for a good 10 minutes.
'Joking' About Burning the Casino Down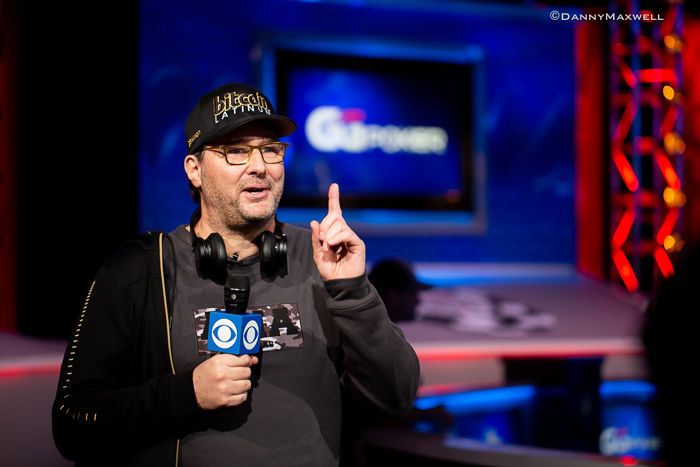 If Hellmuth hadn't already crossed the line with his string of profanities, he may have in the following quote:
"So un-f*****g fair, I play like a f*****g genius every f*****g day," he ranted before going well beyond crossing the line. "I think I'm gonna burn this f*****g place down if I don't win this f*****g tournament."
"Well, they're actually taking a wrecking ball to it soon, so you'd be doing them a favor," PokerGO livestream commentator Norman Chad joked. "
"You might get some help burning it down," Poker Hall of Famer Jack McClelland, who finished in fifth place, joked to his table mate.
Hellmuth wasn't done making threats against the casino. It's unlikely he'd actually ever go through with those threats and he made the comments in the heat of the moment. But it wasn't just one threatening comment.
"F*****g burn this place down, it's a joke," Hellmuth again said as the cards continued to be dealt.
Hellmuth then said he was just joking and that, "I would never be violent." But the comments he made had some poker fans on social media wondering how he continually gets away with that type of behavior without penalty. Would an Average Jane poker player receive penalties for "joking" about burning down the casino and dropping dozens of f-bombs at the table?
@WSOP @phil_hellmuth @AntZinno @PokerGO I like Phil, that said you let him drop at least 20 MFers and 20 F bombs af… https://t.co/MVA85Ovrso

— Brian Patterson (@xxxbjp)
There needs to be some enforcement of rules for pros. Especially when it comes to throwing cards at dealers. @WSOP https://t.co/9KlF77QJQB

— Ryan Laplante🏳️‍🌈 (@Protentialmn)
@jurbanic95 @Protentialmn @WSOP If everyone did that playing would be miserable. He shouldn't be exempt from following the rules

— Isaac Wain (@isaacwain)
The entire lengthy Hellmuth rant can be viewed on the PokerGO app.
Hellmuth Puts Poker Twitter on Tilt
Phil Hellmuth has a history of bratty behavior at the poker table. As McClelland, who finished fifth ($40,284) in the $10k stud event, told PokerNews during a final table break, Hellmuth is, "the sweetest guy in the world" away from the poker table. But many poker players over the years have argued his meltdowns are unacceptable and that he should be punished just like any random player would.
The blowups are part of Hellmuth's celebrity. On one hand, he's responsible for bringing interest to the game of poker as much as anyone in history. But many on poker Twitter don't seem to care, especially after his latest meltdown.
@phil_hellmuth @WSOP The outburst was a disgrace. No amount of bracelets or advisory boards that you mention when… https://t.co/B0Oxyn2scw

— JK (@JKush33)
@phil_hellmuth @WSOP @AntZinno You are the player with most bracelets at WSOP but you are not a Champion. Champions… https://t.co/GpMydLQeSl

— Filipe Pacheco (@Filpac)
Was @phil_hellmuth out of line last night at the final table of the WSOP $10,000 stud final table?

— Norman Chad (@NormanChad)
Although it appears most on social media criticized the "Poker Brat," some stood up for him and excused his behavior.
@dontquit @phil_hellmuth @WSOP He is acting like he is one of the best in poker because he is one of the best, if n… https://t.co/Zmopik3hOu

— Greg Ellis 🍀 (@greg_ellis)
Phil Hellmuth is a Poker Hall of Famer. He has 15 WSOP bracelets and no one else has more than 10. Without question, he's one of the game's all-time greatest tournament players, and he's done wonders to attract new players to the game, including some celebrities. But many poker players don't seem to think that excuses the behavior he displayed on Monday and numerous other times in the past.