Mike "BrockLesnar" Holtz Wins 2021 WSOP.com Player of the Year

After a long, twelve-month battle against thousands of other players, Mike "BrockLesnar" Holtz handily finished atop the 2021 WSOP.com Player of the Year leaderboard to win $10,000 in cash and an exclusive WSOP.com Player of the Year ring.
Holtz follows in the footsteps of YK "LuckySpewy1" Kwon, who won WSOP.com Player of the Year in 2020.
"It was a pipe dream that I had considered before, but if I'm being honest, I thought it would be unattainable," Holtz told PokerNews. "One person gets it per year, you have to beat out tens of thousands of people. The truth is I wasn't playing on WSOP.com at the end of 2020. I had good results but I was mostly playing on shady phone apps. I felt like I was doing well and didn't plan on returning to WSOP online at least for the beginning part of 2021."
He continued: "When the Player of the Year rankings came out early I was in second place by a small margin, but once I was in first place I never looked back. It didn't become real to me until the summer when the bracelet events were taking place. I started the month with a 3,000-point lead over second place. When the bracelet events had concluded the following month, I was 20,000 points ahead. This was over 50% more points than second place. That's when I knew I was mostly likely going to win POY."
2021 WSOP.com Player of the Year Final Leaderboard
Player of the Year points were awarded in all scheduled Multi-Table Tournaments (MTTs) that award edcash prizes between January 1, 2021 and December 31, 2021. Single-table, multi-table, heads up, and satellite Sit & Go (SNG) tournaments were not included in the points calculations, while restricted events such as Ladies Only and invitational events were excluded.
Here's how things stacked up at the end of 2021:
| Place | Player | Points |
| --- | --- | --- |
| 1 | Mike "BrockLesnar" Holtz | 84,095.07 |
| 2 | Krista "Pollux" Gifford | 69,381.14 |
| 3 | Christopher "Basile28" Basile | 55,894.93 |
| 4 | Qinghai "011POKERDR" Pan | 53,726.89 |
| 5 | YK "LuckySpewy1" Kwon | 53,399.29 |
| 6 | Mike "Mkspresident" Shin | 53,117.68 |
| 7 | Thomas "Zebra_Debra" Sabatino | 53,089.25 |
| 8 | Dan "Feeltheflow" Sindelar | 50,953.87 |
| 9 | Anthony "boom81boom" Chin | 49,715.63 |
| 10 | Jonathan "Art.Vandelay" Dokler | 49,554.33 |
Who is Mike "BrockLesnar" Holtz?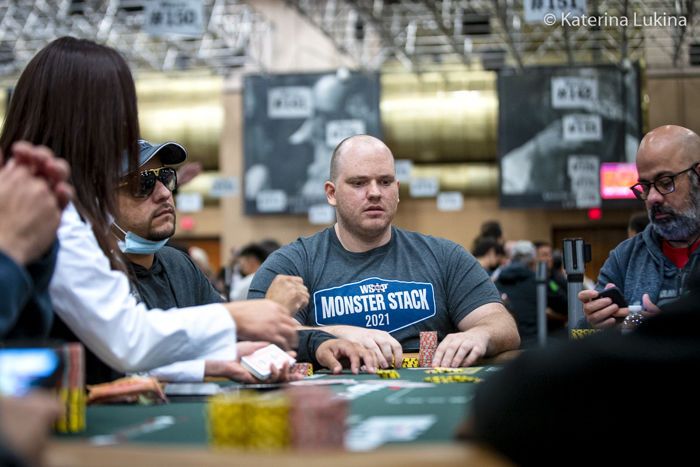 While born in Washington D.C., Holtz lived the majority of his life in Ocean City, Maryland with his mom and younger sister before recently relocating to Las Vegas. He graduated from Stephen Decatur High School and went to Wor-Wic Community college for hospitality management, but pursuing education was never really his thing.
"I never did particularly well in school," Holtz admitted. "I hated studying and I am an extreme procrastinator. What I was good at were games. When I was 17, I was one of the best World of Warcraft players in the world. I traveled the world playing the World Series of Video Gaming, one of the original Esports companies. I felt like I was on top of the world but the truth is that couldn't have been further from the truth."
As it happened, the World Series of Video Gaming went out of business and Holtz found himself a broke 18-year-old high school graduate without much ambition. He took odd jobs stocking shelves, working security, and even doing telemarketing. However, the idea of making more money led him to selling marijuana, for which he was eventually arrested.
"While I was in jail I was given an opportunity to get out on work release every day and work at a place called Park Place Hotel. I had several people there that supported me and helped me turn my life around. When I got out of jail I continued to work at the hotel, eventually moving up to a front desk management position."
It was while working at the hotel that a coworker asked if Holtz played poker, which he had started playing a couple of years earlier in a $20 buy-in cash game at a friend's house.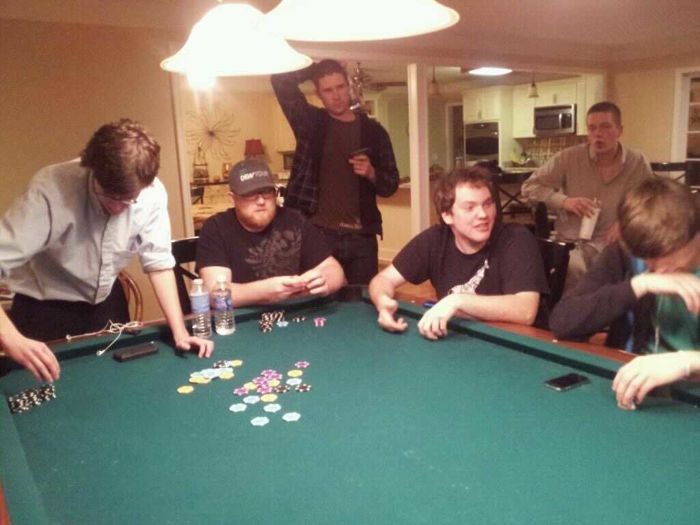 "I hadn't played seriously for a couple of years but I was itching to play and he offered me a seat in his Tuesday home game," Holtz recalled. "I remember when I told my boss that they invited me to the game that she was worried for me. She told me they were all sharks that would take my money. I was so nervous to play the game, but after the dust was settled I walked away the big winner for the night, and I had a ton of fun."
For the next year, Holtz played in the Tuesday night home game, and not only did he win, but he also made friends along the way.
"Here I was a young kid playing with all the biggest business owners in town," he said. "They treated me like I was one of the guys but I was half their age. I don't know if I would be where I am today without that game. It's where I built my bankroll and reinvigorated my love for poker."
After saving $50,000 from that game and padding his bankroll at the local casino, Holtz took the plunge and moved to Las Vegas.
Building a Legacy on the Grind
When he first moved to Vegas, Holtz would spend 5-6 days a week playing $1/$3 or $2/$5 NLH at the Wynn, which is slated to host the second annual Wynn Millions in March. Middling success and boredom drove him away from cash and into the loving arms of online tournaments where he had some good results.
"I started playing more often during the pandemic. I played several months in a row and felt like I was getting better and having great results," Holtz explained. "That's when I fully made the transition to tournaments. I actually just picked up mixed games this year. I had played a tiny bit of PLO before this but nothing serious. This year I received coaching in mixed games from one of my good friends, [2006 WSOP POY] Jeff Madsen. He has been instrumental in the success and improvement of my mixed games. We did 12 hours of sessions before the big PLO bracelet events, where I had two massive five-figure scores back to back."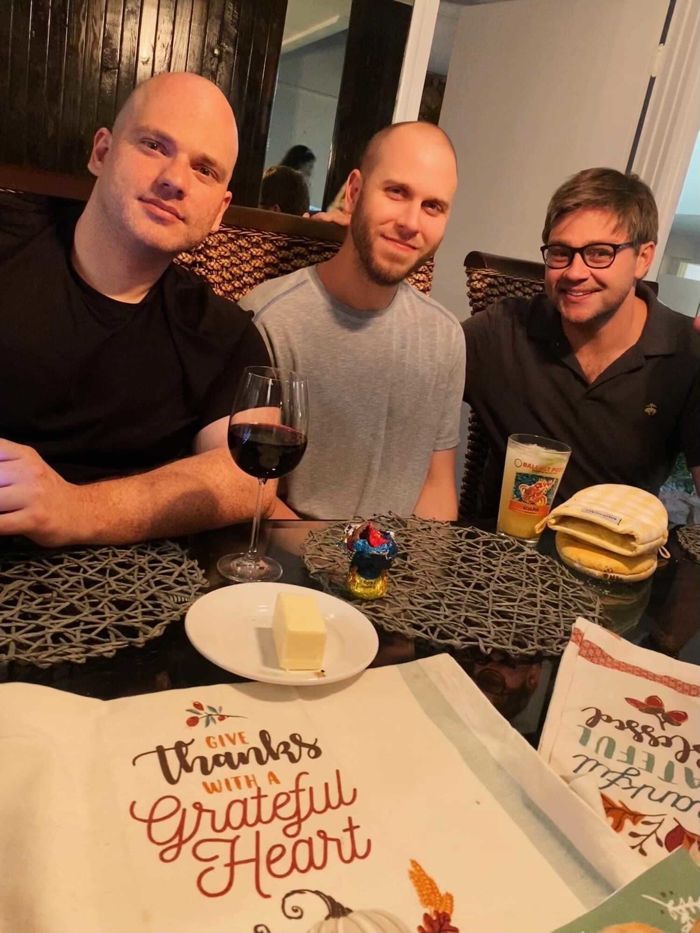 Indeed, this past summer he finished second in the WSOP Online Domestic Event #21: $600 PLO 6-Handed for $42,816, and then five days later took third in Event #27: $1,000 PLO Championship for $36,742. In November this year, he also claimed his first gold ring by winning the WSOP Online Paris Las Vegas Circuit Event #11: $215 No-Limit Hold'em for $16,621.
He did so all under the screen name "BrockLesnar" after the famed UFC fighter and WWE wrestler.
"Want to know the funny part? I'm not even a fan of Brock Lesnar," Holtz admitted. "I made the screen name as a joke when I barely played online. I just wanted people to see my screen name and have a chuckle. Now half of my friends call me Brock instead of Mike. I suppose I deserve that one."
Winning the 2021 WSOP.com Player of the Year is Holtz's proudest poker accomplishment to date, and poker fans will have the opportunity to reflect back on his journey in a yet-to-be-released documentary.
"I actually did a documentary with filmmaker Mike Bailey covering my day-to-day routine," Holtz revealed. "He followed me the last four months of the year and plans to release a short film documenting the entire journey. We plan to release the finished film mid-January on his YouTube channel For Love or Money."
As for what's next for Holtz, winning a WSOP gold bracelet is at the top of his list. In the meantime, he hopes to get the chance to play with some of his poker idols including Tom Dwan, Phil Hellmuth, and Phil Ivey.
Former WSOP.com Player of the Year Winners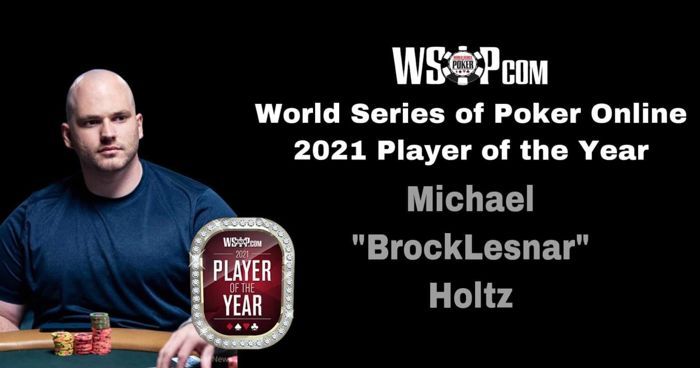 The race for the 2022 WSOP.com Player of the Year has already begun. That race will run from January 1, 2022 to December 31, 2022.
| Year | Winner |
| --- | --- |
| 2021 | Mike "BrockLesnar" Holtz |
| 2020 | YK "LuckySpewy1" Kwon |
| 2019 | Krista "Pollux" Gifford |
| 2018 | Timothy "olmuggins" Phillips |
| 2017 | Andrew "smaulerg" Glauberg |
| 2016 | Ian "ApokerJoker2" Steinman |
| 2015 | Paul "ToTheMoon" Dewald |
*Images courtesy of Mike Holtz.
Executive Editor US, PokerNews Podcast co-host & 2013 WSOP Bracelet Winner.