Martin Zamani Speaks Out Again; Do Messages Reveal What Bryn Kenney Knew?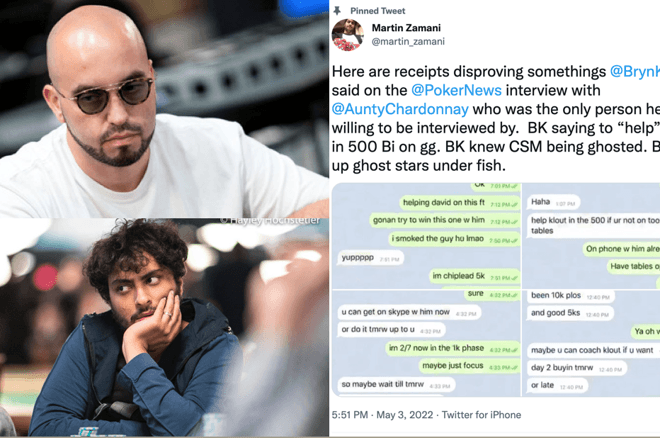 Martin Zamani shared some evidence on Twitter and with PokerNews that may discredit some of the claims Bryn Kenney, who he has accused of cheating, made during last week's 70-minute interview. A trove of text messages obtained by PokerNews indicates that Kenney allegedly had knowledge, and at times encouraged, ghosting and multi-accounting amongst his stable.
PokerNews has obtained and authenticated thousands of Telegram text messages between Kenney and an accomplished poker pro, who verified the authenticity of the exchange on condition of anonymity. The anonymous player was subsequently publicly outed as George Wolff by Zamani in a now-deleted tweet before we released this story.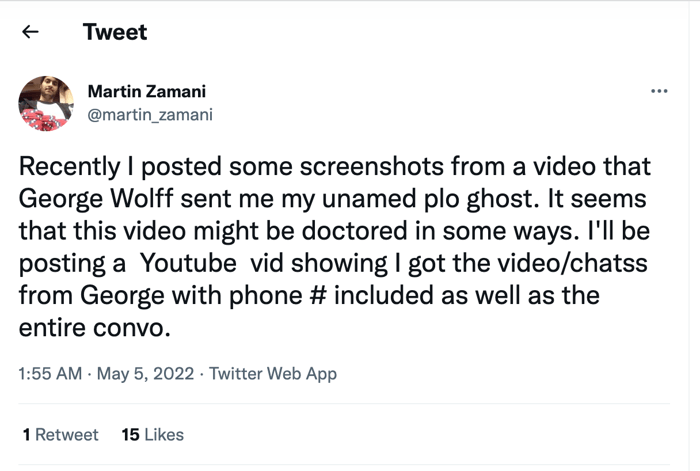 According to the Hendon Mob, Wolff hails from Oregon and has more than $3 million in lifetime live tournament earnings. That includes a career-best $566,774 for finishing second in the 2020 Aussie Millions 25K Challenge. He also finished second in the 2019 EPT Prague €25K Pot-Limit Omaha for $254,841 and runner-up in the 2019 Poker Masters Event #8: $25,000 NLH for $246,000.
On Doug Polk's Podcast last month, Zamani made some damaging allegations against the high-stakes poker legend, accusing him of running an online poker cheating stable full of horses who colluded together for financial gain.
Within the conversation between Kenney and Wolff, discussed below, poker's all-time live tournament earnings leader seems to confirm that some of Zamani's statements are indeed true.
The Telegram chat log between the poker pros spanned more than three years, and the timestamps appear to be presented backward, which made some on social media understandably question its authenticity. Wolff explained that he recorded the conversation backward and sent it to Zamani via video chat, a nearly 22-minute video shared with PokerNews.
Listen to Kenney on the PokerNews Podcast here!
Zamani Screenshots Bring into Question Kenney's Claims
While Zamani's interview with Polk was certainly juicy, he didn't provide much proof to back up his claims, but that may have changed on Tuesday, starting with a Telegram screenshot he shared with his Twitter followers.
Here are receipts disproving somethings @BrynKenney said on the @PokerNews interview with @AuntyChardonnay who was… https://t.co/P34uC5rbWv

— Martin Zamani (@martin_zamani)
Zamani told PokerNews the screenshots didn't come from his phone. He said he "strong-armed" the text recipient, later revealed to be Wolff, into sending him a video of the entire chat with Kenney. At the time, Zamani stated he had an "interesting relationship with that person and I don't want to hurt their life in any way or get them banned," so he wouldn't publicly disclose the name at the time.
That was his initial intention as we were working on this story, but he clearly changed his mind and revealed Wolff's name on Twitter late Wednesday night.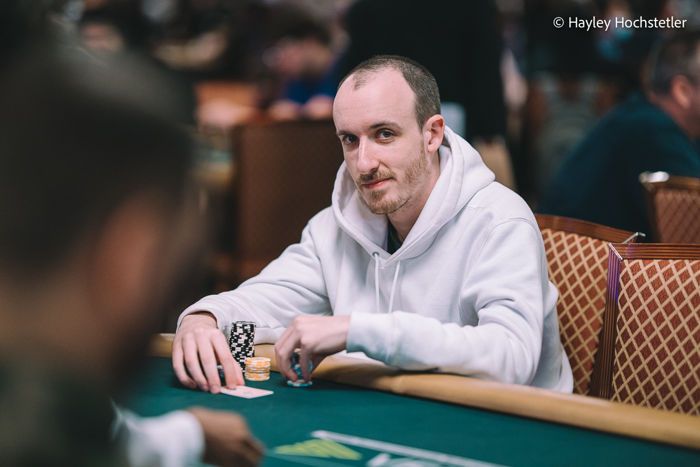 During his April 26 interview with PokerNews' Sarah Herring, Kenney categorically denied ghosting players or encouraging the players he backed to ghost other players during online poker games. Ghosting is when a player assists another player during a game, a violation of any poker site's terms of service.
The screenshots Zamani provided on Twitter appear to contradict Kenney's denial, however. In the chat, which Zamani said took place in 2020, it appears Kenney acknowledged that he was aware of players assisting others at a final table and playing under another player's account.
Kenney also wrote: "help klout in the 500 if ur not on too many tables." According to Zamani, "klout" was one of Kenney's horses, although he said he doesn't know his real name and only had limited interactions with him.
Kenney Responds — "I Don't Think This is Really Any 'Proof'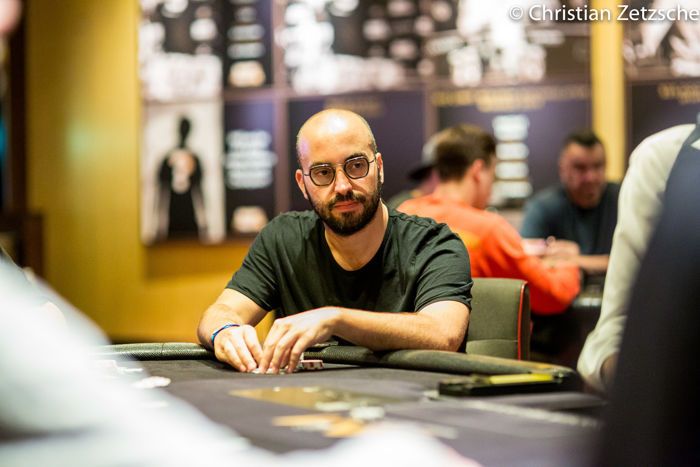 When contacted by PokerNews in regards to Zamani's May 3 tweet, Kenney said: "This is someone who has tried to blackmail me, scammed me for money and has tried to recruit people to get dirt on me so he could use it against me for money. It's a guy with dirt for a reputation, has been involved in multiple scams and been arrested for assault on a handicapped person."
"He's bitter I dropped him and has been trying to get dirt on me since then not being able to find much of anything."
He continued: "Martin got cut out cuz he was harassing Scott margerson in the Aussie main event, was being super rude to people all over and I took a 350k loss in makeup to drop him which shoulda been sooner, and he still owes me 70k he borrowed off me. And he's bitter I dropped him and has been trying to get dirt on me since then not being able to find much of anything."
In regards to the tweet itself, Kenney stated: "I don't think this is really any 'proof', he's claimed rta, collusion, and ghosting. What does this pic show even if true that I asked one horse to help a player 1 time? Or that 2 guys I stake were in the same place once and one was helping the other, unprovoked by me ... He alleged I ran a ghosting stable, this is one instance if these messages are real of me telling 1 person to help another person ... This doesn't show anything of me ghosting, plus I said on the podcast that I have helped people before in the past on very minimal occasions."
Kenney did not respond when asked why and in what context he wrote "help klout in the 500 if ur not on too many tables."
Credible Witness?
Shortly after Ali Imsirovic was accused of colluding and using real-time assistance (RTA) tools in high rollers, Zamani brought forth the allegations against his former backer. The fact that he hadn't done so a year or two ago when he left Kenney's stable led some to question his motive, and whether his claims are even true.
Zamani provided PokerNews a screenshot (below) of a Twitter DM with wealthy amateur poker player Bill Perkins (@bp22) from October 5, 2020 that indicates he was interested in outing cheaters over two years ago.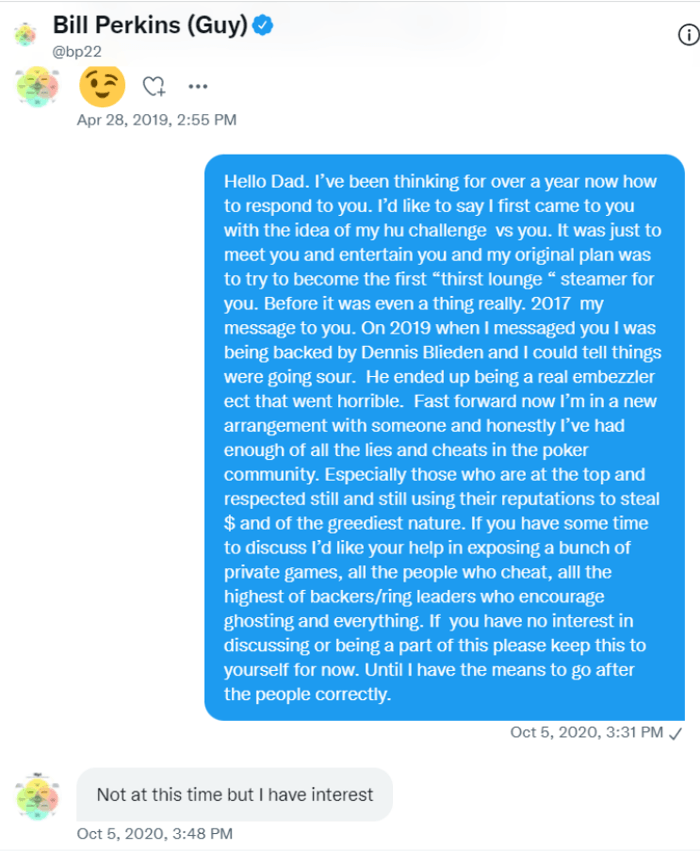 Although he doesn't specifically mention Kenney by name in the DM, it does show that he was looking to bring to light what he claims to be online poker cheating back in 2020.
"I'm in a new arrangement with someone and honestly I've had enough of the lies and cheats in the poker community. Especially those at the top and respected still and still using their reputations to steal $ and of the greediest nature," Zamani wrote to Perkins.
He then asked the hedge fund manager if he'd like to discuss the issue further but Perkins declined. Zamani said he doesn't believe Perkins did anything wrong and understands that the recreational poker player has enough on his plate and likely didn't have the time to deal with an alleged poker cheating scandal.
Damning Text Messages?
Zamani shared a video of a Telegram conversation between Kenney and Wolff that spanned from November 2017 until recently. On August 12, 2018, the following discussion took place.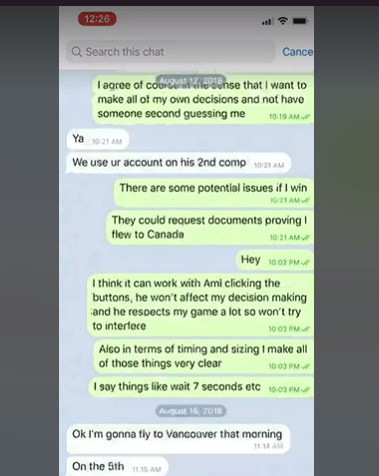 During last week's interview with PokerNews, Kenney said he never ghosted players, encouraged his horses to ghost others, nor did his horses collude, at least to his knowledge. But the above screenshot indicates each member of the group may not have always been playing under their own account at all times.
In a couple of messages, VPNing and TeamViewer were discussed between Kenney and Wolff: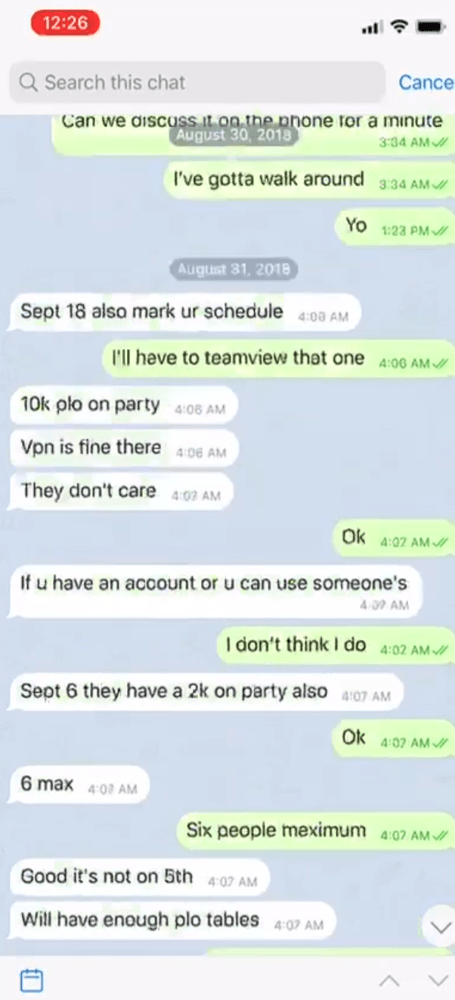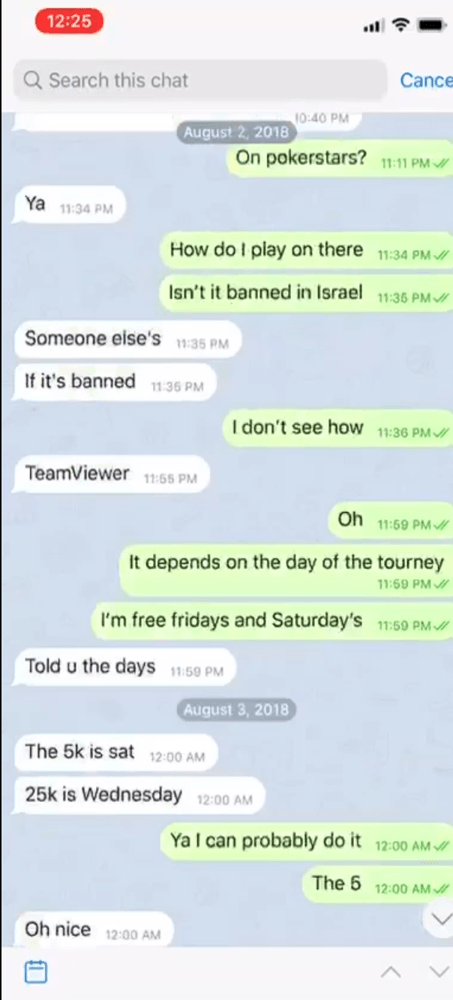 In another message, Kenney suggested Wolff "use someone else's account":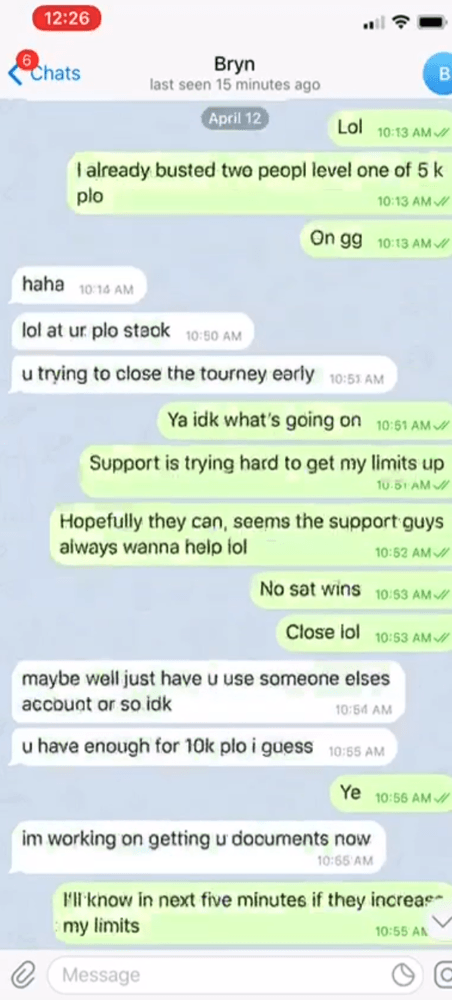 While in another Wolff admitted he was "around to help" Zamani in a tournament if needed: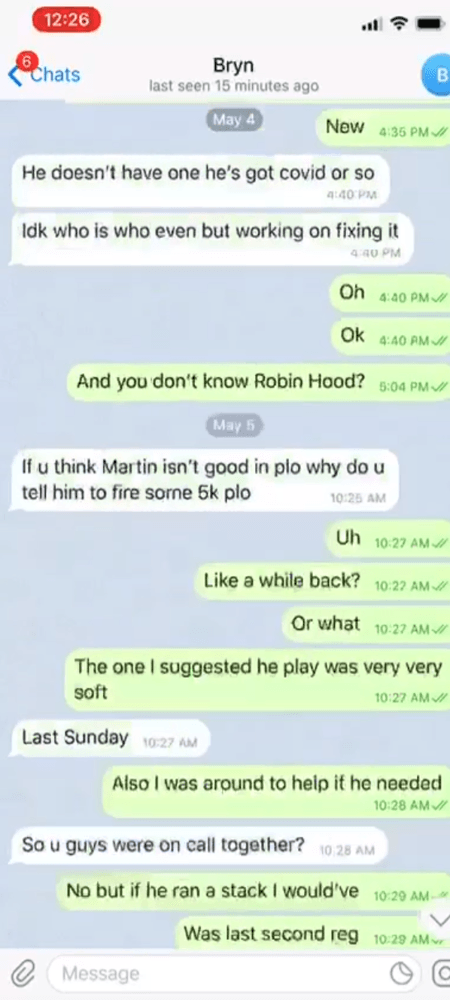 Another message showed Kenney asking Wolff if he was "on with him," referencing another player deep in a tournament: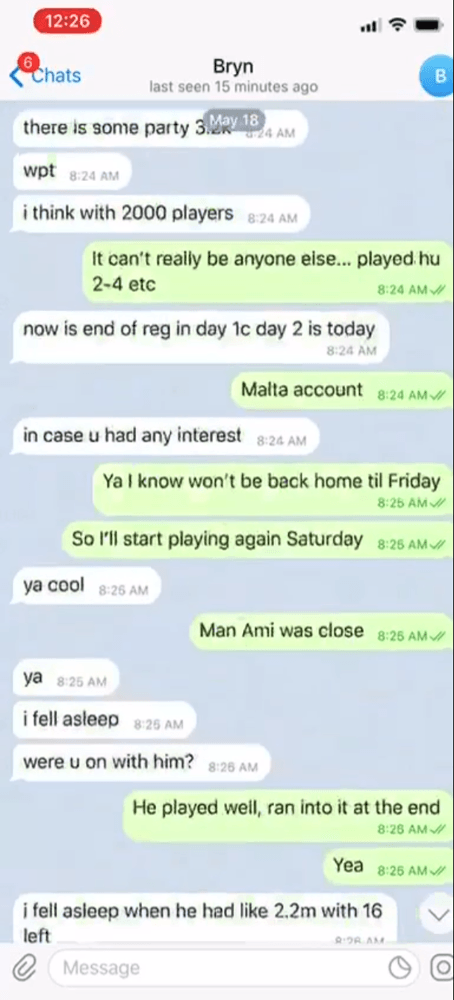 Another exchange seemed to show Kenney assisting Wolff in an active Stud hand: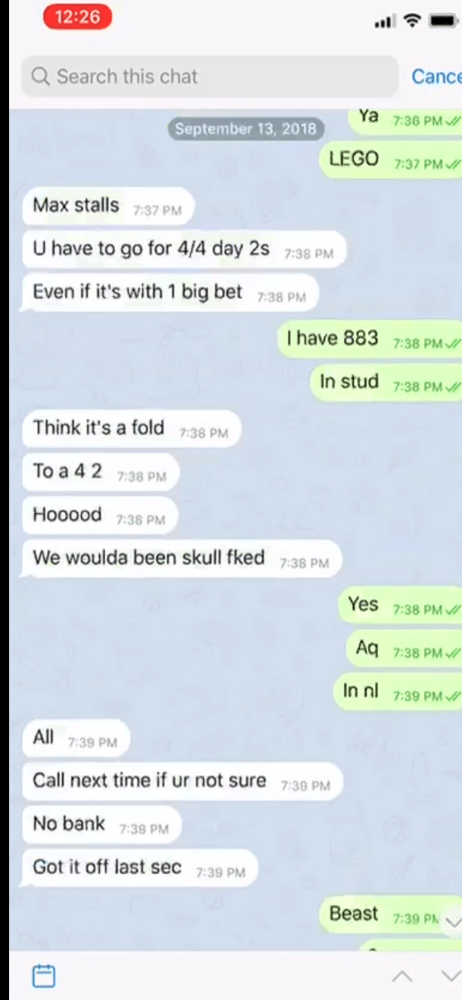 In a contentious part of the exchange, Wolff claimed to have seen Kenney ghost with the latter denying it with a "u saw it a few times" qualifier.
Other suspect messages between Kenney and Wolff included:
Kenney to Wolff: "u could just let ami play take half and help later on"
Kenney to Wolff: "that's not fair either u played the whole ft so he was playing against u"
Kenney to Wolff: "of course u didn't play early stage of a 600 tourney u played every important stage"
Kenney to Wolff: "Play the 1k wcoop too If u have to go when the 500 is done for day I'll take over or someone else will"
Kenney to Wolff: "Stay on phone w him. Help him deep in the plo tourney"
Kenney to Wolff: "So u can only play 2 party accounts anyway ... U can play one being ur account and one Luke's"
Kenney to Wolff: "Like do u want 2 accounts and then 1 guy next to u and one guy on skype ... Gonna have 5 on 3 accounts for sats."
Kenney to Wolff: "Play on Arron and lb also ... U can try to even win like seat to 1k in 109 on lb or so if account short."
Wolff to Kenney: "if you were judged for all the times you encouraged this exact thing in the way you are to me how would you react."
Wolff to Kenney: "We have only 2 computers and one iPad. Can't do horse on iPad."
Wolff to Kenney: "What 3 accounts do we have? Fullflush mine and what else. Adams" ... Kenney to Wolff: "Arron and luke already have party accnts setup." ... Wolff to Kenney: "Ok I'll get the passwords from Luke then."
Wolff to Kenney: "I think it can work with Ami clicking the buttons, he won't affect my decision making and he respects my game a lot so won't try to interfere. Also in terms of timing and sizing I make all of those things very clear. I say things like wait 7 second etc."
At times, Kenney did appear to discourage his stable from ghosting.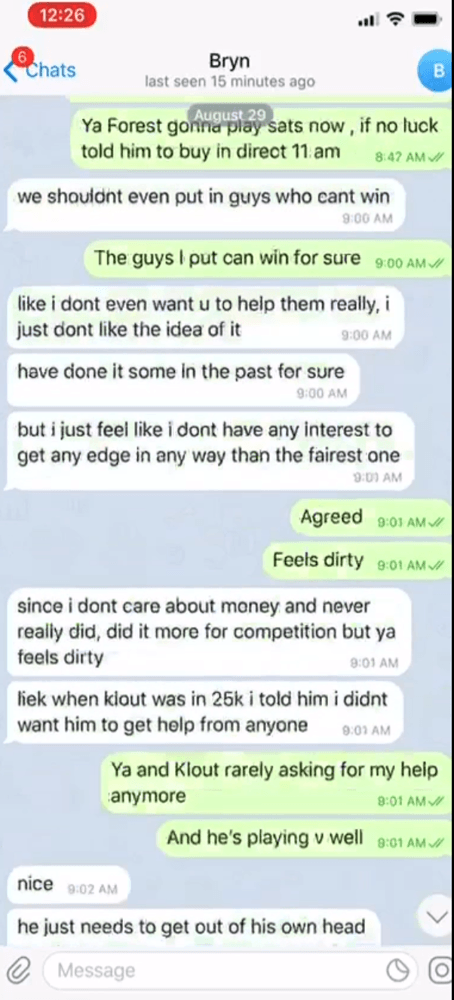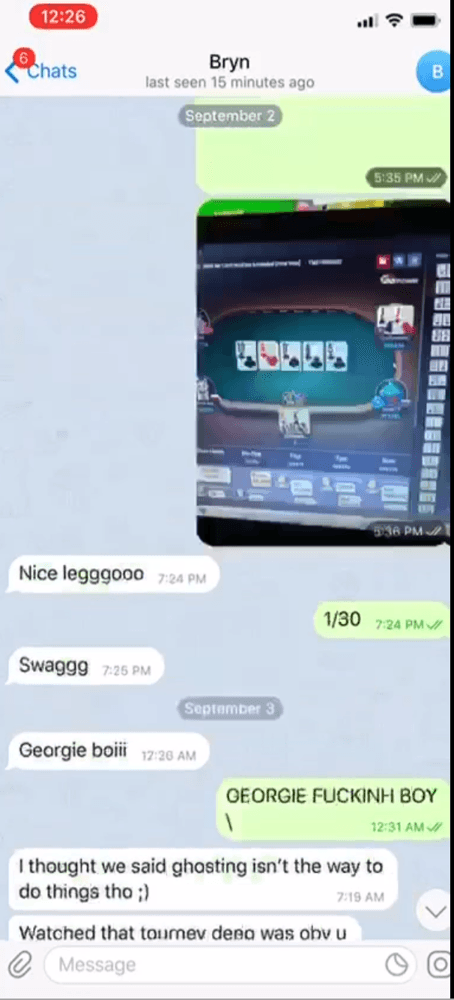 Similarly, messages reveal that Kenney claimed not to have known about Sergi Reixach ghosting Zamani at a final table: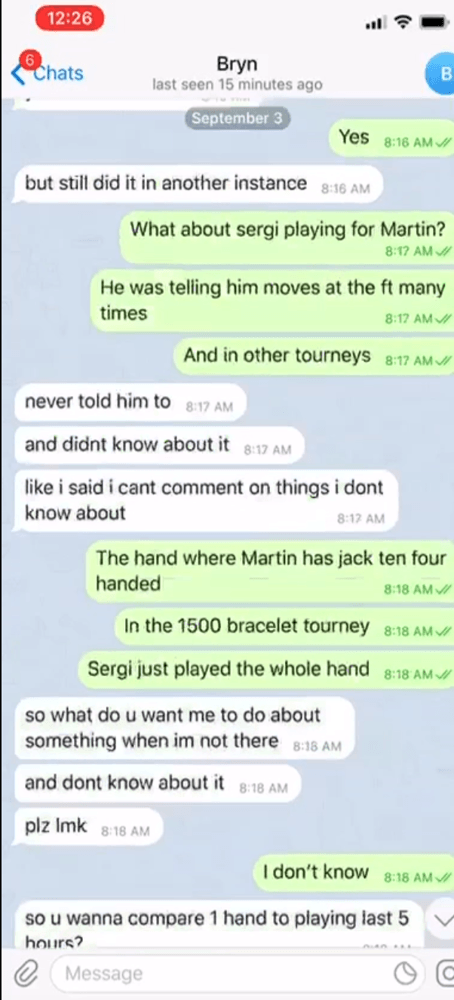 Finally, there was an exchange regarding Wolff assisting a "Jeff" in winning an online bracelet, which didn't appear to sit well with Kenney as he asked "so you cheated here" and said he wanted no part of the prize money.
Zamani Speaks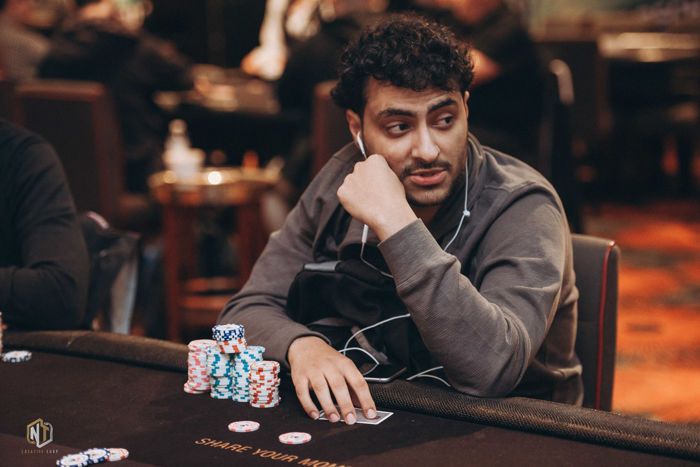 Zamani's credibility has come into question around the poker Twitter for multiple reasons, most notably that he's an admitted cheater who was high during his interview with Polk. Thus far, however, everything he's said has either been backed by evidence or has yet to be disproven.
Take for example the seemingly outlandish shaman claims Zamani made on Polk's podcast. He told the Upswing Poker founder and his audience that the accused cheater ran a cult-like operation that involved a shaman who attempted to inject frog poison into an open wound. And Kenney didn't exactly deny it as he sidestepped Herring's question when asked if he dropped his horses in stakes and sent them to a shaman if they weren't performing.
Zamani said he didn't have hard proof that he colluded online under the direction of Kenney when he first brought forth the allegations. He had a strategy in mind, however.
"I didn't have proof of how hard I colluded in satellites but I needed him to deny some things so I could discredit him so people knew that he's a liar and not believe him," Zamani explained.
Zamani said that he felt motivated to out his former backer because he claims Kenney has been in the process of starting his own poker site, and he says that it wouldn't be right to allow him to do so given his alleged shadiness. He also says that Kenney was making some bold promises to his potential investors.
Lauren Roberts, whom Zamani claims he and other members of the group would gang up against during online poker games, backed that statement from Zamani up via a tweet she shared on Twitter last month.
Is been a long time since i sat for my securities exams but i'm pretty sure this is an illegal way to solicit priva… https://t.co/2l67bC1piu

— Lauren Roberts (@PlayPokerLkAMan)
In the text exchange with anonymous poker pro, Kenney seemed to indicate he would be starting his own online site to compete against GGPoker, despite being with them at the time.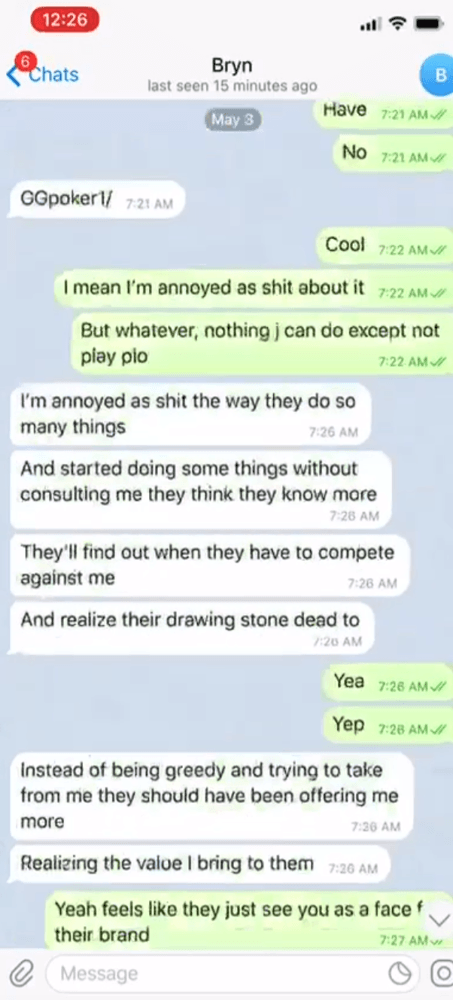 What Does It All Mean?
While the vast majority of communication in the text exchange obtained by PokerNews was comprised of friendly banter, personal matters, hand discussions, and backing arrangements, there were also messages indicating that Kenney was both aware and encouraged ghosting and multi-accounting on numerous occasions.
At the very least, the messages reveal that Kenney knew more than he claimed in this interview with PokerNews:
Executive Editor US, PokerNews Podcast co-host & 2013 WSOP Bracelet Winner.