The Muck: 19-Minute Tank at the WSOP Main Event Final Table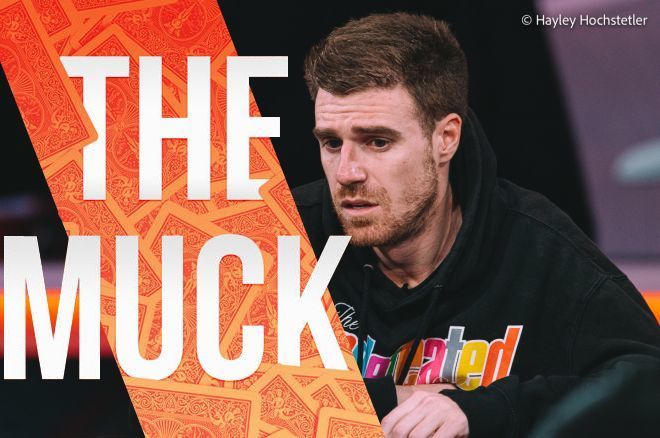 Table Of Contents
With millions of dollars at stake, it's reasonable for players at the World Series of Poker (WSOP) Main Event final table to take their time to think when facing a difficult decision, but poker Twitter wasn't so understanding when eventual runner-up Adrian Attenborough tanked for 19 minutes in one hand before folding nothing but a pair of fours during heads-up play.
In the newest installment of The Muck, we take a look at the hand that tilted many on social media.
Attenborough, an Aussie, lost a heads-up match against Norway's Espen Jorstad with the world title on the line. During that fairly brief battle, the runner up faced two all in wagers from Jorstad, and both times he went into a lengthy tank with the hand often referred to as "flat tire."
Can He Find a Fold?
The most controversial hand occurred shortly after heads up play began when Jorstad raised to 7,500,000 with
and then called the three-bet to 26,000,000 from his opponent who had
in the hole.
The flop came out
, not exactly the type of flop the preflop three-bettor was hoping to see. Still, he continued for 16,000,000 and received a call. When the
appeared on the turn, Attenborough hit bottom pair and again bet, this time for 58,000,000. Jorstad wasn't going anywhere with top pair and called to see the
on the river.
Action checked to the Norwegian who resides in the United Kingdom, and he moved all in for Attenborough's 132,000,000 remaining stack. For the next 19 minutes, the eventual second place finisher pondered his move before eventually folding bottom pair. He was left in a 3-1 hole of which he'd never recover.
What Poker Twitter is Saying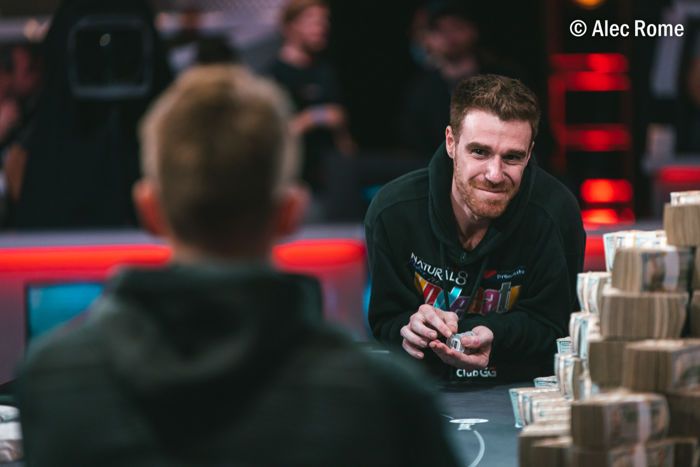 Attenborough, who now lives in Las Vegas, won't be the next Joe Hachem, the 2005 world champion who also hails from Australia. But he will be a memorable runner up, partially due to the 19-minute tank job with bottom pair, and poker Twitter was none too thrilled.
"Where is the floor? If this hand goes much longer it's gonna pass the delay," Doug Polk asked during the hand in question.
Poker in 2022. Heads up in the main event I tune in for hand 1. I watch 1 min of hand. Neighbor comes and has… https://t.co/ott4tFFURR

— Erick Lindgren (@EdogPoker)
"Hello from 2023. Attenborough just folded," @BenjeeNFT joked.
"These laggers, I hate this new pace of play. What happened to think long, think wrong," @Bobby2Cents gave his two cents.
Jack - Four off-suit is officially the Attenborough. What a terrible heads-up match for the #WSOP #MainEvent tras… https://t.co/NIlbiGvFIP

— Carl Williams (@CarlWilIT)
"There is a point you reach where thinking about the decision is counter productive. More time isn't going to get you to a better decision," @d3wayne argues.
"hard to imagine this is good for casual viewers. I understand the stakes, but live Poker streaming is so boring (even for super fans like me). Tuned in and they barely played 5 hands in an hour. why are they tanking so much?" @ppadala tweeted.
"I prepared an entire 3 course meal during the tank… and a açaí bowl with agave syrup cinnamon strawberries and honey for desert. This is the Tank heard round the world," @kale_kash joked, or maybe not.
"Can i clock players from twitter," Joseph Cheong pondered.
Despite the negative comments directed at Attenborough for tanking with jack-four, there were many who stood up for him and understood how difficult of a spot he was in playing for so much money.
"Adrian with a massive tank yes but let's bare in mind he has had the fastest average play for the whole WSOP FT and this is for the whole enchilada. When you guys playing for $4M HU you guys can protest and shot clock yourself," fellow Aussie Kahle Burns tweeted.
I've never been so invested in watching someone think for 15+ minutes

— Adam // roothlus.eth 🍌🧬💊 (@Roothlus)
Death By Jack-Four
In the second jack-four hand, the last hand of the tournament, Attenborough again went into the tank when facing an all in bet on a board of
. Jorstad, who called in position on the turn, jammed river with
.
This time around, Attenborough didn't need 19 minutes to make his decision. It only took him around five minutes, but he couldn't fold that small pair and inevitably made the call only to find out he was up against a full house.
"F**k!" he immediately shouted upon seeing Jorstad's tournament winning hand.
Had Attenborough found a fold, he still would have had a realistic opportunity to win the Main Event. With over 40 big blinds and one double up away tying up the score, he was far from out of contention. But he ended up clicking the call button and was eliminated in second place for $6 million. There's certainly no reason for him to hang his head in disappointment, especially considering he lost a heads-up battle against a great player.
2022 World Series of Poker Hub
Bookmark this page! All you need to know about the 2022 WSOP is here.