Chris Read Reflects on Women in Poker & Winning LIPS National Championship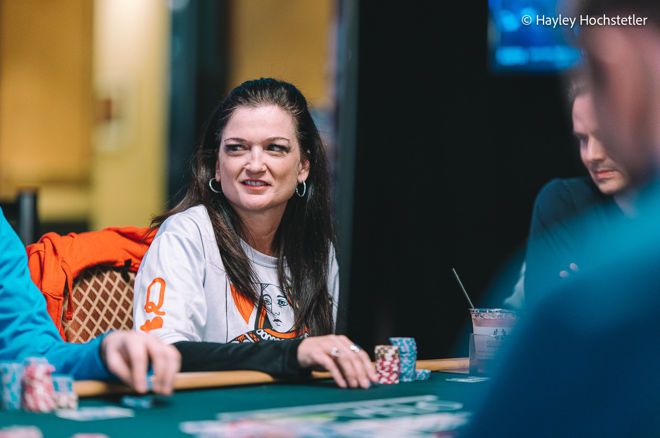 Table Of Contents
When it comes to the mission of bringing more women into the game of poker, few are as passionate as Chris Read, who recently won one of the most prestigious women-focus poker tournaments on the schedule. She recently spoke with PokerNews not only about the win but also about her endeavors to bring more ladies into the game she loves.
Read, who was born and raised in Louisiana but relocated to Georgia in 1986, is married to the love of her life, Rick, and has three grown children and two granddaughters. She and her husband recently built a home on the Back Bay of Biloxi and moved there in March.
While she's an accomplished poker player with nearly a quarter million dollars in lifetime earnings according to The Hendon Mob, Read has always been in the automotive business in one form or another including sales, finance, automotive banking and even outside sales.
So how did an automotive gal from the south learn poker?
"I would play cards as a kid with my grandfather and parents, but really I attribute it to my husband," she said. "When we first started dating he introduced me to hold'em and I was hooked almost immediately because of the challenges the game presents. He probably wishes he had never introduced me as I have been gone playing poker through the years more than he would like."
For years, Read was a cash-game player grinding $2/$5 and $5/$5 no-limit hold'em before turning her attention to tournament play.
"I play both now but if had to pick only one it would be large open-field tournaments with a deep structure," she admitted. "I have a pretty good track record with lots of cashes and final tables in events typically ranging from $400 to $1,100."
According to The Hendon Mob, Read's biggest cash to date was $18,890 for finishing runner-up in last August's Little Kings & Queens SUPER Monster Stack. She also earned $17,796 for finishing fourth in the 2020 bestbet Jacksonville Fall Frenzy $1,500 Main Event, and $15,717 for winning the Little Kings & Queens Bedford $400 NLH in June 2021.
Poker Goals
As for her poker goals, Read ranks winning a WSOP Circuit gold ring right towards the top, and also promoting her new YouTube Channel "Chris Read Em & Weep- Poker, Places and Personalities," which combines her love of poker with amazing travel spots all over the world. She also tosses interviews with great poker personalities.
"The goal is to grow it the channel huge and help encourage other ladies to get in the game and do the same," she said while also indicating she hopes to play more, as right now her work schedule only allows her to participate in three or four live events a month.
Another goal is to grow her poker bankroll so she can take shots in larger buy-in tournaments with great structures. She may get the chance to do just that thanks to a big opportunity for herself and others courtesy of PokerStars.
"They are sending myself and eight other ladies to EPT Barcelona in August to compete for a Platinum Pass," she revealed with a big smile. "It's a huge goal to win that one-table tourney and get that $30,000 Platinum Pass."
Supporting Women in Poker
When asked what her proudest poker accomplishment is, Read didn't cite a win.
"It's being a Women's Poker Association (WPA) advocate and founding the Facebook group 'Poker Queens,'" she said, "Along with many other women, I love cheering for, coaching, and mentoring other ladies. It's always great to see a lady we've helped start to do really well."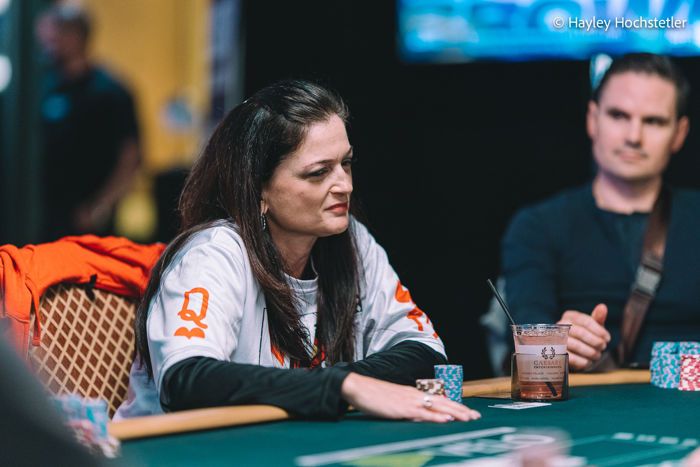 She also elaborated on her proud poker moments: "One poker accomplishment I'm proud of was cashing in Day 4 of my first and only WSOP Main Event last year. If not for a two outer all in preflop with aces deep on Day 3, who knows."
Speaking of the WSOP, Read believes that this past year's turnout by female players is a good sign for the future of women in poker.
"I feel that it's going in the right direction with a bigger percentage of women playing the WSOP than ever before," she said, "but there is lots of opportunity to grow it so much more."
She continued: "Some of it will just take time as it is cultural. Women are typically the caregivers and the age where most pro guys are really reaching their peak most women are at home with the children. If we can somehow get girls involved more and interested in strategic competitive games we should start to see the number shift even more. That's one reason I'm starting this YouTube channel. There's such a small percentage of women blogging about it. We need the exposure to ensure that women playing poker becomes the norm.
"The other piece that would help tremendously is if we had more financial support, investors, organizations etc. willing to invest more in solid women players. Myself and so many other ladies who work so hard at poker – studying the game and have great results – but we just don't have the massive bankroll to give up our jobs and play in the higher buy in tournaments."
Winning the LIPS National Championship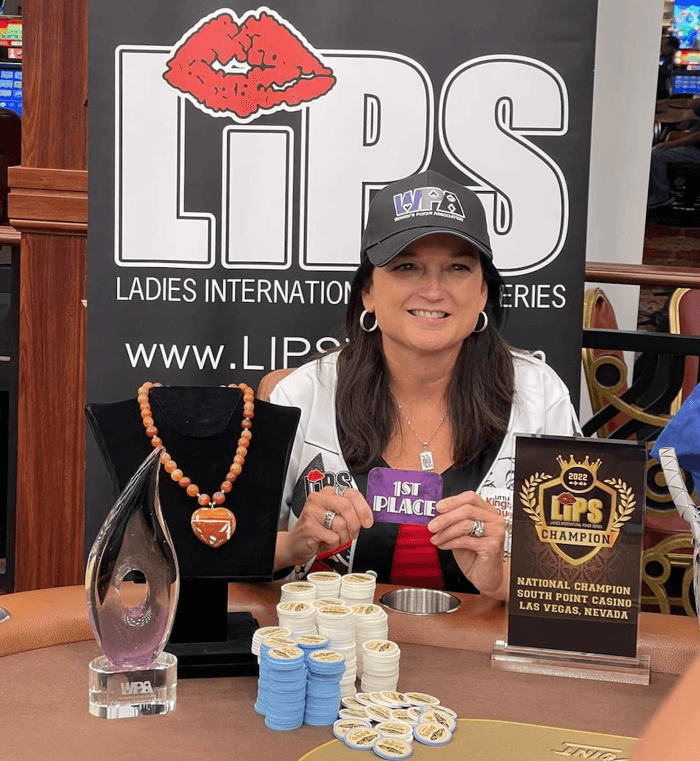 Indeed, Read does work hard and has results, most recently winning the $450 buy-in LIPS National Championship at the end of June, a tournament that attracted 218 entrants to South Point Casino in Las Vegas and awarded an $87,200 prize pool. Read wound up winning it for $15,386.
"The Lips National Championship is held in Vegas during WSOP Ladies Week," Read explained. "I love LIPS and all the ladies who play with us. Lupe Soto always runs a first-class series."
Among those to cash but fall short of the final table were Debbie Burkhead (10th - $1,724), Tonya Baltazar (15th - $1,379), Kim Schinco (20th - $905), Ashley Frank (23rd - $819), and Svetlana Gromenkova (28th - $647).
Read made the final table of the two-day tournament second in chips, but within the first three hands she dropped to a short stack after losing with premium starting hands, two of which were two outed.
"I somehow found fold button and didn't get felted," she recalled. "Had to dig deep not to tilt and be super patient through the next two hours of card dead misery. I used that two hours to figure out the other players and was able to play exploitive once down to down players. I spun five bigs to a win."
The $15,386 she took as part of a heads-up deal marked the fourth-largest score of Read's career.
2022 LIPS National Championship Final Table Results
| Place | Player | Prize |
| --- | --- | --- |
| 1 | Chris Read | $15,386* |
| 2 | Debora Brooke | $15,385* |
| 3 | Jennifer Oar | $8,620 |
| 4 | Souhila Yousfi | $6,982 |
| 5 | Nancy Patterson | $5,215 |
| 6 | Susan MacPherson | $4,310 |
| 7 | Bridgette Adkins | $3,448 |
| 8 | Lauren Bunch | $2,715 |
| 9 | Carey Buck | $2,155 |
*Denotes heads-up deal.
For more on Read, be sure to follow here on Twitter @chrisreadpoker.
Ruth Hall Wins Nevada State Ladies Poker Championship by LIPS for Second Time
Executive Editor US, PokerNews Podcast co-host & 2013 WSOP Bracelet Winner.