Alleged HCL Poker Cheating Saga Gets Personal; Inspires Halloween Costumes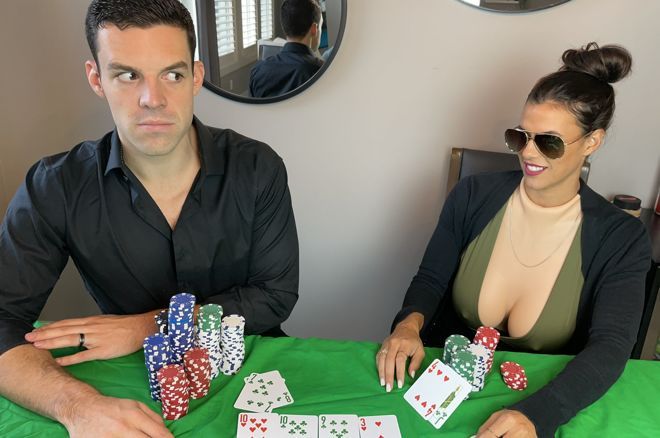 Following a Monday evening Twitter spat that involved drama between multiple families, it's questionable if the Hustler Casino Live alleged poker cheating scandal is even about the jack-four hand anymore.
The whole incident between Robbi Jade Lew and Garrett Adelstein might now be best suited for the Jerry Springer Show, if that were still a thing. In the 1990s, Springer's popular daytime talk show, which essentially served as an outlet for friends and families to settle their disputes with fisticuffs and f-bombs, put the spotlight on dysfunctional families and petty drama.
The now month-long poker drama isn't quite as crazy, but it is starting to become less about poker and more about personal disputes.
Spouse Asks for Privacy
On Monday, the drama over the Robbi-Garrett incident heated up with the wife of Lew's alleged co-conspirator taking a shot at Adelstein and Doug Polk.
Savannah Hale, the spouse of Jacob "Rip" Chavez, who played in the infamous Sept. 29 HCL game and is friends with Lew, defended her husband against allegations that Lew and Chavez, both married, were having extramarital affairs. She also wrote that Adelstein "lost fair and square" and told him to "leave me alone."
"Gman," however, responded to the tweet by sharing a screenshot of an apparent conversation between Hale and an unnamed individual that was quite juicy.
Hale claims the "it's much deeper than anyone knows" comment wasn't in reference to the alleged poker cheating scandal. Instead, she said in a tweet response, the incident is "deeper than a scandal when he involves my family."
Family Affair
Rumors began swirling shortly after the jack-four hand a month ago that Lew and "Rip" were romantically involved, partially sparked by a YouTube investigative video created by Polk in early October. Neither Lew's spouse, attorney Charles Lew, nor Rip were thrilled with the accusations.
"@DougPolkVids I can't tag Gman because he blocked me but anyone of you so called men out there that feel it's ok to text my wife leave her alone. You have no right whether she followed you or not again leave her alone," Chavez tweeted at Polk.
Prior to that tweet, Polk had responded to Hale's post, claiming that it was actually Hale who followed him on Twitter and that he only reached out to her to get her take on the alleged poker cheating incident.
"You said you wanted privacy. I said I'm sorry and did not respond again. I did not harass you or ask you to incriminate anyone," Polk wrote to Hale.
Chavez wasn't satisfied with that explanation. He responded by saying that Polk is a "grown man and you should never be in my wife's DM's." He then accused the Upswing Poker founder of attempting to expose his wife's "vulnerability."
If the aforementioned drama isn't enough to make it on the Jerry Springer Show, others are involved and the story gets spicier. Lew called out Adelstein on Twitter for dragging others into their dispute.
To drag family members into a situation that should involve only those who sat AT the table during the night in que… https://t.co/4xnePIvPYP

— Robbi Jade Lew (@RobbiJadeLew)
Charles Lew, her husband, then jumped in to defend his spouse and Hale. He wrote that there's been "enough collateral damage caused by speculation" and said that "asking an innocent person" (Hale) to be involved in the saga is "pathetic."
Shaun Deeb, one of the many pros who have said the likelihood that Lew cheated is high, couldn't sit this one out. The 2018 WSOP Player of the Year asked Charles Lew if he's confident enough that his wife is faithful to him that he'd be willing to bet on it.
"I'm very confident that the subject of my tweet was to leave innocent parties out of the conversation. Congratulations Shaun on responding in a caustic manner, you are truly setting an incredible example for your children," Charles Lew responded.
Hustler Casino Live Halloween Costumes
On Monday, Adelstein stepped away from the jack-four drama to celebrate Halloween and announce to the poker community that his family is expecting what could one day become the next great high-stakes poker pro.
My wife cookin' up something extra this year! Happy Halloween from our growing family to yours! Our baby girl comin… https://t.co/3M2MPwWCXQ

— Garrett Adelstein (@GmanPoker)
Although Adelstein's costume was solid, the winner of the best poker Halloween costume, by far, goes to Kevin Martin, who dressed up as Adelstein along with his wife, in a similar outfit to the one worn by Robbi Jade Lew in the Sept. 29 HCL game.
Click here for more on the HCL cheating allegations.
*Lead image courtesy of Kevin Martin.