Main Event Travel Becomes Official Luxon Pay Travel Partner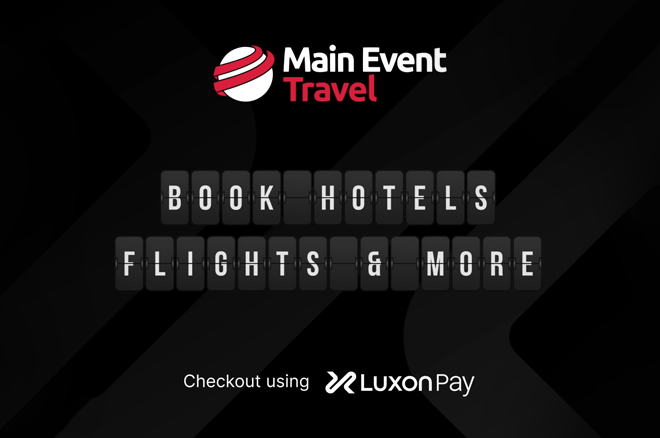 Main Event Travel and Luxon Pay have joined forces, with Main Event Travel becoming the official travel partner of the fast-growing payment app. Customers heading to Main Event Travel are now able to purchase flights, pre-paid hotels, and more using Luxon Pay.
Main Event Travel launched in 2011 and quickly became the go-to site for poker players looking for travel, hospitality, and ancillary service packages. The company partnered with poker Goliaths such as Dusk Till Dawn, the Grosvenor UK Poker Tour (GUKPT), and the PokerStars UK & Ireland Poker Tour (UKIPT). Although initially focussing on the British market, Main Event Travel is now a global entity, offering its services far and wide.
Fraser MacIntyre, a Scottish poker player and leisure industry entrepreneur, acquired Main Event Travel in October 2014. MacIntyre says that becoming the official travel partner of Luxon Pay is great for Main Event Travel's customers.
"Our objective is to deliver an easy-to-use, efficient, and competitive travel booking platform to poker players. We are continuously working to improve our offering and functionality. Being the first online travel partner to offer Luxon Pay furthers our ability to provide players with a one-stop shop for poker travel."
Luxon Pay is a multi-currency e-wallet that is available in more than 120 countries, allowing customers to make instant, global payments and transfers to friends, family, and hundreds of merchants, including several prominent online poker sites, Dusk Till Dawn poker club in Nottingham, and now Main Event Travel. The simple yet effective payment solution is authorized and regulated by the Financial Conduct Authority and accepts deposits via Visa, MasterCard, and several other alternative payment methods. Luxon pay customers can hold up to 10 currencies in their account, and benefit from instant currency exchange rates, making it the perfect e-wallet for traveling poker players.
Nicola Veitch is the Marketing Manger at Luxon Pay. Veitch is proud to have Main Event Travel as a partner.
"We are proud to partner with Main Event Travel and offer their customers a convenient payment option while booking hotels and flights. Luxon Pay allows customers to hold multiple currencies in their wallet with instant currency exchange. We offer many deposit options and free instant transfers to other users making this an ideal payment solution for Main Event travel customers while planning their next trip."
Kelly Saxby, Retail Sales & Consultant to Main Event Travel, believes Luxon Pay adds value to Main Event travel's vast customer base.
"Main Event Travel is already an amazing platform for poker travelers. They provide tools to not only book poker travel, but also plan your poker trip! In addition to automatically selecting the closest airport and hotel options by proximity to the event venue, the site also has listings for poker tournaments around the world, calendars to easily view what's happening when and where, and the option to create and save your own diary of events. You can view schedules, buy-ins, festival news, and more. Poker players already find it an extremely useful tool for organizing poker trips, and the site is continually being developed to add new features. Partnering with Luxon Pay adds extra value to Main Event travel customers."