Nick Schulman Shines as Kaplan's Replacement on New Episode of High Stakes Poker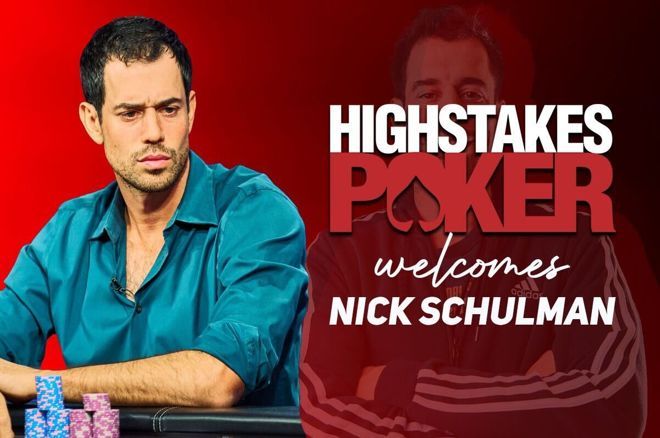 Table Of Contents
On Episode 2 of High Stakes Poker Season 10 Tuesday night, Nick Schulman, paired with AJ Benza, made his debut appearance in the broadcast booth, replacing Gabe Kaplan.
It's never easy to replace a legend, but if anyone is up to the task it is Schulman, who has been one of PokerGO's most popular commentators for years. Although he's normally teamed up with Ali Nejad, another legendary broadcaster and long-time host of Poker After Dark, Schulman eased into the role quickly and the chemistry with Benza was on point.
Kaplan, the former actor and poker pro, announced his retirement last week. Schulman wrote on Twitter that he received Kaplan's blessing to step into his seat.
For me it isn't High Stakes Poker without Gabe, but I'd like you guys to know I received his blessing. The Don hims… https://t.co/SrbvGMoNKq

— Nick Schulman (@NickSchulman)
Replacing a Poker Legend
High Stakes Poker, which first launched on Game Show Network in 2006, is one of the most iconic poker shows in history. Gabe and AJ, much like Norman Chad and Lon McEachern are with the World Series of Poker, go together like peanut butter and jelly. But Schulman instantly showed that Nick and AJ are a pretty dang good team as well.
Benza eased Schulman into the booth, introducing his new co-host right off the bat.
"I'm doing great, AJ," Schulman said. "When I got the call from the Big Guy it was a little bit surreal, and can't believe I'm sitting next to you on High Stakes, but I'm happy to be here."
"Oh, listen, we're all Brooklyn guys. Me, you, and Gabe – never bet against Brooklyn guys, we're gonna be fine," Benza responded.
Benza, Schulman, and Kaplan were all born in New York City.
Gabe Kaplan Retires from High Stakes Poker
The Action at the Table
When the action began, Ema Zajmovic took down a small pot of $3,400 with a pair of fives in the $200/$400 no-limit hold'em cash game.
There were six other players at the table — Jennifer Tilly, Eric Persson, Matt Hanks, Jean-Robert Bellande, Bobby Baldwin, and Chino Rheem. Hanks had the largest stack with just over $350,000 and three players began the episode with a tad below $100,000.
Last week's Season 10 premiere featured one of the more entertaining chop pots in High Stakes Poker history between Zajmovic and Hanks. This week's highlights include a mistake by Persson in how he attempted to get a call from Bellande.
On a board of
and $40,000 in the pot, Persson made an over-bet of $100,000 with
for a full house. Bellande went into the tank with
. Persson made every effort he could to talk his opponent into a call, and he went so far as to turn over the queen. Unfortunately, for the loudmouth casino owner and high-stakes regular, it ended up convincing "JRB" to fold his cards and he only won a small profit with a monster hand.
Bellande would get some breaks later on, however, including a six-figure pot he shipped with a flopped set against Tilly, who missed her flush draw. But then he folded pocket 10's on a
board when Hanks bet $70,000 into a pot of $83,000 with nothing but ace-high.
High Stakes Poker Season 10 returns next week on PokerGO at 5 p.m. PT with Episode 3.
*Images courtesy of PokerGO.