Dream Crushers: Brutal Elimination Hands from the WPT SHR Poker Showdown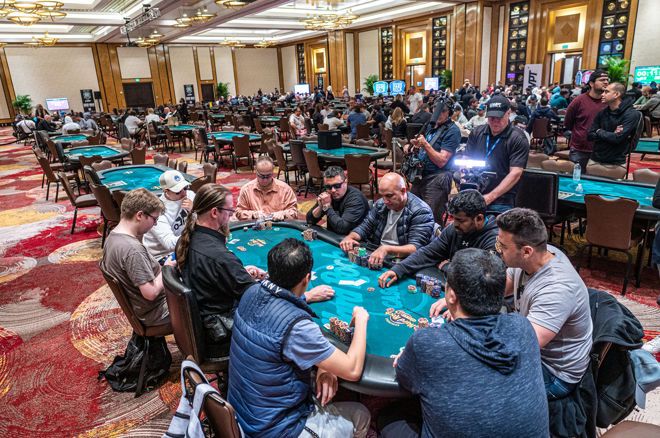 Over the weekend, the World Poker Tour (WPT) $3,500 Seminole Hard Rock Poker Showdown attracted 2,290 entrants and played down to the final table of six, which will recommence on May 25 in Las Vegas.
The $3 million guarantee was obliterated as a $7,328,000 prize pool was created, and the eventual winner will walk away with a $1,128,250 top prize. While the dreams of WPT glory are still alive for the remaining six players, there was heartbreak for many on the playdown days.
Live reporters from both the WPT and Seminole Hard Rock captured the action throughout, and we thought we'd share some of the more gut-wrenching eliminations hands that likely saw players hitting the rail with a little bit of pain.
Bin Weng Leads Remaining Six Players in WPT SHR Poker Showdown
Big Slick Does Not Do the Trick for Lagodich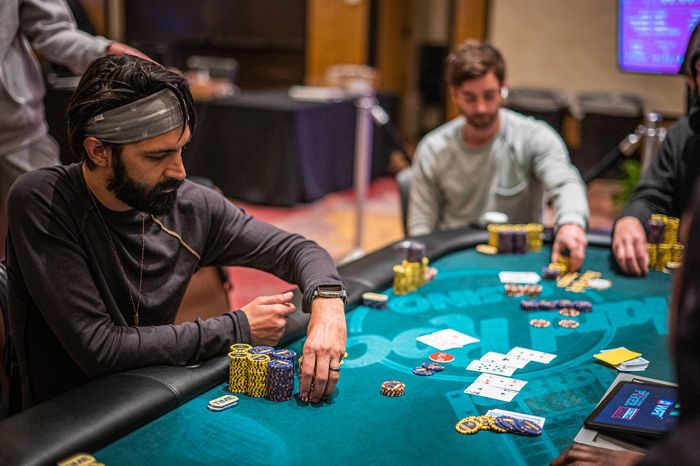 On Day 3 in Level 24 (25,000/50,000/50,000), 54 players remained when a series of preflop raises resulted in Frank Lagodich getting his stack of 3.2 million all in from the cutoff against inaugural Wynn Millions champ Andrew Moreno in late position.
Andrew Moreno: A♦10♥
Frank Lagodich: A♥K♥
Lagodich was a big favorite, but not when a ten appeared in the window on the 10♣5♥2♣ flop. The A♣ turn paired both, but Moreno was ahead with aces up. Lagodich needed a king on the river, but it was not meant to be as the 3♣ appeared instead.
Just like that, Lagodich was ousted in 54th place for $19,100.
The Ladies Do Not Lover Steve Buckner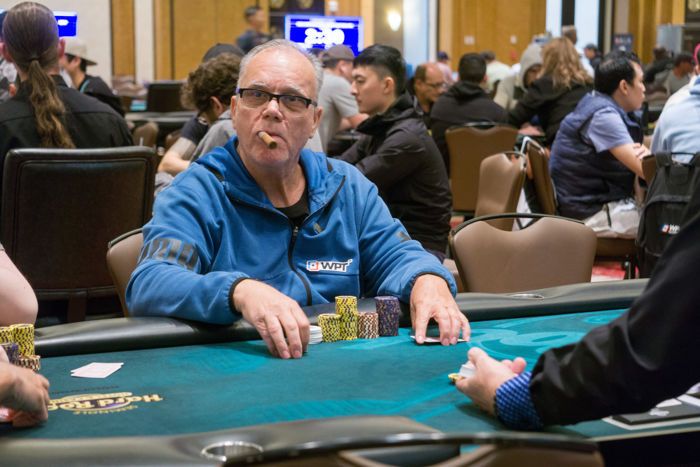 Also, on Day 3 in Level 26 (50,000/75,000/75,000), Steve "Cuz" Buckner moved all in for 1.4 million while saying, "I'm all in boys. I ain't looking for the pay jump."
Champie Douglas then called off for 1.15 million from middle position before John Dolan called from the big blind to put both players at risk.
Steve Buckner: Q♣Q♥
Champie Douglas: K♠Q♠
John Dolan: A♦K♥
Buckner had the best of it and looked good on the 10♦6♠4♦ flop. However, the J♠ turn put out a big sweat as Douglas picked up straight and flush draws. Unfortunately for Buckner, the 9♥ river gave Douglas the straight and a triple up.
Buckner won the small side pot of around 500,000, but he was eliminated a short time later in 33rd place for $26,400.
Players are now on Dinner Break in our #WPTSHRPS Main Event with just 30 remaining @HardRockHolly!

— World Poker Tour (@WPT)
Madsen Gutshot Through the Heart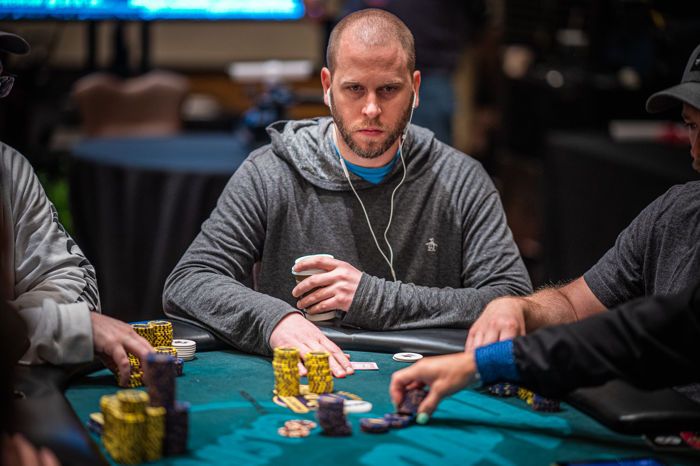 Day 4 saw 16 players return to action looking to make the televised final table of six. Four-time World Series of Poker (WSOP) bracelet winner Jeff Madsen was short-stacked in Level 29 (75,000/150,000/150,000) when he raised to 1.05 million from the small blind and Isaac Kempton called from the big to see a flop of K♦10♠3♣.
Madsen wasted little time in moving all in for his last 600,000 or so and Kempton quickly called with the J♦9♦ for a gutshot straight draw and running diamonds. Madsen tabled the K♣8♦ for top pair and was a heavy favorite to double up.
The 5♣ turn brought him one step closer to doing so, but then disaster struck when the Q♠ spiked on the river. Kempton made his straight and Madsen became the day's first elimination taking 16th place for $56,800.
Check out the WPT Hub on PokerNews here!
Moreno Gets It in Preflop with Pocket Kings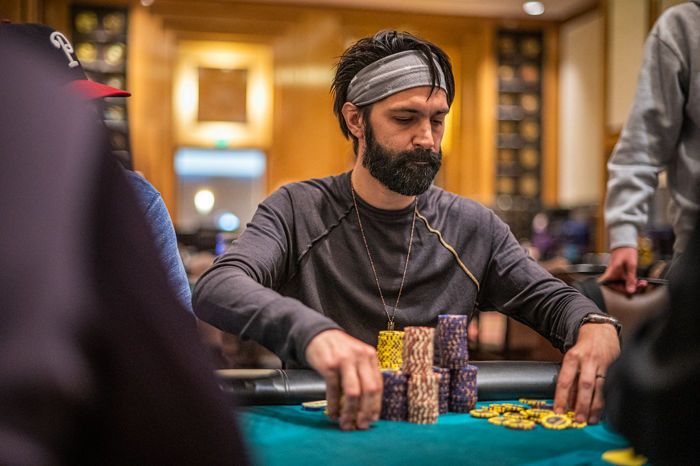 Not long after in Level 29 (75,000/150,000/150,000), Rafael Farah Jarufe raised to 400,000 from the cutoff and Moreno three-bet to 1.55 million from the small blind. Jarufe responded by four-bet jamming all in and Moreno called off for 4.8 million.
Andrew Moreno: K♠K♣
Rafael Farah Jarufe: A♣Q♦
Moreno was primed to win a monster pot, and the 7♦3♦3♥ flop seemed safe enough. Unfortunately for him, the dealer burned and turned the A♥ to pair Jarufe. The 2♠ river was a brick and Moreno was eliminated in 15th place for $56,800.
Ostapchenko Tries to Set Up Mzareulov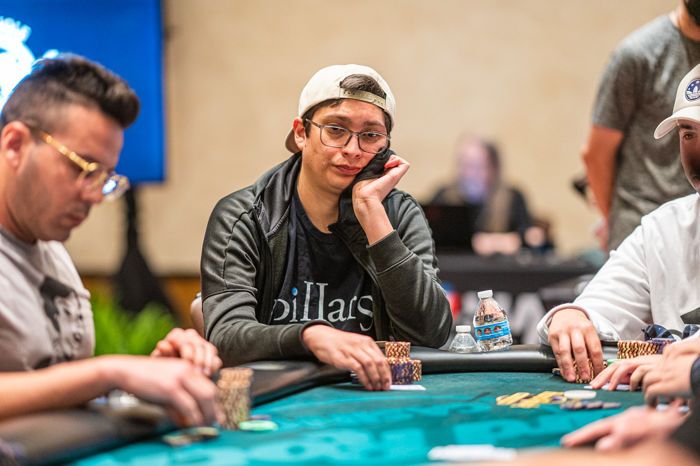 Also, in Level 29 (75,000/150,000/150,000), there was a flop of 9♠7♥5♥ when David Mzareulov checked from the small blind and Kempton did the same from the big. Andrew Ostapchenko then bet 200,000 from the hijack and Mzareulov woke up with an all-in check-raise to 2.5 million.
Kempton quickly folded, Ostapchenko called off for 2.45 million, and the hands were turned on their backs.
David Mzareulov: Q♥9♥
Andrew Ostapchenko: 5♠5♦
Mzareulov had check-jammed with top pair and a heart flush draw, but Ostapchenko was ahead with a set of fives. The 3♦ turn was of no consequence but the 6♥ river was as Mzareulov made his flush to dispatch Ostapchenko in 13th place for $70,500.
Remember, the final table will be played at the Hyper X ESports Arena at the Luxor in Las Vegas, Nevada on May 25th. Action will resume with just over 12 minutes remaining in Level 32 (150,000/300,000/300,000). PokerNews will be on-site and will bring you a winner's recap upon the tournament's completion.
*Images courtesy of WPT and Seminole Hard Rock.
Executive Editor US, PokerNews Podcast co-host & 2013 WSOP Bracelet Winner.