Tom Dwan Wins Largest Pot in Live-Stream Poker History ($3.1 Million)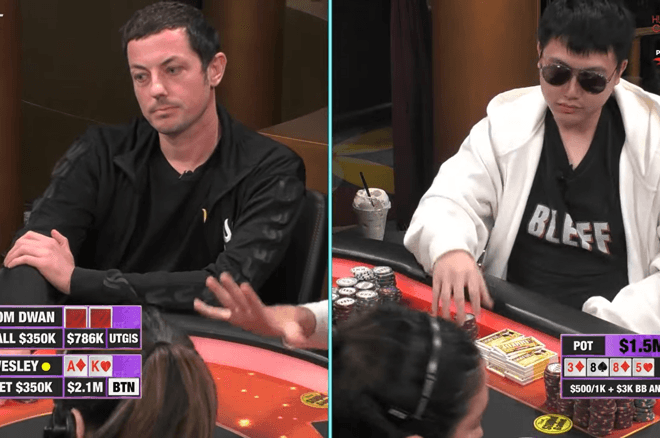 The final day of the Hustler Casino Live $1 million buy-in game has produced some truly epic pots, but none more so than one Tom Dwan took down for $3,081,000 million — the largest pot in live-stream poker history.
About six hours into Tuesday's stream, which had more than 50,000 concurrent viewers throughout much of the night, the best hand of them all took place. When the HCL Twitter page hyped it up as the hand that will "break the internet," they weren't spewing hyperbole.
Earlier in the show, "durrrr" won a massive pot against Doug Polk, whose failed bluff attempt on the river cost him a $1.1 million pot. In that hand, Dwan tank-called both the turn on the river with a monster hand, leading some to believe he slow-rolled his opponent. While that hand was quite entertaining, it pales in comparison to one Dwan played later in the session.
The Costliest Poker Bluff Attempt You've Ever Seen
During the fourth and final $1 million game on Hustler Casino Live, there were some sick bluff attempts. Some got through, others didn't. One that did was a hand where "LSG Hank" wagered over $900,000 on the river with ace-high and forced Polk off pocket aces.
And then there was an attempted bluff that cost "Wes Side" Wesley, one of the HCL fan favorites, a California mansion. Wesley had bought in for $3 million, more than anyone else at the table. But he could only hold onto that stack for about five hours.
The stand up game was on during the record-breaking hand. For those unfamiliar with this gimmicky action game, the player who is last to win a hand must pay everyone else at the table a $6,000 fee. So, that adds an extra dynamic, which often baits players into playing more aggressive to avoid being the last to stand.
As for the hand itself, Wesley three-bet to $30,000 with A♦K♥ and Polk folded after having seen Wesley's cards. During the hand, Polk was in an awkward position as he had to do his best to not give off any tells to either player in the hand.
Following the three-bet, Dwan then raised to $100,000 with Q♠Q♣ and his opponent five-bet to $275,000 and was called to see a flop of 3♦8♠8♦. Dwan would check-call a $125,000 bet and the pot was already over $800,000. The turn was the 5♥ and Wesley was still stuck on ace-high, but he fired out another massive wager, this time for $350,000, which put "durrrr" into a brief tank. He'd eventually call and then the 6♣ would appear on the river.
Knowing he could only win if he bet, Wesley put Dwan to the test for his remaining $786,000 stack. The former Full Tilt Poker pro again tanked as he faced a difficult decision for a seven-figure pot with nothing but one pair, albeit an over pair. After some thought, he made the gutsy call and took down a $3.1 million pot, the largest in live-stream poker history.
$3.1 MILLION POT!! THE BIGGEST POT IN THE HISTORY OF TELEVISED POKER!!

— Hustler Casino Live (@HCLPokerShow)
As for Wesley, he's built up a "tight" reputation on Hustler Casino Live. You can put that characterization to rest. He seemed to take the loss in stride.
Sorry it didn't work out. 3.1 M pot bluff. Biggest bluff in poker history https://t.co/R08hbfoUmd

— Dr.Hash"Wesley" (@CryptoApprenti1)
With that hand, Dwan was up more than $2 million on the day at the time of publishing. The stream would continue on the Hustler Casino Live YouTube channel.