Arlie Shaban Wins Patio Poker Week Main Event Amid PokerStars Ontario Heater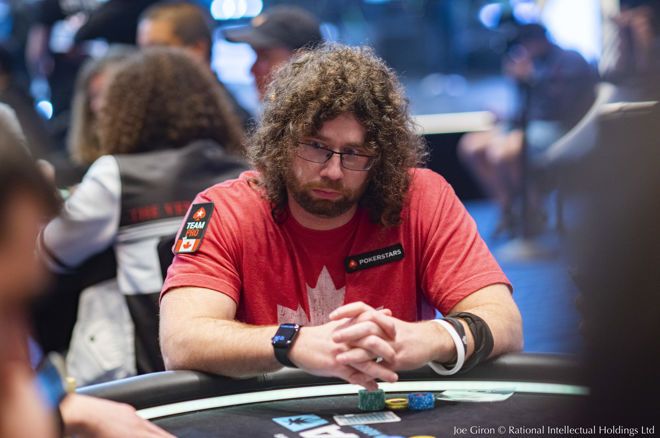 Patio Poker Week ran from May 28-July 4 on PokerStars Ontario and offered over $200,000 in guaranteed prize pools. The week-long turbo series culminated with the $100 NLHE [8-Max, Turbo, Progressive KO, Main Event] $20K GTD and a familiar face claimed the title.
Team PokerStars' Arlie "Prince Pablo" Shaban won the Main Event of the series, and all the action was captured on stream as he navigated his way to victory.
Not only did Shaban win the marquee tournament, but the previous day he notched a profit of nearly $5K, and the day after his Main Event win, he pocketed nearly another $2K in front of an audience playing various tournaments on the PokerStars Ontario platform.
PokerStars Gives Ontario Basketball Fans Red Pass Treatment w/ Stapes & Shaban
The Fresh Prince of Ontario
On June 3, Arlie "Prince Pablo" Shaban fired up his stream, and thousands of viewers watched him fire away in several events. He notched multiple cashes, including a score of just under $3K after a four-way chop in the Daily Super High Roller $500, $12K GTD. At the end of the day, he finished with a sweet profit of $4,917.
The following day on June 4, Shaban made his way back to the virtual felt for another session with an even better result. Among other cashes during his hours-long stream, he captured the title in the Patio Poker Week $100 NLHE [8-Max, Turbo, Progressive KO, Main Event].
ANOTHER 5K DAY!! This is insanity, I won the $100 Patio Poker Week Main Event today for 5.7K @PokerStars… https://t.co/U9PZyq7XBb

— Arlie Shaban (@ArlieShaban)
Shaban claimed the $1,751.68 top prize and picked up a massive $3,920.29 in bounties in the progressive knockout format, nearly seven times more than the next largest bounty winner. Overall that day, he pocketed a total profit of $5,515.
$100 NLHE [8-Max, Turbo, Progressive KO, Main Event] Final Table Results
| Place | Player | Prize | Bounty |
| --- | --- | --- | --- |
| 1 | Arlie "Prince Pablo" Shaban | $1,751.68 | $3,920.29 |
| 2 | "Phantom 2X" | $1,751.52 | $178.13 |
| 3 | "lyonsden6" | $1,116.70 | $245.31 |
| 4 | "tonami2" | $833.13 | $571.87 |
| 5 | "Element97x" | $621.57 | $393.75 |
| 6 | "smith1952" | $463.73 | $268.75 |
| 7 | "jdawggg1993" | $345.97 | $162.50 |
| 8 | "RiffleRaffer" | $258.11 | $112.50 |
| 9 | "the_chach69" | $221.00 | $268.75 |
The day after his win he put on another show for his viewers and earned another not-too-shabby monetary gain of $1,902, including a runner-up finish in the Mini Monday Heat $20 [8-Max], 3K GTD, and a third-place finish in the Monday Heat $100 [8-Max], 7K GTD. Over the three-day period, the 34-year-old streamer profited a total of $12,334.
Shaban is no stranger to success on the PokerStars platform in the largest Canadian province, as the popular Twitch streamer won an astonishing five ONCOOP titles late last year.
PokerStars Ontario Celebrates Toronto Maple Leafs' Stanley Cup Success
Other Patio Poker Week Winners
The final day of the series was on June 4, and in addition to the Main Event, there were nine other Patio Poker Week events during the day to ensure other players not named "Prince Pablo" could also earn a nice payday.
In PPW 52: $20 NLHE [Turbo, Deepstack], "SSSMBRFC2/C" navigated through a field of 158 entrants to snag the lion's share of the $2,875.60 prize pool for a score of $579.05.
"PhatBlunt" took the biggest piece of the $10,465.20 prize pool in PPW 54: $100 NLHE [8-Max, Turbo, Fast Sunday SE] and claimed the $2,396.89 top prize over the field of 114 players.
Meanwhile, "samcro37" closed out the series with a victory in PPW 58: $30 NLHE [8-Max, Hyper-Turbo, PKO] Wrap-Up for $390.55 plus $520.75 in bounties.
A list of all the Poker Patio Week winners from the final day of the series is available in the table below.
PokerStars ON Poker Patio Week Winners June 4, 2023
| Date | Event | Entrants | Prize Pool | Winner | Prize |
| --- | --- | --- | --- | --- | --- |
| 4-Jun | PPW 49: $10 NLHE [5-Max, Turbo] | 180 | $1,638 | "Torbrew" | $237.66 |
| 4-Jun | PPW 50: $50 NLHE [7-Max, Turbo, PKO, Big Ante] | 148 | $6,734 | "cchen16" | $532.98 |
| 4-Jun | PPW 51: $10 NLHE [3-Max, Hyper-Turbo, PKO, Zoom] | 178 | $1,800 | "goodfun" | $154.55 |
| 4-Jun | PPW 52: $20 NLHE [Turbo, Deepstack] | 158 | $2,875.60 | "SSSMBRFC2/C" | $579.05 |
| 4-Jun | PPW 53: $100 NLHE [8-Max, Turbo, PKO, Main Event] | 249 | $22,858.20 | "Prince Pablo" | $1,751.68 |
| 4-Jun | PPW 54: $100 NLHE [8-Max, Turbo, Fast Sunday SE] | 114 | $10,465.20 | "PhatBlunt" | $2,396.89 |
| 4-Jun | PPW 55: $30 NLHE [8-Max, Turbo, Mini Fast Sunday SE] | 148 | $4,040.40 | "Broneubs" | $837.61 |
| 4-Jun | PPW 56: $20 PLO [6-Max, Hyper-Turbo, PKO] | 135 | $2,538 | "allen7892" | $219.13 |
| 4-Jun | PPW 57: $50 NLHE [6-Max, Hyper-Turbo, Sunday Supersonic SE] | 136 | $6,392 | "Matt091995" | $1,348.44 |
| 4-Jun | PPW 58: $30 NLHE [8-Max, Hyper-Turbo, PKO] Wrap-Up | 132 | $4,000 | "samcro37" | $390.55 |