WATCH: The 888poker Pros Chase $12.1 Million & WSOP Main Event Glory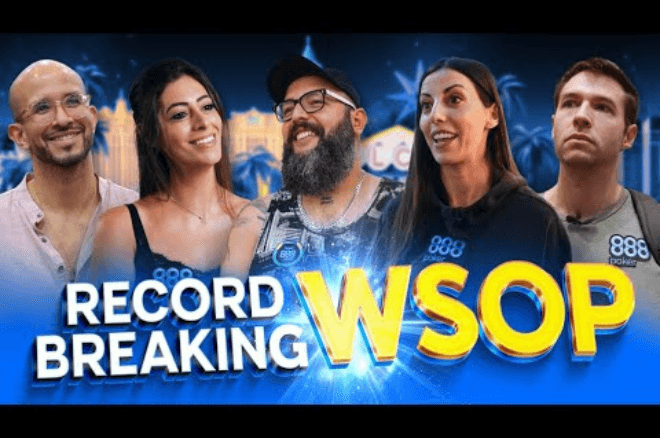 888poker have released the first and second episodes of their latest YouTube series, which follows the platform's ambassadors as they begin their pursuit of $12,100,000 and WSOP Main Event glory.
New instalments are released every Sunday and are must-watch for those who want to see what it's like to navigate their way through poker's biggest tournament.
There are plenty of ups and downs along the way, as certain ambassadors fall at the first hurdle while others put in some deep runs. Make sure to catch up on episodes one and two before episode three goes live on Sunday, August 6.
The 888poker Pros Touch Down in Sin City
Aaron Barone, Alexandre Mantovani, Caue Moura, Lucia Navarro and Vivian Saliba all arrive into Las Vegas in the first episode of the series.
Saliba's journey to the WSOP began with the long trip from Vienna, Austria, while Navarro ticked off an item on her travel bucket list by visiting New York for the first time before making the plane trip across the country.
https://twitter.com/lucia13Navarro/status/1671829779644059649
And the journey from the Big Apple to Sin City started off with a bang for Navarro as she took down a $600 NLH event at the Aria Poker Classic for $37,249
For Moura and Barone, they were surprised by 888poker with a buy-in to the Main Event, of which they would be playing for the first time.
Which Pro Falls at the First Hurdle?
Episode Two is where things really begin to heat up as the ambassadors jump into Main Event.
Barone, Mantovani and Saliba all hopped into Day 1c, while Moura and Navarro took their shot in Day 1d.
Excitement is in the air, with the pros eagerly awaiting for their respective shuffle up and deals.
Barone and Saliba noted that for Day 1 of the Main Event, they found themselves at some tough tables in the early goings, with Saliba having four-time bracelet winner Nick Schulman on her left.
However, despite a table change, Saliba was one of two 888poker ambassadors to hit the rail in the early goings. Mantovani was the second, which was also the first time he had exited poker's World Championship on Day 1.
Barone, Moura and Navarro were all able to bag and tag a stack for Day 2, and you can find out how they continued to fare as episode three releases on Sunday, August 6, on the 888poker YouTube Channel.
Find Out If Alexandra Botez' $10K River Bluff Worked Against Phil Ivey With 888Ride
Keep Track Of All The Action With The PokerNews Online Tournament Calendar
If you want to make sure you never miss a series like The Festival, you should give the PokerNews Online Tournament Calendar a try. This free-to-use tool keeps track of the poker tournaments on major online poker sites like 888poker.
You can filter and search the tournaments to find what you're looking for quickly and easily, including the PokerNews exclusive freerolls held on 888poker.
Sign up for 888poker today, and you can register for poker tournaments without ever leaving the calendar!