Daniel Negreanu Surprise Crashes High Schooler's Las Vegas Poker Home Game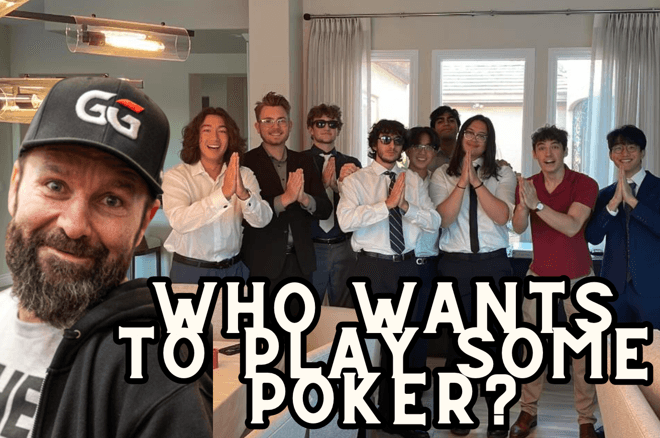 Even at age 49, the "Kid Poker" moniker might still be fitting for Daniel Negreanu after the Poker Hall of Famer made a surprise guest appearance at the home game of some neighborhood teenagers on Sunday night.
There aren't many better ways to promote the game and turn youngsters into lifelong poker fans than for arguably the biggest name in poker to show up to play some low-stakes no-limit hold'em with them.
Ask and You Shall Receive
On Sunday, Negreanu tweeted that, while out walking his dogs, he was approached by a neighborhood "kid in a suit" who asked him if he'd stop by to play some cards with his friends in what would be their final poker game together before going off to college.
The GGPoker ambassador polled his Twitter (X?) followers if he should go, and the majority said he should.
https://twitter.com/__ryanz/status/1688371044934176769
One of the players from the home game — @__ryanz — responded to the tweet asking for the poker legend to come on over. A couple hours later, Negreanu made their night. Not only did he stop by to chat with the young poker players, he brought them all some GGPoker gear and took a seat in the game, which was $0.25/$0.50 stakes, just a tad bit lower than "DNegs" is accustomed to playing.
https://twitter.com/realkidpoker/status/1688399658027270145?s=46
The group of friends Negreanu visited aren't your Average Joe's and Jane's. In one cell phone video Negreanu took during the brief home game he played in, he went around the room asking everyone where they're headed to college and for what major. One said he's going to the University of Southern California to major in biological sciences, while another is attending Cornell, an Ivy League school.
Negreanu was impressed by the "cultured young men" in the game for their classical music selection. He showed a video of his final hand before heading home in which he was all in with AxKx against 10x7x. Unlike his all in luck the past two years at the World Series of Poker (WSOP), the six-time bracelet winner's hand held up on his way out the door.
https://twitter.com/RealKidPoker/status/1688416190081941504
Winning and losing wasn't what mattered in this friendly home game. It was all about a group of young poker players, playing together likely for the last time until next summer, having an experience they'll probably never forget and just might turn them into lifelong poker fans.
Negreanu was heavily praised on social media for, as he often does, being a true ambassador for the game.
"You're the best," Matt Berkey said.
2013 WSOP Main Event champ Ryan Riess offered, "The goat poker ambassador."
Many other poker players and personalities weighed in recognizing Negreanu's kind gesture including Brian Hastings, Jeff Platt, and Joey Ingram, just to name a few.
While Negreanu won in the game, he wound up giving it all back to the soon-to-be college students.
"I told them to put $5 in each pot until it's all gone," said Negreanu.