The Chad & Jesse Poker Show Highlights: Hellmuth Calls Out Ivey, Negreanu Wants PHoF Changes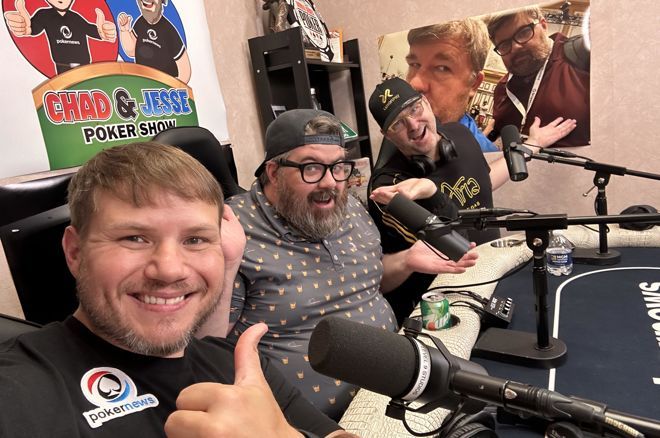 The 2023 World Series of Poker (WSOP) may be in the rearview mirror, but that just means it's a good time to take a look back at some of the highlights from the record-breaking seven-week festival. For PokerNews, some of those highlights came in twice a week with new episodes of the new The Chad & Jesse Poker Show, which was produced in conjunction with Level 9 Studios.
Chad Holloway and Jesse Fullen discussed the biggest stories of the summer and debated others in the popular "Calling the Clock" segment that allotted them just two minutes to offer their thoughts on some of the most interesting, controversial, and entertaining WSOP happenings.
What's more, they welcomed 18 guests throughout the summer including the likes of Poker Hall of Famers, several former WSOP POYs, a Main Event champion, and a plethora of poker vloggers and personalities.
Here's a look at all 14 episodes of The Chad & Jesse Poker Show from the 2023 WSOP along with some highlights from each.
Click here to watch all The Chad & Jesse Poker Show Episodes on YouTube!
WSOP Executive Director Ty Stewart the First Guest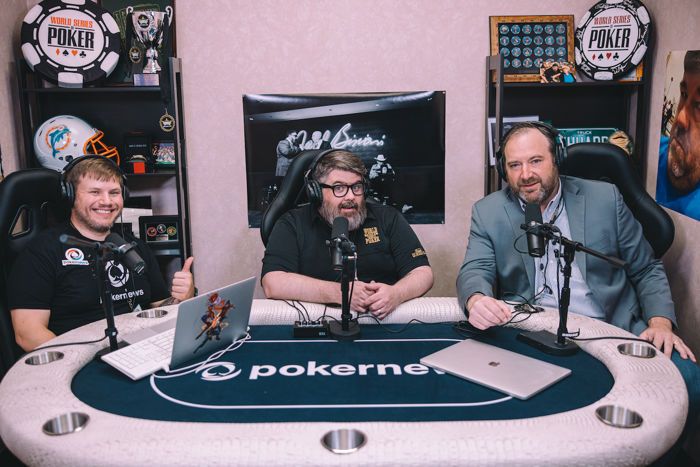 The first-ever episode was on the first day of the 2023 WSOP, so who better to have on the show than WSOP Executive Director Ty Stewart, who talked about summer plans and preparation, the status of Vince Vaughn as WSOP Master of Ceremonies, and any potential plans to honor the late Doyle Brunson. He also offers his thoughts on the WSOP Main Event field size, the Mystery Millions, and who he thought would win a bracelet first — Phil Hellmuth or Daniel Negreanu.
Lon McEachern's Unforgettable WSOP Moments
The second guest was legendary WSOP commentator Lon McEachern, who talked about his career, winning a WSOP Circuit gold ring, and playing in the Tournament of Champions. He also shared some fond memories of the late Doyle Brunson.
Steve "Cuz" Buckner Sheds Some Tears
Steve "Cuz" Buckner, who last year was a breakout player on the World Poker Tour (WPT), ultimately finishing as runner-up in the WPT Player of the Year race. The boisterous player originally from Brooklyn has established himself as a true character of the game, and you just might be surprised by his story. Plus, find out if he'd rather win a WSOP gold bracelet or a WPT title.
Poker Hall of Famer Jack McClelland
The fourth guest was Poker Hall of Famer Jack McClelland, who served as the Tournament Director of the WSOP from 1984-98. He was inducted into the Poker Hall of Fame in 2014 alongside Daniel Negreanu, and he talks about that honor as well as memories of Stu Ungar and Doyle Brunson, and what it was like to work for the legendary Benny Binion.
Aceholes Guests Nikki Limo & Caitlin Comeskey
The first episode with two guests, and the first females to appear on the show, Chad and Jesse were joined by Acesholes Podcast hosts Caitlin Comeskey and Nikki Limo, who discuss their respective backgrounds in both entertainment and poker. The competitive duo, who are only separated by a few thousand in career earnings, then played a fun game of "Who Said It - Phil Hellmuth or Kanye West?"
Jason Koon on Perkins Prop Bet, $250K SHR
GGPoker Ambassador Jason Koon took some time before jumping into the 2023 World Series of Poker (WSOP) $250,000 Super High Roller to join the show.
Koon talked about expecting his second child, and as fate would have it, the day after recording his wife went into labor and he had to pull out of the aforementioned tournament. In addition to sharing what it's like being a family man, Koon discussed integrity in poker, his personal goals, and a never-before-shared prop bet he has with Bill Perkins.
Koon, who sat fifth on the all-time poker money list according to The Hendon Mob with nearly $48 million, also discussed his love of poker history, shared a Doyle Brunson story, and just opened up about poker and life. Don't miss your chance to hear from one of the best.
The Complete Overview of the 2023 World Series of Poker
WPT Ambassadors Andrew Neeme & Brad Owen
It was another two-for-one episode when World Poker Tour (WPT) Ambassadors Andrew Neeme and Brad Owen joined the show and opened up about how their respective vlogs helped them build their poker careers. They also discussed upcoming WPT initiatives and play a little game where we quiz them on "who said it?" regarding quotes from their first-ever vlogs.
Joey Ingram on the Future of Poker
Joey Ingram, AKA Papi, a lover of four-card poker, joined the show. A prolific poker podcaster, Ingram is known for his marathon emergency investigations into such controversial matters as the Mike Postle and Robbi Jade Lew cheating allegations. Ingram, who was in L.A. for the Hustler Casino Live $1,000,000 Cash Game, recently returned to Las Vegas and was at the 2023 WSOP for the first time when he sat down with the guys. Hear what Ingram thinks the future holds for poker, which just might surprise you.
Vlogging Sensation Masato Yokosawa
Japanese vlogger Masato Yokosawa, AKA "World Wide Yokosawa," joined the show. While players in the United States might think folks like Brad Owen and Andrew Neeme has the biggest vlog followings in the world, that distinction actually belongs to Masato, who regularly clears 600K views on each of his vlogs!
The Japanese vlogging sensation opened up about his start in poker, what inspired him to start a vlog, and how he's managed to turn it into a smashing success with the help of a creative team. He also talks about his desire to win a WSOP gold bracelet, how Daniel Negreanu and Phil Hellmuth are perceived in his home country, and what the future looks like for poker in Japan.
GGPoker Ambassador Daniel Negreanu Talks 2023 WSOP & Poker Hall of Fame
The No. 1 guest they wanted on the show was Daniel Negreanu, who took a break from his busy summer schedule to talk about a plethora of topics including what it's been like running deep in the lower buy-in, big field events, interacting with fans, and how he feels about his performance thus far.
The GGPoker Ambassador also offered his thoughts on the Poker Hall of Fame, including who he thinks will get in and the changes he'd like to see moving forward. Finally, "Kid Poker" offered his prediction for the 2023 WSOP Main Event, which is also the first big topic discussed by the hosts.
GGPoker Ambassador Kevin Martin at WSOP
GGPoker Ambassador Kevin Martin was happy to be a guest on the show. The Big Brother Canada winner talked about meeting his wife on the show, how he found his way into poker and the streaming game, and busting the record-breaking 2023 WSOP Main Event. He also offered up three names when it comes to who he admires most in the poker content space.
Ryan Depaulo a Withered Pro?
Poker vlogger Ryan Depaulo, the Whole Foods parking lot bracelet winner, discussed his biggest score to date (third place in the Colossus), what his father told him ("Don't punt"), and Joey the Mush. Plus, he's asked if he was banned from Borgata for vlogging, his main poker influence, and whether or not he's a withered pro.
Josh Arieh Talks Hot 2023 WSOP; David Williams on Bracelet Stolen in Home Robbery
In the penultimate show of the summer, Chad & Jesse welcomed two guests to the show starting with Josh Arieh, who won two bracelets this summer and was nominated for the Poker Hall of Fame. Arieh talked about the WSOP back in the late 1990s, his career resurgence, Poker Stake, and shares a fun story involving Ted Forrest and the late Layne Flack.
The other guest was 2004 WSOP Main Event runner-up David Williams, who was fresh off winning a Flip & Go. He talked about his history in that event, how his WSOP gold bracelet and diamond toothpick were stolen in a home robbery, and why he wouldn't do Master Chef again.
Final Guests — Phil Hellmuth & Brian Rast
In the final show of the summer, Chad & Jesse welcomed two guests to the show starting with the legendary Phil Hellmuth! The "Poker Brat" captured his record-extending 17th WSOP gold bracelet earlier in the series, and he sat down with the boys to talk all about it.
The other guest was this year's Poker Hall of Fame inductee Brian Rast, who also won the $50,000 Poker Players Championship for a record-tying third time. Rast shared his thoughts on being inducted, who he'd like to see join him, and much more.
Listen to Episodes of the PokerNews Podcast Here!
What's Next?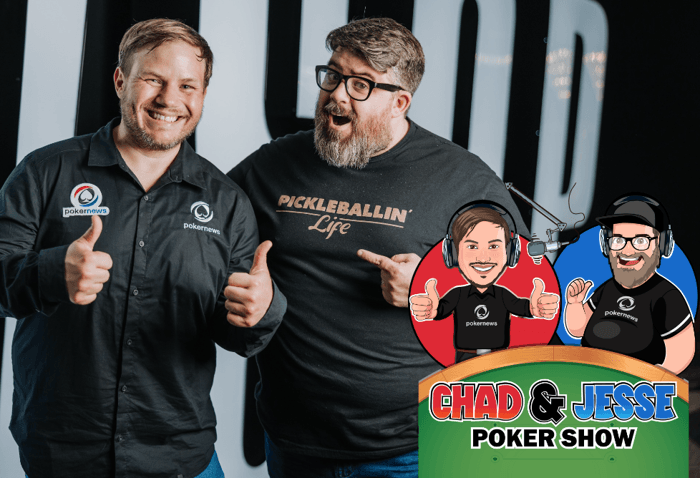 While The Chad & Jesse Poker Show was designed solely for the 2023 WSOP, plans are in the works to continue a rebranded weekly show starting in September. Stay tuned for more information on that as PokerNews aims to bring you all the latest and greatest from the world of poker!
Executive Editor US, PokerNews Podcast co-host & 2013 WSOP Bracelet Winner.