More Than $6M Guaranteed as Merit Poker Shares Retro Series Schedule (Aug 6-17)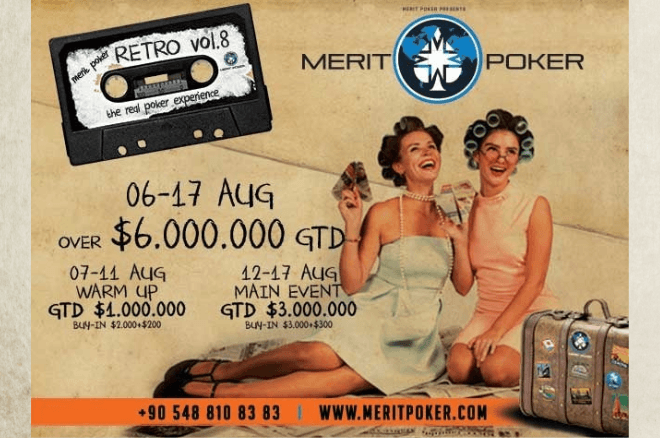 Table Of Contents
Merit Poker continues to bring great poker action to North Cyprus, and their latest Retro Series is just right around the corner, playing out from August 6-17.
The Retro Series is headlined by a huge $3 million guaranteed Main Event and features an action-packed schedule that the players will surely enjoy.
Event Highlights
Of course, everyone will be watching the Main Event, but there are plenty of other tournaments for players to sink their teeth into.
The series is opened by the NL Warm Up which promises to pay out no less than $1,000,000. The Warm Up kicks off on August 7 at midday and comes with a $2,200 buy-in. Even better, there are plenty of opportunities to get in on the cheap as they can satellite their way in for a fraction of the price.
The Warm Up has four starting flights before the fields merge for Day 2 on August 9. Day 3 will take place the following day and then the champion will then be crowned on August 11.
Another one to look out for is the $2,200 Mystery Bounty. Mystery Bounty tournaments are all the rage at the moment, and this one is not to be missed with its $250,000 guarantee. While the top bounty prize is yet to be revealed, you can expect it to be a good one.
Retro Series Main Event
As mentioned, the Retro Series Main Event has a very tempting $3 million guaranteed prize pool, but there are high expectations that the figure will be obliterated.
The Main Event buy-in stands at $3,300, and like The Warm Up, there are plenty of satellites scheduled for players to participate in. Plenty of Main Event tickets will be awarded through this route.
The Main Event starts on August 12 and has four Day 1 flights, with Day 1d running as a turbo. The Day 1 survivors will then return for Day 2 on August 15 before Day 3 and Day 4 play out over August 16-17.
Follow the Action on PokerNews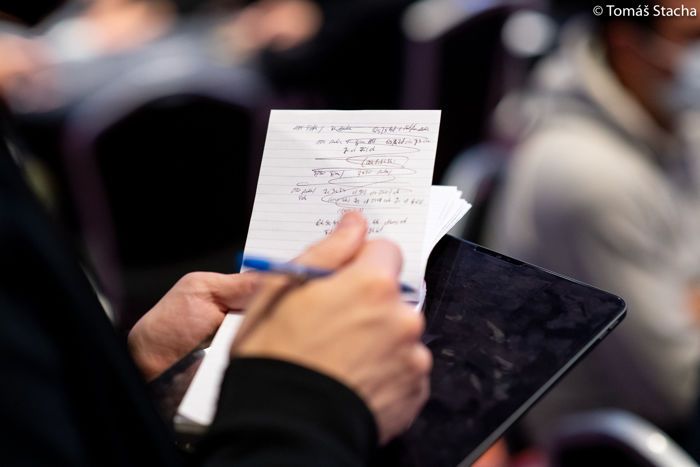 The PokerNews live reporting team will also have boots on the ground bringing you updates from The Warm Up, The Main Event and $10,500 High Roller.
Make sure not to miss a hand by checking out our live reporting page when the events kick off.
Merit Poker Retro Series Full Schedule
| Date | Time (EEST) | Buy-in | Event |
| --- | --- | --- | --- |
| 06/08/2023 | 6:00 pm | FREE | NL Freeroll to Satellite, R/A $15 |
| | 9:30 pm | $220 | NL Satellite to Warm Up Day 1A |
| 07/08/2023 | 11:00 am | $249 | NL Qualifier to Warm Up Day 1A win your seat at 100K chips |
| | 12:00 pm | $2,200 | NL Warm Up Day 1A |
| | 5:30 pm | $660 | NL Turbo Bounty $300 K.O. |
| | 9:30 pm | $385 | NL Satellite to Warm Up Day 1B |
| 08/08/2023 | 11:00 am | $249 | NL Qualifier to Warm Up Day 1B win your seat at 100K chips |
| | 12:00 pm | $2,200 | NL Warm Up Day 1B |
| | 5:30 pm | $249 | NL Qualifier to Warm Up Day 1C win your seat at 100K chips |
| | 9:00 pm | $1,100 | NL Satellite To HR Day 1 |
| | 9:30 pm | $2,200 | NL Warm Up Day 1C |
| 09/08/2023 | 10:00 am | $2,200 | NL Warm Up Day 1D Turbo |
| | 12:30 pm | $2,200 | NL Warm Up Day 2 |
| | 6:00 pm | $550 | NL La Notte Degli Assi Day 1A |
| | 10:00 pm | $550 | NL CRAZY Satellite To ME Day 1A |
| 10/08/2023 | 12:00 pm | Closed | NL Warm Up Day 3 |
| | 12:30 pm | $550 | NL La Notte Degli Assi Day 1B |
| | 5:00 pm | $1,195 | NL Qualifier to HR Day 1 win your seat at 100K chips |
| | 6:30 pm | $550 | NL La Notte Degli Assi Day 1C |
| | 8:00 pm | $10,500 | NL High Roller Event 8-Max Day 1 |
| | 10:00 pm | $550 | NL Satellite to ME Day 1A |
| 11/08/2023 | 11:00 am | $500+$50 | NL La Notte Degli Assi Day 1D Turbo |
| | 12:00 pm | Closed | NL Warm Up Final Day |
| | 1:00 pm | $1,100 | NL Bounty $500 K.O. |
| | 4:00 pm | Closed | NL La Notte Degli Assi Day 2 |
| | 5:00 pm | $1,195 | NL Qualifier to HR Day 2 win your seat at 100K chips |
| | 8:00 pm | $10,500 | NL High Roller Event 8-Max Day 2 |
| | 9:00 pm | $550 | NL Satellite to ME Day 1A |
| 12/08/2023 | 11:00 am | $373 | NL Qualifier to Main Event Day 1A win your seat at 100K chips |
| | 12:00 pm | Closed | NL La Notte Degli Assi Final Day |
| | 12:00 pm | $3,300 | NL Main Event Day 1A |
| | 2:00 pm | Closed | NL High Roller Event 8-Max Final Day |
| | 6:00 pm | $373 | NL Qualifier to Main Event Day 1B win your seat at 100K chips |
| | 10:00 pm | $550 | NL Satellite To ME Day 1B |
| 13/08/2023 | 11:00 am | $343 | NL Qualifier to Main Event Day 1B win your seat at 100K chips |
| | 12:00 pm | $3,300 | NL Main Event Day 1B |
| | 6:00 pm | $343 | NL Qualifier to Main Event Day 1C win your seat at 100K chips |
| | 10:00 pm | $1,100 | NL Mix-Max 9-Max Day 1 |
| 14/08/2023 | 11:00 am | $343 | NL Qualifier to Main Event Day 1C win your seat at 100K chips |
| | 12:00 pm | $3,300 | NL Main Event Day 1C |
| | 2:00 pm | $1,100 | PL Omaha Bounty 8-Max $500 K.O. |
| | 5:00 pm | $1,100 | NL Seniors Event (50+) y.o. |
| | 7:00 pm | $3,300 | NL Main Event Day 1D Turbo |
| | 10:00 pm | $1,100 | NL Mix-Max 7-Max Day 2 |
| 15/08/2023 | 12:00 pm | $3,300 | NL Main Event Day 2 |
| | 9:00 pm | $1,100 | 💣 Double Board PLO Bomb Pot 8-Handed |
| | 10:00 pm | Closed | NL Mix-Max 6-Max Final day |
| 16/08/2023 | 12:00 pm | Closed | NL Main Event Day 3 |
| | 12:30 pm | $2,200 | NL Mystery Bounty ($1.000 Mystery Bounty ) Day 1A |
| | 4:00 pm | $880 | PL Omaha Bounty 8-Max |
| | 7:00 pm | $2,200 | NL Mystery Bounty ($1.000 Mystery Bounty ) Day 1B |
| | 9:30 pm | $770 | NL Hyper Turbo Deep Stack |
| 17/08/2023 | 11:00 am | $2,200 | NL Mystery Bounty ($1.000 Mystery Bounty ) Day 1C Turbo |
| | 1:00 pm | Closed | NL Main Event Final Day |
| | 1:30 pm | $880 | NL Deep Stack Bounty 6-Max $400 K.O. |
| | 5:00 pm | $3,300 | NL Merit Classic |
| | 7:00 pm | Closed | NL Mystery Bounty ($1.000 Mystery Bounty ) Final Day |
| | 7:30 pm | $660 | NL Turbo Deep Stack Bounty 6-Max $300 K.O. |
Merit Poker Live Reporting Hub
Follow all the action from the Merit Poker Retro Series on PokerNews