NASCAR Driver Taunts Phil Hellmuth: "I Thought You Were the Best in the World?"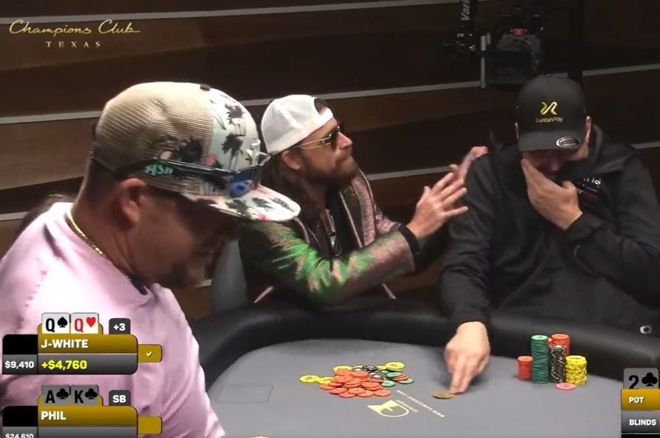 Table Of Contents
Phil Hellmuth can't even avoid trash-talkers in a poker room he co-owns. The "Poker Brat" lost a big pot to NASCAR Craftsman Truck Series driver Jason White (aka "J-White") who then playfully taunted the Poker Hall of Famer during a live-stream at Champions Club in Houston, Texas.
PokerGO handled the live-streaming duties on YouTube for the relatively low-stakes cash games Wednesday and Thursday evenings — low-stakes by Hellmuth's standards, at least.
Recreational Poker Player Does Poker Icon Dirty
White, a Canadian recreational poker player who is currently under a NASCAR suspension over a DUI arrest last month, bought in for $5,000 on Thursday. He'd go on to lose nearly $2,900, bringing his two-day cumulative losses to $7,800. But it could have been much worse for him if not for one huge pot he played against a poker legend.
Victoria Livschitz raised to $75 with A♠7♠ before J-White moved all in for $4,650 with Q♠Q♥. Hellmuth, in the small blind, then made it $10,000 with A♣K♣ and Livschitz folded.
White and the 17-time World Series of Poker (WSOP) bracelet winner would go heads up in a race for a $9,410 pot. They agreed to run the board just one time, and it came out 2♣2♠9♥3♥3♠, giving the NASCAR truck driver all the chips.
https://twitter.com/PokerGO/status/1697411972332228693
"Nice hand, J-White, nice hand," Hellmuth said after losing the pot.
"Why would you go all in?" White asked. "You didn't even have a pair. I thought you were the best in the world?"
Of course, J-White was just playfully taunting Hellmuth and meant no harm by it. The ribbing of the Poker Brat was all in good fun. There's a slim chance they'll switch roles one day and compete against each other in a NASCAR race, especially given Hellmuth's "track" record in that arena.
Hellmuth Promoting Texas Poker Room
Hellmuth, along with fellow poker legend Dewey Tomko, is a part owner of Champions Club in Houston, which opened a brand-new location in April. He's done his part to promote the room, and showing up for the second time to play on the live-stream, given his stature within the poker community, sure doesn't hurt.
In May, he competed in some much bigger games on the stream against some high-profile players such as Shaun Deeb and Dan "Jungleman" Cates.
Hellmuth ended up winning a whole $10 on the Thursday stream. That won't even buy him dinner. But the $9,240 he won at Champions the night before certainly will.
Hellmuth Helps Promote Champions Club Grand Opening