Win Tickets To The NAPT And Vegas Grand Prix Via PokerStars Power Path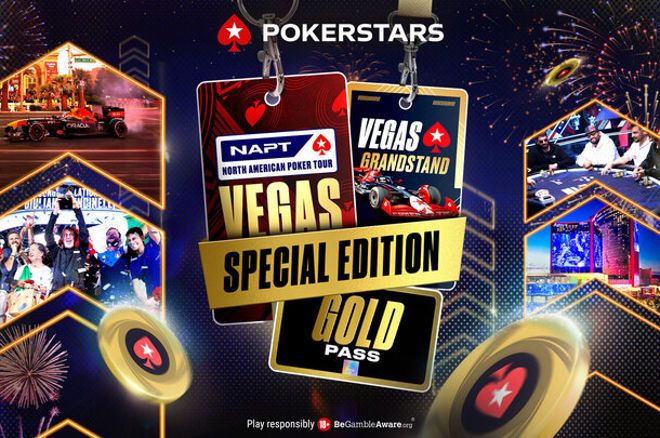 The North American Poker Tour is back for the first time in twelve years. To ensure a triumphant return for the NAPT, PokerStars has created several ways to win NAPT packages online.
The best of these packages is the Vegas Gold Pass, which not only sends you to the NAPT but also gives you access to the Oracle Red Bull Racing Fan Experience ahead of the Vegas Grand Prix.
"We are delighted to be bringing back the NAPT after 12 years, with Resorts World Las Vegas as our first stop," Kevin Harrington, the CEO of PokerStars, told the press. "Building on the success of our European Poker Tour, we are excited to bring epic live poker back to North America.
"We take pride in making our events accessible to all players," Harrington added later. "The introduction of the Vegas Gold Pass allows us to award players with a package trip to Las Vegas to enjoy classic live poker action, as well as being entertained by an epic Oracle Red Bull Racing Fan Experience."
What's Included In Your PokerStars Vegas Gold Pass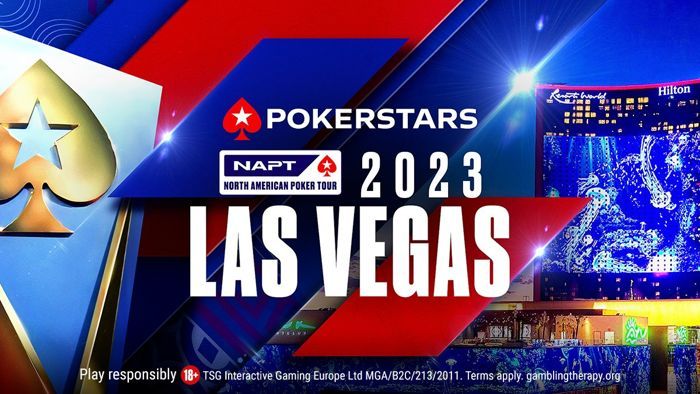 These passes cover your buy in for, travel to, and accommodation during the $5,300 NAPT Las Vegas High Roller.
Excitingly, the passes also include three-day access for two people to the Oracle Red Bull Racing Fan Experience ahead of the Las Vegas Grand Prix.
The full package is worth $20,300 and contains:
one seat in the $5,300 NAPT Las Vegas High Roller, running from November 10 to 12;
three-day passes—from November 16 to 18—for two people for the Oracle Red Bull Racing Fan Experience in Las Vegas;
ten nights—from November 9 to 19—accommodation for two at Resorts World Las Vegas;
taxes and resort fees; and
an additional $3,653 towards flights and expenses.
How to Win a PokerStars Vegas Gold Pass
PokerStars' players can now earn a Vegas Gold Pass through the Power Path promotion.
Power Path is an ongoing four-step online satellite series. Players can buy into Steps 1 to 3, in which winners will earn tickets to the next step.
However, you cannot buy directly into Step 4 where the prizes change to Bronze, Silver, and Gold Passes. To earn a seat in Step 4, you have to win your ticket in a Step 3 tourney.
From October 2 until October 26, the PokerStars Power Path is "supercharged" with fifty guaranteed Gold Passes ten of which are redeemable for Vegas bundles.
Plus, to help start you off on your own Power Path adventure, PokerStars is also awarding every player who plays real money cash games or tournaments on the PokerStars client a free $0.50 Step 1 ticket.
Click Here To Download PokerStars Now!
Full North American Poker Tour Resorts World Schedule
| Date | Tournament | Buy-In | Starting Stack |
| --- | --- | --- | --- |
| 4-Nov | Qualifier to $1,100 NLH Deepstack - 'Win Your Seat @ 50,000 Chips' - Single Re-Entry | $265 | 10,000 |
| 4-Nov | Qualifier to $1,650 Main Event - 'Win Your Seat @ 50,000 Chips' - Single Re-Entry - 10 Seats Guaranteed | $390 | 10,000 |
| 5-Nov | $1,100 NLH Deepstack - Unlimited Re-Entry - $125,000 Guarantee Day 1 | $1,100 | 50,000 |
| 5-Nov | Womens - Single Re-Entry - $20,000 Guarantee | $360 | 30,000 |
| 5-Nov | NAPT Super High Roller - Unlimited Re-Entry Day 1 | $10,300 | 50,000 |
| 5-Nov | Qualifier to $1,650 Main Event - 'Win Your Seat @ 50,000 Chips' - Single Re-Entry - 10 Seats Guaranteed | $390 | 10,000 |
| 5-Nov | Qualifier to $1,650 Main Event - 'Win Your Seat @ 50,000 Chips' - Single Re-Entry - 10 Seats Guaranteed | $390 | 10,000 |
| 6-Nov | NAPT Main Event - Unlimited Re-Entry - $1,500,000 Guarantee | $1,650 | 30,000 |
| 6-Nov | Qualifier to $1,650 Main Event - 'Win Your Seat @ 50,000 Chips' - Single Re-Entry - 10 Seats Guaranteed | $390 | 10,000 |
| 6-Nov | Seniors (50 Years or Older) - Single Re-Entry - $20,000 Guarantee | $550 | 30,000 |
| 6-Nov | $1,100 NLH Deepstack - Unlimited Re-Entry - $125,000 Guarantee Final | $1,100 | 50,000 |
| 6-Nov | Womens - Single Re-Entry - $20,000 Guarantee | $360 | 30,000 |
| 6-Nov | NAPT Super High Roller - Unlimited Re-Entry Day 2 | $10,300 | 50,000 |
| 6-Nov | PL Omaha - Single Re-Entry - $20,000 Guarantee | $550 | 30,000 |
| 6-Nov | NAPT Main Event - Unlimited Re-Entry - $1,500,000 Guarantee | $1,650 | 30,000 |
| 6-Nov | Qualifier to $1,650 Main Event - 'Win Your Seat @ 50,000 Chips' - Single Re-Entry - 10 Seats Guaranteed | $390 | 10,000 |
| 6-Nov | Qualifier to $5,300 PLO - 'Win Your Seat @ 100,000 Chips' - Single Re-Entry | $600 | 10,000 |
| 7-Nov | Qualifier to $1,650 Main Event - 'Win Your Seat @ 50,000 Chips' - Single Re-Entry - 10 Seats Guaranteed | $390 | 10,000 |
| 7-Nov | NAPT Main Event - Unlimited Re-Entry - $1,500,000 Guarantee | $1,650 | 30,000 |
| 7-Nov | Seniors (50 Years or Older) - Single Re-Entry - $20,000 Guarantee | $550 | 30,000 |
| 7-Nov | NAPT Super High Roller - Unlimited Re-Entry Final | $10,300 | 50,000 |
| 7-Nov | PL Omaha - Single Re-Entry Day 1 | $5,300 | 50,000 |
| 7-Nov | $250 NLH - Unlimited Re-Entry - $20,000 Guarantee | $250 | 20,000 |
| 7-Nov | NAPT Main Event - Unlimited Re-Entry - $1,500,000 Guarantee | $1,650 | 30,000 |
| 7-Nov | Qualifier to $1,650 Main Event - 'Win Your Seat @ 50,000 Chips' - Single Re-Entry - 10 Seats Guaranteed | $390 | 10,000 |
| 8-Nov | Qualifier to $1,650 Main Event - 'Win Your Seat @ 50,000 Chips' - Single Re-Entry - 10 Seats Guaranteed | $390 | 10,000 |
| 8-Nov | NAPT Main Event - Unlimited Re-Entry - $1,500,000 Guarantee | $1,650 | 30,000 |
| 8-Nov | PL Omaha - Single Re-Entry Final | $5,300 | 50,000 |
| 8-Nov | 8-Game - Single Re-Entry - $20,000 Guarantee | $550 | 30,000 |
| 8-Nov | NAPT Main Event Last Chance Turbo - Unlimited Re-Entry - $1,500,000 Guarantee | $1,650 | 30,000 |
| 8-Nov | Qualifier to $5,300 8-Game Mix - 'Win Your Seat @ 100,000 Chips' - Single Re-Entry | $600 | 10,000 |
| 9-Nov | PokerStars Cup - Unlimited Re-Entry - $300,000 Guarantee Day 1/A | $550 | 30,000 |
| 9-Nov | NAPT Main Event - Unlimited Re-Entry - $1,500,000 Guarantee | $1,650 | 30,000 |
| 9-Nov | 8 Game - Single Re-Entry Day 1 | $5,300 | 50,000 |
| 9-Nov | PokerStars Cup - Unlimited Re-Entry - $300,000 Guarantee Day 1/B | $550 | 30,000 |
| 9-Nov | Qualifier to $5,300 NAPT High Roller - 'Win Your Seat @ 100,000 Chips' - Single Re-Entry | $600 | 10,000 |
| 10-Nov | PokerStars Cup - Unlimited Re-Entry - $300,000 Guarantee Day 1/C | $550 | 30,000 |
| 10-Nov | NAPT Main Event - Unlimited Re-Entry - $1,500,000 Guarantee | $1,650 | 30,000 |
| 10-Nov | NAPT High Roller - Single Re-Entry - $500,000 Guarantee Day 1 | $5,300 | 50,000 |
| 10-Nov | 8 Game - Single Re-Entry Final | $5,300 | 50,000 |
| 10-Nov | PokerStars Cup - Unlimited Re-Entry - $300,000 Guarantee Day 1/D | $550 | 30,000 |
| 10-Nov | Qualifier to $1,100 Mystery Bounty - 'Win Your Seat @ 50,000 Chips' - Single Re-Entry | $265 | 10,000 |
| 11-Nov | Mystery Bounty ($500 Mystery Bounty) - Unlimited Re-Entry - $250,000 Guarantee Day 1/A | $1,100 | 30,000 |
| 11-Nov | Qualifier to $1,100 Mystery Bounty - 'Win Your Seat @ 50,000 Chips' - Single Re-Entry | $265 | 10,000 |
| 11-Nov | NAPT High Roller - Single Re-Entry - $500,000 Guarantee Day 2 | $5,300 | 50,000 |
| 11-Nov | NAPT Main Event - Unlimited Re-Entry - $1,500,000 Guarantee | $1,650 | 30,000 |
| 11-Nov | PokerStars Cup - Unlimited Re-Entry - $300,000 Guarantee Final | $550 | 30,000 |
| 11-Nov | Omaha 8B - Single Re-Entry - $20,000 Guarantee | $550 | 30,000 |
| 11-Nov | Mystery Bounty ($500 Mystery Bounty) - Unlimited Re-Entry - $250,000 Guarantee Day 1/B | $1,100 | 30,000 |
| 11-Nov | $250 NLH - Unlimited Re-Entry - $20,000 Guarantee | $250 | 20,000 |
| 12-Nov | $360 NLH - Unlimited Re-Entry - $20,000 Guarantee | $360 | 30,000 |
| 12-Nov | NAPT High Roller - Single Re-Entry - $500,000 Guarantee Final | $5,300 | 50,000 |
| 12-Nov | Mystery Bounty ($500 Mystery Bounty) - Unlimited Re-Entry - $250,000 Guarantee Final | $1,100 | 30,000 |
| 12-Nov | Last Chance Super Hyper Turbo - Unlimited Re-Entry - $50,000 Guarantee | $1,100 | 50,000 |