With Onnit Labs' Last Sticker Standing Contest, You Could Pocket $5,000 at the WSOP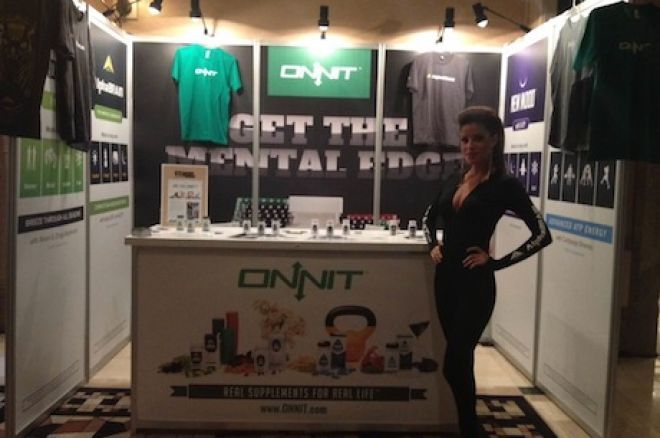 This is an advertisement
Do you want a free trip to the Atlantis Resort and Casino? How about a shot at $5,000? Well, supplement company Onnit Labs is hosting a couple of special contests so that you have the chance to do both!
Onnit Labs' Last Sticker Standing promotion will award up to $5,000 to the last player standing who is wearing an Onnit sticker in the 2012 World Series of Poker Main Event. Not only that, the Ladies Event and Event #59 are both part of the Last Sticker Standing promotion as well.
How does it work?
To enter the Last Sticker Standing promotion, you must pre-register for your chosen event. You'll then need to go to the Onnit booth in the Rio to check in and receive your Onnit sticker. Each day that you're in the tournament, you'll need to wear the sticker on your shirt above where a pocket would be, and check in with the Onnit booth to notify the representatives of your progress. The last player standing in the tournament will win the contest and receive the cash bonus, provided that they met the criteria of checking in with the Onnit booth every day of the event and wearing the Onnit sticker.
The Ladies Championship Last Sticker Standing will pocket $750. Event #59's Last Sticker Standing will win $1,000, and the winner of the Last Sticker Standing promotion for the 2012 WSOP Main Event will walk away with $5,000!
What else can you win through Onnit Labs at the World Series of Poker? How about a trip to the Atlantis Resort and Casino? Players will have three available antes, to enter for a shot at airfare and accommodation to Atlantis.
Antes (ways to enter the sweepstakes)
If you already "like" and "follow" Onnit, you can enter by posting a comment on the Onnit Labs Facebook page and/or mentioning @Onnit on Twitter.
Once a player provides an "ante," they will play one hand of five card draw against an Onnit representative. If the player wins, they're entered into the sweepstakes. Players have up to three available "antes" to enter.
We're not done.
How many times have you heard bad beat stories in the halls of the Rio? Here's your chance to make your bad beat story worth something. Onnit Labs is holding a Bad Beat Contest where players can tell an Onnit representative a hand in which they fell to a bad beat in the 2012 World Series of Poker. The story will be videoed and posted online by Onnit. At the end of the week, Onnit and fans will select the top three videos and present the winners with prizes totaling $500.
First place will be a t-shirt of the winner's choice, a set of Onnit products, and $120 cash.
Onnit.Com is a health and fitness company that makes vitamin supplements that are designed to help real people adapt and thrive in different every day life situations. Poker pros Sorel Mizzi and Matt Vengrin are sponsored by Onnit Labs. Mizzi said that he could feel a vast improvement to his game after taking the Onnit's Alpha Brain product. "I felt a noticeable improvement in my conversational flow, focus at the table, and my ability to remember dreams," Mizzi said.
Want to focus on your game? Get Onnit.