Do You Know That Valentine's Day Is Better on partypoker?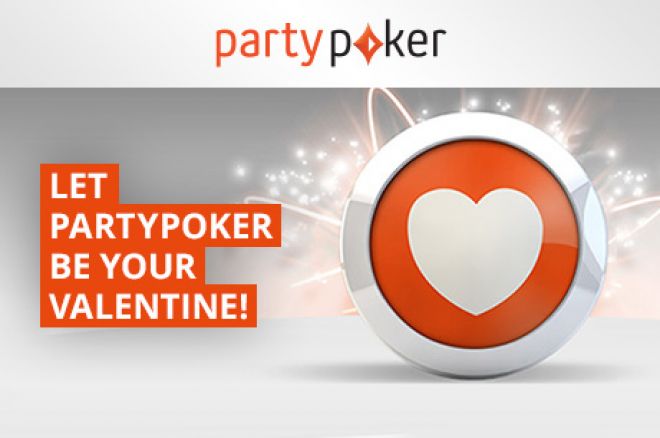 How nice would it be if, for once, you could celebrate your Valentine's Day with the person you love and with a nice present for your beloved bankroll?
While you were busy figuring out something meaningful (and possibly not too expensive) to give your dearest one on this very special day, partypoker did just about the same preparing a time-limited promo to celebrate Valentine's day…with you!
Besides all the other crazy initiatives the room launched in February, all partypoker players are now being offered an extra $5 bonus thanks to a brand new Valentine's Mission added by the room in the Missions section of its poker client.
Win $5 with the speed dating of poker!
Partypoker's new Valentine's mission is as easy to get as a present should be: all you have to do is to simply put your hands on it and make it yours.
If you want to get those extra $5 free on your account, all you have to do it to complete 4 super-easy steps as:
Win a hand with the most romantic card ever: the
Win a hand with the hottest of all hands: 6-9
Make the Wheel of Hearts winning a hand with
Try the speed dating of poker and play 99 fastforward hands
Is it really as easy as it seems? Yes, it is. Is it going to last forever? No, it is not. Remember: only diamonds last forever, and they rarely cost only $5.
Hurry Up: the Promo Expires on Sunday!
That's right, the clock is ticking and the promo is going to be around only until Sunday 23:59 (ET). And before you find it unfair, think twice: would Valentine's be really this special if it every day was a Valentine's day?
So, go ahead: start from here opening an account on partypoker, install the client on your PC or Mac (yes, it works on Mac too!), go to the Missions tab and activate the newly added Valentine's one.
If you are already a partypoker player, even better. Simply pause any mission you might be on right now and activate your Valentine's one to enjoy your free $5 Valentine bonus.