Earn Up To 110% Rakeback by Streaming Your Poker Action at Run It Once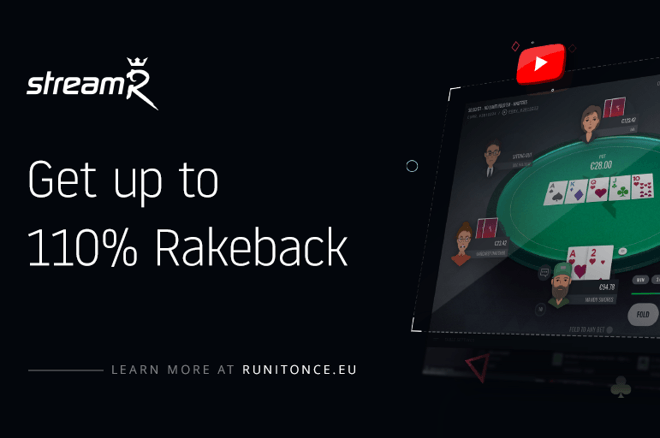 Are you an avid poker streamer or are thinking of giving streaming your poker action live on Twitch or YouTube?
You should consider streaming at Run It Once Poker and here's why.
Streamers at Run It Once can earn up 50 to 110 percent rakeback thanks to the innovative streamR program.
This is huge even at the lowest 50 percent level especially for those just starting a stream thanks to the easy-to-meet minimum requirements.
At the highest level, Run It Once is not only paying you all the rake you contributed but also will be paying you 10 percent more out of your own money.
Become a streamR to earn up to 110% rakeback.
How to Apply
Getting involved in this promotion couldn't be any easier.
Simply head to Run It Once and fill out a short application including email address, Run It Once username, and your YouTube or Twitch channel name to become an approved streamR poker streamer.
Once approved, you are ready to rock and roll. You should read all the terms and conditions before applying as there are some global rules about things such as streaming on other sites and country/language-specific rules as well.
Earn Up to 110% Rakeback
Once your application is approved, go ahead and start live streaming your action.
Your rewards will be determined on a monthly basis based on the number of watch hours your stream had in a calendar month. Watch hours are defined by the average number of viewers your stream had multiplied by the number of hours you streamed.
The program features four different tiers to allow those streaming more watch hours to earn a higher percentage of rakeback as follows.
| Streamer Level | Watch Hours | Rakeback Percentage |
| --- | --- | --- |
| Level 1 | 200 | 50% |
| Level 2 | 1,200 | 75% |
| Level 3 | 8,000 | 100% |
| Team RIO | 20,000 | 110% + More |
Why streamR is Perfect for New Streamers
Let's get straight to the facts.
You will need to at least 200 watch hours during a calendar month in order to get the minimum rewards of 50 percent rakeback.
Don't let this scare you off. This might sound hard but it really isn't.
Let's say you are just starting to stream and are averaging 10 external viewers. Just stream 20 hours during a calendar month and you will reach Level 1 and be rewarded 50 percent rakeback.
Even Level 2 is achievable if you have 10 average viewers as this is just 120 hours of streaming in a calendar month. It would just take 20 days of streaming six hours of streaming to achieve this level and be rewarded 75 percent in rakeback.
Most new streamers don't walk away with anything but at Run It Once it is possible to grow your channel fast thanks to easy-to-meet minimum requirements.
Established Streamers Get Bigger Rewards
Level 3 and Team RIO are more for established streamers with the former requiring 8,000 watch hours and the latter requiring at least 20,000 watch hours.
If you have a decent audience of 80 viewers, it would just take 100 hours of streaming in a calendar month to get a full 100 percent rakeback on your play.
This is double that of what smaller streamers can expect that achieve Level 1.
Meanwhile, Team RIO requires you to have a bigger audience with 20,000 watch hours.
Some bigger streamers can do this without breaking a sweat. That being said it is possible to do with 100 average viewers if you are willing to put in the time in the form of 200 streaming hours.
Start Your Run It Once Poker Career With a €600 Bonus
If you are thinking of becoming a streamR poker streamer where you can earn up to 110 percent rakeback you will obviously need an account at Run It Once.
If you don't already have an account we have great news for you as Run It Once is giving all PokerNews reader a welcome bonus worth up to €600.
Download Run It Once Poker via our links, create your account and watch as all your deposits for the first 30-days after making your first deposit are matched 100% up to a combined maximum of €600.
The bonus releases into your account at the rates shown in the table below. Perhaps the best feature of this bonus is it never expires so long as you play at least one raked hand every 30-days. Do this and you can take as long as you wish to clear your bonuses.
| Bonus Progression | Rake This | Get This |
| --- | --- | --- |
| €0-€100 | €25.00 | €5 |
| €100-€200 | €57.10 | €10 |
| €200-€300 | €66.50 | €10 |
| €300-€500 | €100 | €10 |
| €500-€600 | €200 | €10 |