Win Extra Prizes in the $10,000 Sunday Made to Amaze at 888poker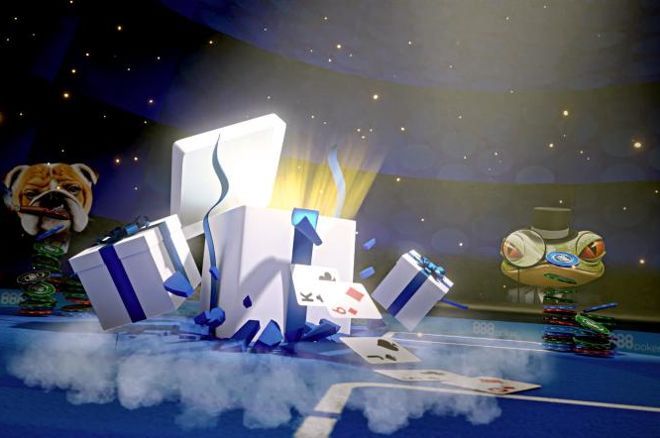 888poker has made Sunday and even more of a Funday than it already is. This is especially the case if you enjoy playing low stakes and like the idea of playing for extra prizes on top of an already lucrative prize pool.
Every Sunday at 6 p.m. GMT, 888poker will host its $10,000 Sunday Made to Amaze tournament that already amazes with a $10,000 guarantee for just a $5 buy-in.
This is not all as the winner will also also be awarded a special prize which could include goodies like a private tournament with friends boasting a $10,000 prize pool, a personalized avatar, a yearly subscription to weekly online poker events such as the popular Sunday Big Shot tournament, and much more.
Head to the NEW 888poker Hub
Want to stay up-to-date on all the latest 888poker news right here on PokerNews? Why not try out the new 888poker Hub!
Win $1K for Each Win Your Team Earns During the UEFA Euro 2020
This Sunday could prove to be extra fun, especially if your team wins big during the UEFA Euro 2020.
This is because the winner of the $10,000 Sunday Made to Amaze tournament on Sunday, May 30 will award the winner not only a lion's share of the big prize pool but also be rewarded with an additional $1,000 for each win made by your chosen national team during the 2020 UEFA Euro 2020.
This can add up to be huge depending on your team and remember this tournament only costs $5.
On top of the amazing prizes, the tournament also boasts a decent structure with players starting with a stack of 10,000 in chips and blinds increasing every 10 minutes.
Qualify to the $10,000 Sunday Made to Amaze for FREE!
We imagine most of you could pony up the $5 to enter this event. It is great value at this price as is but why even pay $5 when you can potentially play for free!
That's right - as long as you have made at least one deposit at 888poker - you will have multiple chances per day to get into this event for free.
It's at least worth a shot as it doesn't cost you a penny and if you don't get in for free you can always pay the $5 entry fee later to get into this amazing weekly value-added poker event.
888poker is the Perfect Site for Beginner Poker Players
Download 888poker
In order to play in the Sunday Sale tournaments, you'll need an account with 888poker. If you don't have an account simply download 888poker through PokerNews and you will be awarded an $88 bonus (£20 in the UK) without making a deposit.
Once you are ready to make your first deposit, it will be matched in the form of a bonus of up to $888, or more than twice as much advertised on the site.