Win Millions of Coins in the Omaha Series with Global Poker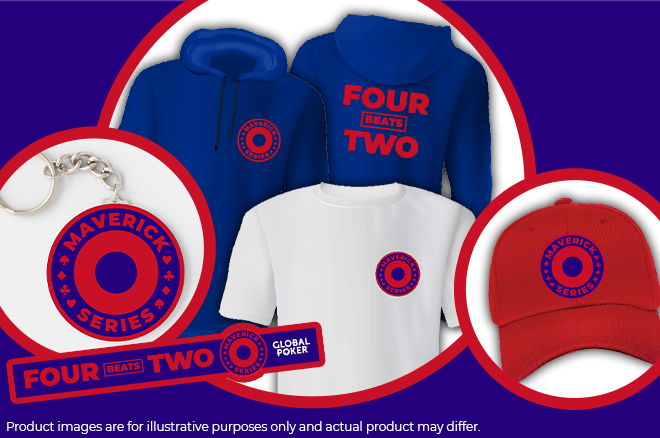 Do you enjoy playing Omaha? Or are you a diehard Omaha fan? Global Poker has the series for you!
Through Global Poker's first-ever Omaha only series, you have the chance of winning prizes, which consist of the 100,000,000 Gold Coins and 250,000 Sweeps Coins in total prizes guaranteed.
What is Maverick O Series Tournament?
Through the medium of Omaha of all formats, which includes PL08, Fixed-Limit, Pot-Limit, and No-Limit, which is separated from 44 events into 22 Gold Coins events and 22 Sweeps Coins events.
During the series, you can also indulge yourself in the additional Omaha ring games, which is including Fixed-Limit Omaha and 8-Max PLO.
Being fast-paced and action-packed, to stand a chance to be able to win a range of amazing prizes, you need to be on your game that will test your skills to the max across 7 days.
Across the varied Omaha events, ranging from 6th June to 12th June, you have the ability through 44 trophies to be won, and exclusive, limited-edition prizes!
What Prizes Can You Win?
In the midst of 7 days of renegade action, the prizes are only just starting with 100,000,000 Gold Coins and 250,000 Sweeps Coins to be won!
As well as the coins which are up for grabs, you are also able to win the '4 Beats 2 Maverick O Trophy', you are also able to win one of these razor-sharp Omaha tributes, in true maverick style.
In addition, if you're wanting to add some merchandise to your collection, you are able to, Global Poker style. When it comes to the merch, Global Poker doesn't mess around – especially for those who are dedicated to the Omaha series with this slick new apparel.
No Purchase Necessary. VGW Group. Void where prohibited by law. See T&Cs. 18+
How Do You Win These Prizes?
Through the different games of Omaha, which you can indulge yourself in, which also include two main events which provide the chance to win 20 million gold coins and 50,000 Sweeps Coins, respectively.
For your chance to be able to enjoy the varied games of Omaha and be in for the chance of winning coins, merchandise and so much more, you can register for the series.