Win 825 Million Coins in This Championship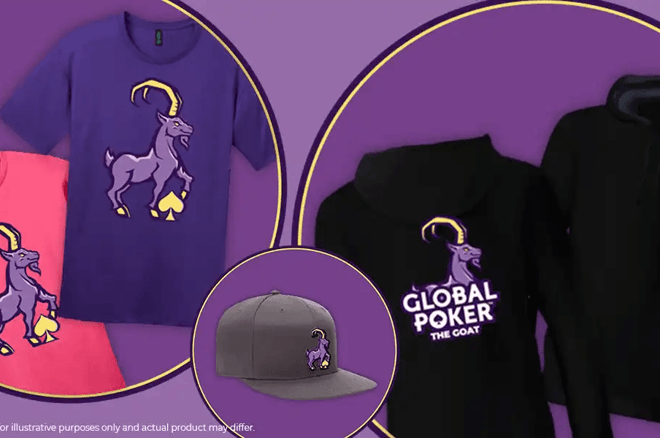 The GOAT is back for the fourth season, being better than ever as you make your way to indulge yourself in the unique championship.
As the goat is renowned for being strong, resilient, and expert climbers – this year's GOAT championship could be yours as you take the mountains of Gold and Sweeps Coins!
What is the Goat IV Championship?
Coming back around for the fourth season, the Goat IV championship brings 825,250,000 gold coins and 1,845,000 Sweeps Coins in total prizes – guaranteed.
Across 21 days of bleating action, and in addition to the gold and sweeps coins, you have the chance to win one of 216 unique GOAT IV trophies.
For those who become the winners of the Sweeps Coins tournament, you have the chance to be able to REPRESENT Global Poker, test your skills and indulge yourself in a live tournament of your choice!
In addition to the other prizes, for those individuals who win the tournament, you can get your hands on EXCLUSIVE Global Poker Champion Packs, which also include GOAT IV unique merchandise.
If you're somebody who enjoys freerolls, there is additional good news with the GOAT IV pop-up freerolls on Global Poker!
On the July 16-17, July 23-24, and July 30-31, keep your eyes peeled between 12:00 pm and 8:00 pm ET. Taking place at random times, you can have additional chances to win GOAT IV tournament entries!
In addition to the prizes, being another incentive to be able to play in the Global Poker Goat IV Championship – you need to ensure that you see your name on the leaderboard. When your name is on the leaderboard, you stand the chance to win some real goat prizes.
Global Poker PROMO CODE
Use our promo code POKERNEWS to play now at Global Poker.
What Prizes Can You Win?
Across the 21 days of championship action, there are so many prizes that you have the chance to get your hands on.
Whether that's across the 825,250,000 Gold Coins and 1,845,000 Sweeps Coins, or trophies and merchandise, when you get involved in the championship, there is a possibility of you walking away with one of these amazing prizes!
For the GC freerolls, there are 2,000,000 gold coins in total prizes guaranteed and available to be won. On the other hand, for the SC freerolls, you have the chance to win entries to GOAT IV SC tournaments.
In addition to these prizes, you can also win unique merchandise which is all exclusive to the GOAT championship – in addition to the GOAT IV trophy.
How Can You Get Involved?
With all this exciting information, and with the chance to win a range of prizes, how can you get involved in the GOAT IV Championship?
If you're not already signed up with Global Poker, ensure that you sign up, then you're able to register for the GOAT IV Championship.
It couldn't be simpler, sign up, get involved and win some amazing prizes!