From the Big Screen to the Final Table: Lock, Stock and Two Smoking Barrels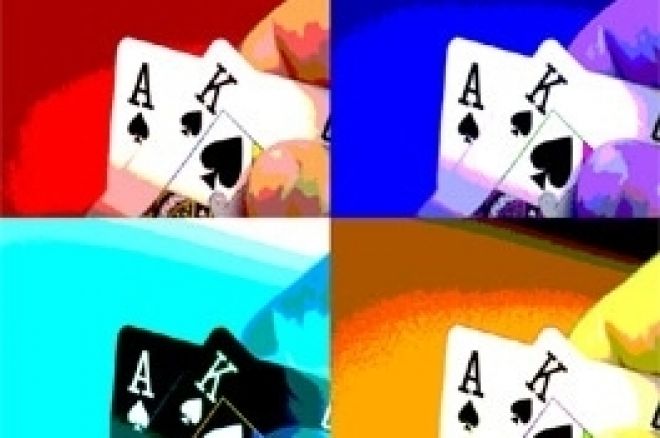 Modern cinema is a great tool for teaching players how to learn the game because it crosses cultural barriers in a way that few teaching elements can. All one needs to do is listen to the advice that can be found in the lines of a variety of films and then remember their relationship to playing poker. Now, this doesn't mean you can repeatedly use a line from Goodfellas in conversation while playing, but it does mean you should keep in mind the concepts that go with the line.

Dexter Fletcher's hilarious portrayal of the character named Soap in Guy Ritchie's first film, Lock, Stock and Two Smoking Barrels left many moviegoers cracking up in the aisle. Partnered with his buddies Tom, Eddie and Bacon, Soap finds himself in quite a predicament after Eddie loses their bankroll during a fixed card game with the film's heavy, Hatchet Harry, played brilliantly by P.J. Moriarty. While trying to find money to pay their debt to Harry, Soap let's this line slip while analyzing the sheer insanity taking place as he and his crew try to rob some drug dealers to make up for their lost funds.
"A minute ago this was the safest job in the world. Now it's turning into a bad day in Bosnia".
You can only control your actions, not the situation.
Many people say the universe is a random place, so where better to observe this phenomenon than on the felt. Although you can control the action to an extent by playing solid poker, players are subject to the uncontrollable nature of the game every time the cards are dealt. Learning to deal with variance, or luck as some people like to call it, is a big part of the game if you hope to make poker your profession. Whether you like it or not, you can only do your best to put yourself in position to win and hope the cards fall in your favor. Learning to "let the chips fall where they may" is a crucial part of the game, especially if you want to keep your sanity.
Hope for the best, but be prepared for the worst.
There are countless examples of professional players who have started the day as tournament chip leader only to see their stock plummet by day's end. Although players can't do much about their downfalls, it is the way they rebound from the hits that will determine their finishes. A recent example of this comes from 2009 November Nine member Phil Ivey after he went from being a chip leader to a small stack during the Main Event. Instead of tilting and letting it all slip away, Ivey hunkered-down and ground his way to the final table. If this happens to you, remember that every hand presents an opportunity to change your situation and you've got to do your best to regain control of the situation.
Playing poker professionally is not an easy career.
Although outsiders may think playing poker for a career is an easy way to make a living, the opposite is true. Poker players often sacrifice a lot of things including spending time with their friends and family to grind out a buck and it can be a lonely path. Poker players also have to learn to cope with the chaos that ensues at the tables if they want to make it over the long run. The ups and downs of poker can be brutal and have driven more than their share of poker players to the brink. Those players who are successful are those who figure out how to survive the daily struggle without losing their minds. Before you decide to make poker your career, make sure to learn what winning players do to get to the top, otherwise your destined to fail like so many others in the past.
For more game improvement tips check out our strategy section, and be sure to follow us on Twitter too.