PokerNews' Guide To Low-Stakes Multi-Table Tournaments On WSOP.com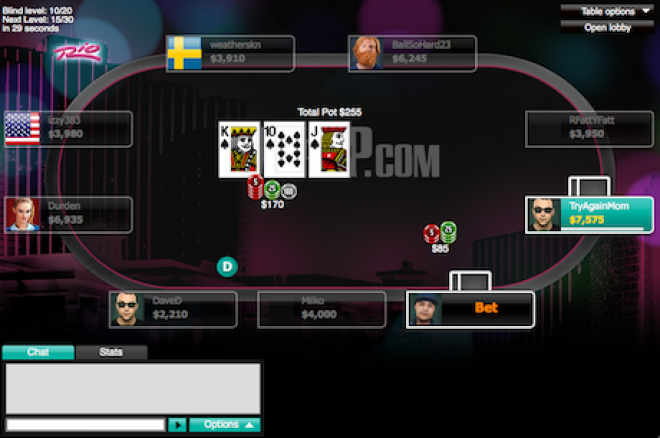 It is arguable the all the glory in poker comes from winning multi-table tournaments (MTTs). On WSOP.com, there are plenty of them running with buy-ins of $5 and under. The best way to locate MTTs is by click the "All Games" tab at the top of the client and then select "Tournaments."
Almost every hour, you will find a small buy-in MTT. For players looking for a big score in one pull, this is the way to go. In a regular MTT, blinds will increase every 10 minutes, and you'll start with 100 big blinds.
Because MTTs are long and can be a bit slow, players like to sign up for a few at the same time or even mix in some cash games and sit-n-gos on the side. If you choose to do this, make sure you take advantage of the WSOP.com software tools that make playing multiple tournaments easier.
Use the Options
In the top right corner of a table, click on "Table options." There, you can choose to cascade your tables, which will keep them nice and organized on top of each other. You can also choose to tile them which will allow you to see all your tables at once. Whether in cash games or tournaments, you also have a time bank. For tournaments, you usually only have an allotted amount of time over the course of the event, so be sure to keep track of that so that you don't time out and muck your hand.
One of the most popular tournaments is the $100 Guarantee Deepstack. It's a $3.30 buy-in with rebuys and add-ons. Players start with 4,000 in chips with blinds starting at 10/20 which is 200 big blinds. Blinds increase every 10 minutes. This event runs a few times each day, so be on the lookout in the tournament lobby for start times. Before signing up, make sure you are mentally prepared for a long grind. Oftentimes, players will sign up for a tournament without realizing how long it will take to finish. This is a mistake because it will often result in less than your A-game being played.
Deciding On Your Style
In a deep-stack tournament, it's important to remember that in the beginning levels the stack-to-pot ratio is so high that it is more advantageous for you play hands such as small pairs and suited connectors than it is in later stages of the tournament. There are arguments for both playing tight in the early stages and playing loose. One big advantage of playing tight is that you are not risking chips. In the beginning of a tournament, it is often hard to realize big rewards, so essentially, you're putting yourself up for the high risk of busting out without much reward. You will also set yourself up with a tight table image, which you can use to your advantage in the middle stages of the tournament when chips are worth more. The big advantage of playing loose in the early stages is that you can capitalize on weak players to build a stack. That way, in the middle and late stages of the tournament, you are at less of a risk in all-in situations.
The aggression, or lack thereof, by the other players at the table will dictate how you should play. If everyone is trying to get their money in and gamble for a big stack, it would be advantageous for you to play tight and pick your spots. You may be able to accumulate a big stack cheaply this way just by playing better hands than your opponents.
Don't Forget About Satellites
Not only can you grab a big score by winning an MTT, but you can also set yourself up for a major score by satelliting into other events. There are $2.35 and a $5.50 super-turbo rebuy and add-on satellites for a seat in any $15,000 Weekly Sunday Guarantee, which boasts a $215 buy-in. You will want to make sure you have a few buy-ins in your bankroll to spend on any one of these tournaments.
Freerolls Are Free Money
There are also other ways to get your bankroll started from nothing! When searching for a tournament, look for the word "freeroll" attached to it, or click the "Freeroll" tab in the lobby. Hop into one of those for a shot at free money thanks to a buy-in amount of zero. Because players don't have any money on the line from their own bankrolls, freeroll events are often great spots to capitalize on over-aggressive, loose players to add chips to your stack. From there, you can work your way to a payout for a bankroll boost in which you risked nothing.
Not On Time? No Worries!
If you find a tournament that you want to play, but it just started, no worries! There is mostly likely late registration, so be sure to click on the tournament and open the lobby to see if you can still buy in. Most MTTs have a late registration period of one hour. Before you know it, you'll hit a giant score and be playing the $15,000 Weekly Sunday Guarantee on the regular.
For more strategy tips, tricks, tutorials, podcasts, and more, head to the PokerNews.com Strategy section of the site and start exploring today!