Melanie Weisner Analyzes 'Poker After Dark' Hand Against Tracy Nguyen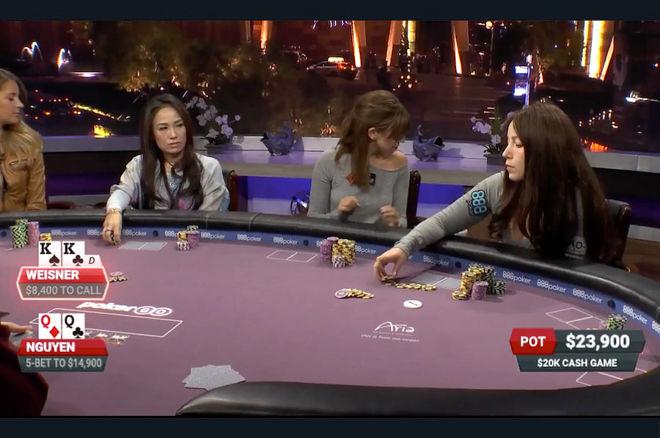 Last month poker pro Melanie Weisner appeared on the PokerNews Podcast (Episode No. 487) to discuss various topics including providing some interesting hand analyses along the way from her appearance on Poker After Dark's "Femme Fatale" week sponsored by 888poker.
We highlighted those analyses before in "Melanie Weisner on Bluff-Catching, Bet Sizing, and Board Reading". Meanwhile Weisner and host Sarah Herring went over another interesting hand from that $20,000 buy-in cash game — one primiarly involving Weisner and Tracy Nguyen.
In the hand Weisner gets dealt pocket kings on the button and faces a five-bet from Nguyen — the kind of spot where a lot of players (especially novices) might be especially eager simply to jam all in. But in fact Weisner opted just to call with her kings. Take a look:
Yesterday was all Tracy Nguyen, tonight is all @MelanieWeisner. She's sitting behind a pile after winning this mas… https://t.co/SEGkUjZNtF

— PokerGO (@PokerGO)
To review, Nguyen had opened to $600 from the hijack seat, then Kristen Bicknell three-bet to $2,000 from the cutoff. Weisner then four-bet to $6,500, and after the blinds folded Nguyen made it $14,900, her five-bet forcing Bicknell to fold.
This is where the hand gets most interesting. As shown in the clip above, Weisner takes a while making her decision, and in her analysis she brings up the fact that Bicknell's involvement in the hand was significant to how she was reading Nguyen's choice to five-bet.
Also important is Nguyen's table talk after Bicknell folds and Weisner is thinking about what to do, particularly Nguyen's offer to provide a count of her stack to Weisner. (Both Nguyen and Weisner were deep to start, with Nguyen playing $76,500 and Weisner $71,700.)
"I thought I had a pretty difficult decision, because Tracy was basically repping aces," explains Weisner. However, Nguyen's offer for a count in a way clarified that question for Weisner. "That immediately made me think I was good," Weisner says, noting that if Nguyen indeed had pocket aces she'd expect her rather not to say anything.
Even so, Weisner chose just to call, with an idea of folding to bets after ace-high flops and perhaps even to fold to bets after queen-high flops. But the
flop made things less difficult for Weisner postflop, with Nguyen firing on both the turn and river only to face Weisner shoving on the end.
Watch below and hear Weisner talk through that interesting preflop dilemma, and also listen to her analysis of the postflop play from Nguyen's point of view and how Nguyen might have gotten "attached to the aggression" inspired by being dealt a big hand like pocket queens.
You can watch all of the "Femme Fatale" two-day series as well as a large selection of other "Poker After Dark" shows, World Series of Poker telecasts, and more by subscribing to PokerGO.