Play and Learn: Dealing With Loss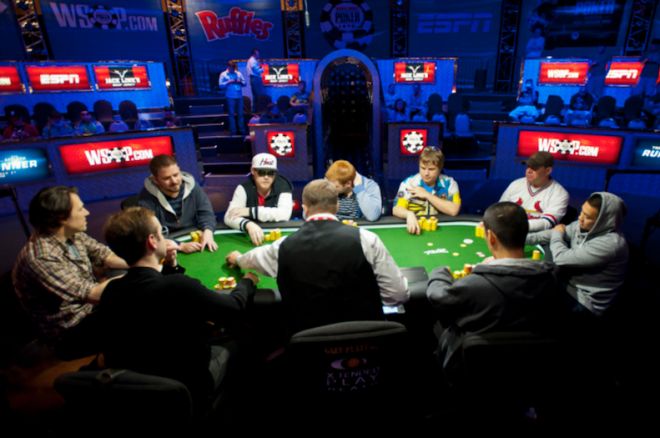 Not long ago I shared stories from my run in the $500 Casino Employees Event at the 2013 World Series of Poker. The focus of that article was how to exploit having a tight image. This time around, I'm going to focus on the loss that ultimately occurred during Day 2 play.
I entered Day 2 of the event with an above average stack with just 55 of the 896 original entrants remaining in the field. I had a large confrontation early on the second day in which I was able to eliminate a player when my
outflopped his
. That hand propelled me into one of the top chip positions. From there on out I battled on as the field was whittled down.
By the time the field redrew to the final two tables, I was sitting on the biggest stack in the room. While I was absolutely psyched to be leading during the final two tables of a bracelet event, I was aware that the structure of this tournament was very quick and fortunes could change in any given moment. One by one players fell until we were down to the final 12.
At this time I was chip leader at my six-handed table. I happened to get into a massive confrontation with one of the other larger stacks at the table that resulted in a preflop all in. I tabled
and was absolutely stunned to see my opponent roll over
. His cowboys held and suddenly I was back to fighting for my life. Ultimately nothing good materialized for me from that point on, and I was eliminated in 12th place.
While this was of course a worthy accomplishment, I would be lying if I said I was anything other than heartbroken. Up above is a picture of that final table which I just missed by a few spots.
Coming so close to glory and poker immortality and coming up short can be a rough thing to deal with. While my situation was unique to me as it was my first WSOP cash, players experience this feeling of coming close and falling short worldwide in tournaments every day. If you're reading this, you're bound to feel an inevitable form of disappointment in one way or another at the table, so here are some strategies to push past the frustration of falling short.
Stay Grounded
An idea that truly helped me get over the disappointment was focusing on the reality of the situation. At first, my brain began concocting dozens of "what if" scenarios. What if I had folded those queens? What if (in my elimination hand) I didn't shove nine big blinds from the cutoff with
?
It's hard to avoid such second guessing after busting from a tournament, but these are often the kinds of questions that will only drag you further into the hole of disappointment.
Instead, you should focus on — and accept — the fact that events transpired the way they did and there is nothing that can be done about that. (Unless, of course, you own a time machine. In this case, stop by that day and tell me to fold the queens, please!)
Ultimately, you must take solace in the fact that, despite the result, you played your game to the best of your abilities and fought your hardest to win. If you made mistakes and can identify them, carry that knowledge to your next tourney. There's always a next time.
Focus on the Positives of the Experience
I'm serious! There always is a next time. Tournaments are run every single day and the next chance at glory and a big payday is right around the corner. More importantly, having gone deep in a tournament provides you with major experience that you can use to your advantage in the future.
My run in the Casino Employees event was only the second WSOP event I've ever played. Not only did I learn a lot and get to experience various different aspects of tournament play from playing the short stack to bullying with a big stack, but I also had a hell of a lot of fun doing it! It was a remarkable feeling having my friends on the rail cheer when I won a pot deep in a tournament and receiving positive messages from friends on my virtual rail through Twitter and Facebook.
Regardless of the outcome, these events are amazing opportunities and can really show you how much love and positivity are present in your life from your friends and family.
Don't Let Frustration Lead to Bad Choices
After busting from this tournament, I felt the need to prove myself. I felt like my journey wasn't over and I needed to do something more to work toward achieving glory. Thankfully, I was too exhausted to make any poor decisions, but given the chance I could have easily hopped in a big cash game with a "something to prove" mentality.
This is a danger not only because I was exhausted after two straight days of play, but also because I most likely would not have been playing the smartest game. Playing poker while blinded by feelings of frustration or anger is never a good idea as your judgment will be clouded and your profitability as a player will most likely be at an all time low.
After experiencing feelings of severe disappointment at the table, it's wise to give it some time, hang up your hat for the day, and find pleasure in another way that won't lose you money.
Want to stay atop all the latest in the poker world? If so, make sure to get PokerNews updates on your social media outlets. Follow us on Twitter and find us on both Facebook and Google+!