What Makes for a Good Open-Face Chinese Poker Tournament?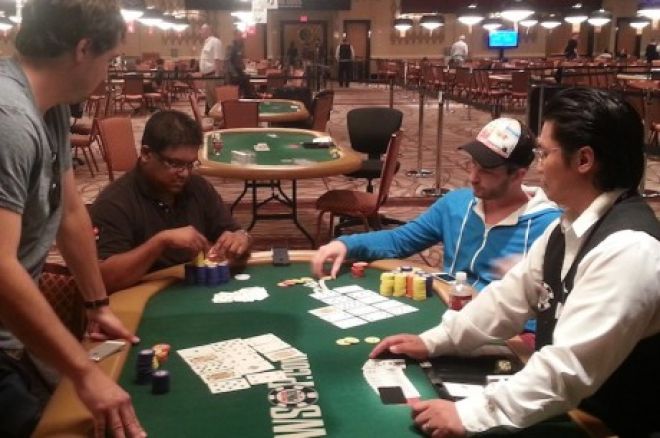 As soon as one catches the open-face Chinese poker (OFC) bug, thought number three — after "wow this fun because it's poker and I never have to fold" and "man, I bet I could get good at this game" — is "this game would sure be fun to play as a tournament."
With much fanfare, the first OFC event at a major tournament took place at last year's PokerStars Caribbean Adventure. Despite some issues with sub-optimal rules and structure, the event drew 58 players, and by any measure, was a success. Canadian poker pro (and OFC novice) Peter Jetten won the event for $52,280; although, he may not have won had Melissa Burr and I not let him play take-backs on a sixth-card move when he missed an open-ended straight in the back.
What Happened?
Let's take a quick look at how OFC tournaments are organized, and how we might tweak the rules to make them a bit more fun.
Like any poker tournament, in OFC events all players start with an equal number of chips — something like 30,000 in chips, for example — and get sent to full random tables (four handed or three handed). They then play for progressively higher stakes until somebody has all the chips. Obviously, players get eliminated as they run out of chips.
OFC is played "per point," meaning that you play out complete hands, then each hand is scored against every other opponent at the table. So if we're playing three-handed poker and I score +20 against one opponent but -6 against the other opponent, I would expect to win 14 points. If we're playing an early level in the tournament at 100 chips per point, I would win 1,400 in chips.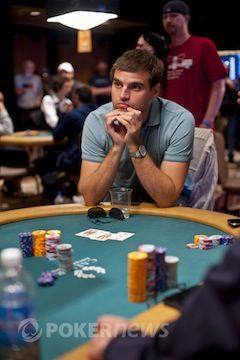 Except it's not quite that simple.
Since it's a tournament and players may only have a few "points" left in their stack, players pay in turn. The first player under the button pays (or is paid) first, followed by the second, then the third. Thus in that same example, if I was first to get paid and an opponent owed me +20 points (2,000 chips) but only had 1,000 chips left, I would get his last 1,000 chips, and he would be eliminated. I would still owe any payout due in full.
This should be natural to any experienced no-limit hold'em tournament player who's won a side pot and lost the main. Except that in OFC, this can happen in reverse, as well.
At the PCA OFC event, there was a quirk in the rules allowing a player to turn one chip (or rather one point) into an unlimited number of points, getting paid in full unless he was broke. Since then, Matt Savage has changed that rule to a more standard "all-in stack match" rule at his World Poker Tour OFC events where one can only get paid what he starts with by each player. That makes much more sense.
Fixed Hands or Fixed Time?
The first OFC tournament had 30-minute levels, and at each break increasing the chips "per point" by about 50%, same as a hold'em tournament might. Since then, Savage and the WPT have changed their events to "hands per level," with blinds going up every eight hands. That might be a better solution, although I'd make it 12 hands per round, since that's a number dividing nicely into four players, three players and two players, for a game where position is very important.
Poker pro Bryce Yockey wants to see a flat-blind structure, with levels increasing from 100 chips per point to 200 per point, then 300 per point, 400 per point, 500 per point, etc. The game is volatile enough that players can get knocked out within a few hands, even when playing 100 points deep. There's a bit of nice tournament strategy when playing with 10-50 points left per player, same as for no-limit hold'em tournaments. One would want to gamble for unlikely draws with a big payout when one is shallow (especially fantasy land, if the tournament is played with
on top qualifying you for a special hand), while playing a bit more conservatively with a deeper stack.
It would be fun to see such strategy develop, but that first requires OFC events to attract more runners.
When I walked into the Bellagio poker room during the recent WPT, I sadly learned that fewer than a dozen entered the $10,000 open-face event. And when I asked Eli Elezra and Joseph Cheong, engrossed in a live pineapple OFC game while simultaneously playing more pineapple on my ABC Open-Face Poker iPhone app whether they played the tournament earlier, they had not.
If at First You Don't Succeed...
"I love OFC tourneys, though I've only played two, one at the World Series of Poker and Aria," said poker player and two-time US chess champion Jennifer Shahade on OFC tournaments. "I think they're really fun and intense, because the action is always on. It reminds me more of chess in how draining it is. Probably similar to a live heads-up or four-max. If the price point is right, I think newbies would be attracted. Definitely."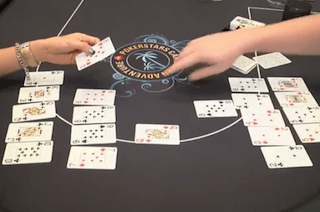 At last year's PCA, everyone was excited to be a part of the first OFC event, from those ahead of the OFC curve like Melissa Burr, Shaun Deeb and David Baker, to the friendly, bald and freckled giant at my starting table. He was in Nassau, Bahamas as a bodyguard of sorts to one of the British high-rollers playing the cash games. His benefactor put him into the OFC event. Although smiling and laughing at my ginger jokes, I'm sure "Big Red" could have snapped me in half like a twig.
I'd love to see more people like Big Red sign up for OFC tournaments. OFC attracts a following outside of the hold'em crowd. Or at least it might, if they knew about it. The game has strong blackjack-like properties, appealing to any gambler, while also having solitaire-like properties, appealing to any obsessive-compulsive person who knows that a flush beats two pair. It's an easy game to learn, and like Southern cooking, there's no acquired taste. It's fun from the first hand.
Something happened along the way, but I think some of those players are still interested in taking a shot at OFC tournaments, and pros like Burr and Yockey are ready and waiting to establish strategies by filling Twitter with OFC mindshare. We just need to lower the buy-ins, establish a fair and consistent structure, and perhaps do something about OFC stalling, so that players who buy into an OFC tourney get their money's worth.
Tournament of the Future?
After getting off to much fanfare, OFC tournaments haven't become a thing. But like it wasn't over when Japan bombed Pearl Harbor, this one has yet to play out.
We're on a flush draw, with queens up top, ready to go to fantasy land, and expecting to stay there.
This OFC piece has been contributed by Nikolai Yakovenko. Known as "Googles,"Yakovenko is originally from Moscow, Russia and is now a poker player and software developer that resides in Brooklyn, New York. After several years at Google New York working on ranking algorithms, he's been developing independent software projects ever since. On his poker record, Yakovenko has made both World Series of Poker and World Poker Tour final tables. He also helped create the ABC Open-Face Chinese Poker iPhone App. You can follow Yakovenko on Twittter at @ivan_bezdomny.
Get all the latest PokerNews updates on your social media outlets. Follow us on Twitter and find us on both Facebook and Google+!