Event Info
| | |
| --- | --- |
| Buy-in | €1,000 |
| Players | 709 |
Level Info
| | |
| --- | --- |
| Level | 33 |
| Blinds | 200,000 / 400,000 |
| Ante | 40,000 |
Level:

22
Blinds:

12,000/24,000
Ante:

3,000
| Table | Seat | Name | Chips | Big Blinds |
| --- | --- | --- | --- | --- |
| 50 | 1 | Adrian Costin Constantin | 1,200,000 | 50 |
| 50 | 2 | Gianny Dominique Morano | 1,466,000 | 61 |
| 50 | 3 | Alexey Golodyaev | 354,000 | 15 |
| 50 | 4 | Francois Max Evard | 288,000 | 12 |
| 50 | 5 | Gonzalo Pro Fernandez | 318,000 | 13 |
| 50 | 6 | Corrado Martinelli | 597,000 | 25 |
| 50 | 7 | Cosmin Rusu | 268,000 | 11 |
| 50 | 8 | Tomasz Aleksander Chmiel | 1,115.000 | 46 |
| 50 | 9 | Adria Diaz Dalmau | 1,662.000 | 69 |
| | | | | |
| 51 | 1 | Leonardo Berti | 391,000 | 16 |
| 51 | 2 | Marc Gonzalez Valls | 225,000 | 9 |
| 51 | 3 | Manuel Navarro Perez | 792,000 | 33 |
| 51 | 4 | Sergiu Sirbu | 552,000 | 23 |
| 51 | 5 | Philippe Noble | 355,000 | 15 |
| 51 | 6 | Benjamin Michel Barkay | 567,000 | 24 |
| 51 | 7 | Mark Max Mcmillin | 1,413,000 | 59 |
| 51 | 8 | Netanel Minyan | 1,035,000 | 43 |
| 51 | 9 | Luigi Andrea Shehadeh | 953,000 | 40 |
| | | | | |
| 52 | 1 | Surinder Sunar | 276.000 | 12 |
| 52 | 2 | Dominique Jean Terzian | 360,000 | 15 |
| 52 | 3 | Stian Knutsen | 738,000 | 31 |
| 52 | 4 | Ovidiu Chirieac | 650,000 | 27 |
| 52 | 5 | Aneris Adomkevicius | 212,000 | 9 |
| 52 | 6 | Courtney Gee | 1,385,000 | 58 |
| 52 | 7 | Joel Isla | 2,016,000 | 84 |
| 52 | 8 | Patrick James West | 1,140,000 | 48 |
| 52 | 9 | Oscar Casado Diaz | 936,000 | 39 |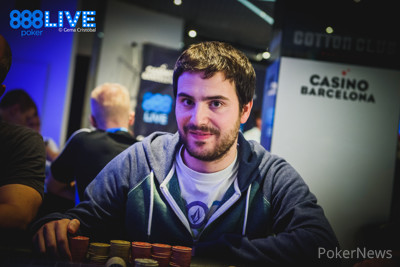 Welcome to the final day of the 2018 888poker LIVE Barcelona €1,100 Main Event at Casino Barcelona.
The event generated 709 entrants to create a massive €709,000 prize pool or more than 40 percent more than the €500,000 guarantee. Today, the final 27 players will compete until a winner is declared.
All players are guaranteed a healthy payout of at least €4,750 with the winner slated to win €140,550 top prize, a sizeable increase of the €110,000 won last year by Italy's Luigi Andrea Shehadeh. The Italian has a chance to become a back-to-back champ in Barcelona as he is still in the field bringing forth a 10th place chip stack of 953,000 into the final day tomorrow.
Spain's Joel Isla kicks off the action in the chip lead with 2,015,000 in chips. Regardless of where Isla finishes the event, he will at least double his career cashes according to The Hendon Mob.
On Isla's tail are Spain's Adria Diaz Dalmau (second - 1,662,000), French Day 1a chip leader Gianny Dominique Morano (third - 1,466,000), American Mark Max McMillin (fourth - 1,413,000), and Canadian poker streamer Courtney Gee (fifth - 1,385,000).
Level 22 with blinds at 12,000/24,000 with an ante of 3,000. As was the case pm Day 2, blind levels go up slowly with increases taking place every hour of play.
Speeding up the action is a 30-second shot clock. Once the shot clock has expired, a player has to automatically fold their hand unless they used a time bank chip.
A feature table and the final table will be streamed all day long where you can view the action on a 30-minute delay by clicking on the Live Stream tab. We will be covering the final table on the delay as to not give away any spoilers.
Stay tuned at PokerNews as we bring you the conclusion of the 888poker LIVE Barcelona Main Event.
*Image courtesy of Gema Cristobal.
Main Event
Day 3 Started