Event Info
| | |
| --- | --- |
| Buy-in | $3,300 |
| Players | 1229 |
Level Info
| | |
| --- | --- |
| Level | 39 |
| Blinds | 300,000 / 600,000 |
| Ante | 75,000 |
$3 Million Guaranteed WPT Borgata Winter Poker Open Championship
Day 5 Completed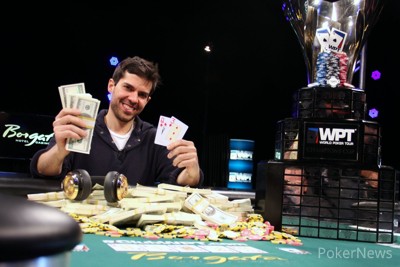 After four hours and nearly 100 hands of heads-up play, with both players doubling up when down on chips, Anthony Merulla defeated David Paredes to win the $3 Million Guaranteed World Poker Tour Borgata Winter Poker Open Championship. The New York City native pocketed $842,379 for the big win, so his career earnings of $530,658 will more than double with the win.
"I thought David was the best player at the final table and it wasn't close," Merulla said to Mike Sexton after the tournament. "I thought I played well and hit some cards at the right time."
It never hurts to have some luck at one of the biggest final tables of your career, and that's exactly what happened for Merulla when he got all in with queens and found himself facing the kings of Farid Jattin and the tens of Jared Jaffee early in the final table. He managed to river a diamond flush to survive. Interestingly, it was the second time in the tournament he won a three-way all in with queens when an opponent had a bigger pair. Surely, Merulla will have a soft spot in his heart for wired queens from now on.
After Jattin's eliminated, Vladislav Mezheritsky bowed out just a few hands later when he lost a race to Paredes.
Two hands after that, Jaffee, who Sexton had tabbed as the favorite coming into the final table, exited in third when Merulla called his shove with ace-eight and held against king-jack.
It looked like the final table was going to end in record time, but three-handed play rolled on for a bit between Merulla, Paredes, and Anthony Maio. After about 60 hands, Maio got it all in with an overpair and a flush draw, but Merulla had turned the nut flush and had him drawing dead.
That resulted in a long heads-up match due to the players sitting on exceptionally deep stacks (for this stage of a tournament) of around 100 big blinds each. Both players had chance to put the other away, but each was well behind when they got it in with more chips and couldn't catch up. Finally, Merulla shipped the tournament when he flopped two pair and held against the top pair of his opponent.
Thanks for tuning in to PokerNews for our coverage of this WPT tournament.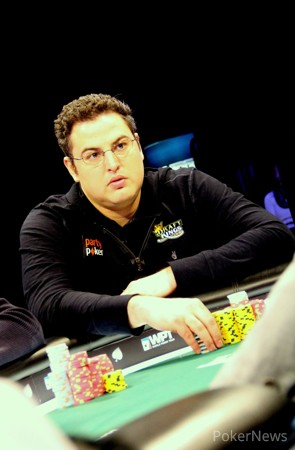 Hand 171: Paredes raised to 1.2 million, and Merulla called. Merulla bet out 900,000 on the
flop, and Paredes bumped it to 2.3 million. Merulla took some time to think before cutting out two stacks of chips and pushing out 4.3 million. Paredes jammed and was instantly called.
Paredes:

Merulla:
Merulla had flopped queens up, while Paredes had rolled with his top pair. The turn brought a
, and Paredes was down to his last card. The dealer knuckled the table before delivering the
, crowning Merulla the champion.
Hand 168: Anthony Merulla raised the button, and David Paredes folded.
Hand 169: Paredes raised to 1.2 million. Merulla called. Both players checked the
flop. A
arrived, and Merulla bet 1.1 million. Paredes called. A
arrived. Paredes called a bet of 3 million, and Merulla scooped the pot with
.
Hand 170: Paredes checked the
flop after Merulla limped in preflop, and Merulla fired 900,000. Paredes called to see an
turn, and both players checked. A
hit the board, and Paredes checked. Merulla bet 1.5 million, and Paredes called. Merulla showed
for a turned pair, and he scooped the pot.
The chips have moved back and forth many times, but after a marathon heads-up session we're essentially back where it all began.
| | | | | | |
| --- | --- | --- | --- | --- | --- |
| David Paredes | | | | 22,700,000 | 6,700,000 |
| Anthony Merulla | | | | 13,975,000 | -6,700,000 |
Level:

39
Blinds:

300,000/600,000
Ante:

75,000
Hand 165: Paredes limped in to the pot and Merulla checked his option to see the
flop. Merulla checked, Paredes bet 500,000 and Merulla called. On the
turn both players checked and the river came
. Two checks later and Paredes showed the
for the winner.
Hand 166: Paredes got a walk.
Hand 167: Paredes min-raised to 1 million and Merulla called. The flop came
and was checked by Merulla, while Paredes bet 900,000 to take it down.
Hand 158: Anthony Merulla limped in, and David Paredes raised to 1.1 million in the big blind. Merulla called, and he was in position for the
flop. Paredes bet, and Merulla quickly folded.
Hand 159: Paredes raised it up on the button and took the pot down.
Hand 160: Merulla opened to 1 million, and Paredes raised to 2.5 million from the big blind. Merulla made the call, and the dealer spread a
flop. Paredes continued his aggression with 2 million, and Merulla let his hand go.
Hand 161: Merulla got a walk.
Hand 162: Merulla opened to 1 million, and Paredes called. Merulla fired a bet when checked to after the
flop, and he won the pot.
Hand 163: Paredes raised to 1 million. He took the pot down.
Hand 164: Paredes got a walk.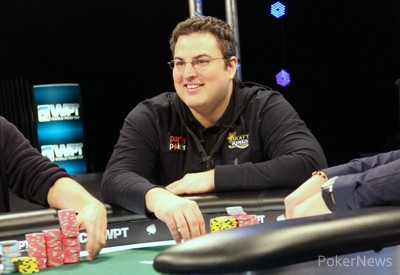 Hand 157: Paredes opened for 1 million and Merulla called, bringing a flop of
on board. Merulla checked and Paredes bet 800,000. Merulla check-raised to 2.4 million and Paredes moved all in for 6,925,000. Merulla quickly called and the audience stood to crane their necks and see what each man held in the hole.
Showdown:
Merulla:

Paredes:
After the raising war that took place on the flop, neither player could produce a pair with which to do battle, and Paredes was in the lead with just king-high. Merulla was looking for eights or kings, while Paredes simply needed a clean run out to take down a huge double.
Turn:
Just like that, Paredes was the one who made a straight, and Merulla was left drawing to a slim chance at a chop on the river.
River:
A blank on fifth street kept Paredes in the lead and he doubled through.
| | | | | | |
| --- | --- | --- | --- | --- | --- |
| Anthony Merulla | | | | 20,675,000 | 10,675,000 |
| David Paredes | | | | 16,000,000 | -10,675,000 |
Hand 155: Merulla got a walk.
Hand 156: Merulla opened for 1.6 million and Paredes called to see the flop fall
. Merulla bet 1.2 million after it was checked to him and took the pot down when Paredes folded.