Sammartino Doubles in Biggest Hand of the Tournament; Schemion Crippled

Level 15 : 12,000/24,000, 3,000 ante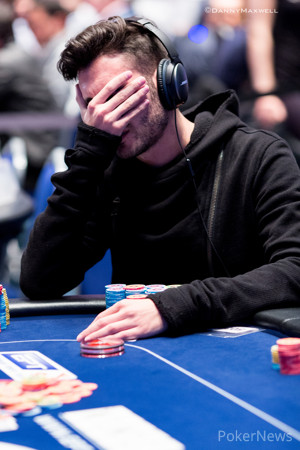 Dario Sammartino opened the button to 55,000, and Ole Schemion three-bet to 185,000 from the big blind. Sammartino called in position.
The flop came
, and Schemion bet 180,000. Sammartino called, and the
landed on the turn. Schemion bet 382,000, and again Sammartino called.
Things got really interesting after the
hit the river. After about half a minute of tanking, Schemion moved all in for 1,121,000. Instantly, Sammartino let out a big sigh, moving his hands to his face like he couldn't believe what just happened. It did happen, Schemion had jammed, and Sammartino clearly wasn't happy about it.
"Pfff!' Sammartino sighed again. His pained face became visible after he moved his hands from his face to his hair and then up into the air. Sammartino didn't like what he was seeing, and made no secret about it.
Another couple minutes later, Sammartino still hadn't made up his mind. Schemion, still with a blank stare and arms folded, didn't flinch when Sammartino waved his hand in front of him to try to get a reaction.
"Ole, do you know what I have?" Sammartino asked to Schemion after waving his hand in front of his face to garner a reaction. "Second nuts, I mean third nuts?" he corrected himself to. The third nuts would be pocket jacks, but was it possible the Italian was tanking for this long with the second-best full house?
After another couple of moments, Schemion asked for the clock. The floor informed Sammartino he had one minute to act on his hand. With about 20 seconds left in the countdown, Sammartino grabbed a stack of T25,000 chips and moved them over the line to indicate a call for his tournament life.
Schemion confidently tabled the
, just about 100% sure he was going to win the biggest pot of the tournament and continue as a big chip leader. To everyone's surprise, though, the aces weren't good. Sammartino showed the
, indeed having the third nuts, and now it was Schemion doing the sighing. The German's face was that of disbelief, partly because he was surprised by such a long tank by Sammartino and partly because after all the tanking he thought his hand was good.
After all the counting was done, Schemion was left with 26,000. Sammartino took the chip lead and in a very, very big way.