Greenwood Finds a Miracle Double

Level 14 : 6,000/12,000, 12,000 ante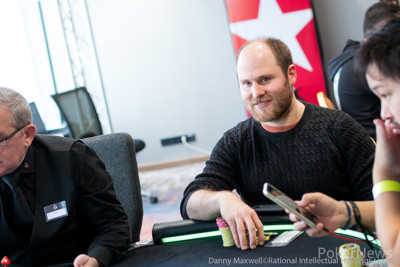 Danny Tang was in early position and opened to 25,000. Action folded around to Sam Greenwood, who three-bet to 60,000 in the cutoff. Robbie Toan was next to act on the button and cold four-bet to 125,000, prompting a fold from Tang. The cards hit the felt at an angle and flipped over with
exposed for a brief second. While the dealer was scooping up Tang's hand, Greenwood quickly announced he was all in and Toan immediately called.
"I didn't mean to," said Tang to the dealer during the commotion, but the table was clearly focused on the kings-versus-aces showdown. Greenwood had one card left in the deck to help him, but he didn't know it.
"What did you fold?" Greenwood asked Tang.
"Nothing," responded Tang, not looking to escalate the situation any further.
The flop came
and Toan was standing up confident about the prospects of winning a huge all-in situation. However, the turn rolled off
, the final king in the deck.
"That's a one outer!" said somebody from the table, and the river came
to leave Greenwood's' set of kings on top of Toan's cracked aces and Greenwood announced a stack of 239,000, which the dealer confirmed before squaring up stacks as the tournament went on break.
Once the hand was over, Tang confirmed to Greenwood what he had: "I folded king-ten," he said and the tournament area cleared out for what was left of the break.