EPT Online 05: $1,050 NLHE [8-Max, Win the Button]
Days: 1
Level: 2
Blinds: 600/1,200
Ante: 150
Level 1 : 500-1,000, 125 ante
Christian "WATnlos" Rudolph three-bet to 7,000 and Silvio "silskyer" Costa four-bet to 20,000. Rudolph shoved his 85,375 stack into the middle and Costa snapped him off.
Christian "WATnlos" Rudolph:

Silvio "silskyer" Costa:
The board rolled out
and Rudolph failed to overtake the big slick of Costa who scooped the hand, sending Rudolph out early.
Level: 1
Blinds: 500/1,000
Ante: 125
The cards have hit the virtual felt as the tournament has begun.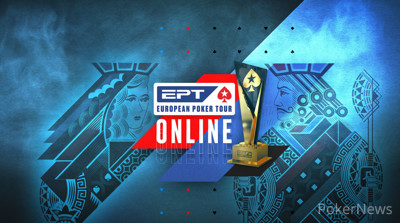 Welcome to the EPT Online 05: $1,050 NLHE [8-Max, Win the Button] which begins today at 15:05 AT.
This event has a $200,000 Guarantee and on top of all of the cold hard cash, each champion will receive a EPT spade trophy,
This is a one-day event and all players will begin with 100,000 in chips. All players will be given the opportunity for two re-entries if needed during the three hours of late registration. Blind levels will be 10-minutes in length, remaining that throughout the duration of this event and all players will have a five-minute break every 55-minutes past the hour.
The PokerNews live reporting team will be here to bring you all of the updates, so stay tuned as all of the action unfolds.
EPT Online Schedule
| Date | Time | Event | Format | Buy-in | Guarantee |
| --- | --- | --- | --- | --- | --- |
| Nov. 8 | 18:05 | EPT Online 01 [Arena Championship] | 8-Max NLHE | $1,050 | $1,500,000 |
| Nov. 8 | 19:05 | EPT Online 02 [PLO High Roller] | 6-Max PLO | $10,300 | $500,000 |
| Nov. 8 | 20:05 | EPT Online 03 [High Roller] | 8-Max NLHE | $5,200 | $500,000 |
| Nov. 9 | 18:05 | EPT Online 04 | 9-Max NLHE | $530 | $350,000 |
| Nov. 9 | 19:05 | EPT Online 05 [Win the Button] | 8-Max NLHE | $1,050 | $200,000 |
| Nov. 10 | 18:05 | EPT Online 06 [High Roller] | 8-Max NLHE | $10,300 | $1,000,000 |
| Nov. 10 | 19:05 | EPT Online 07 | 8-Max NLHE PKO | $2,100 | $500,000 |
| Nov. 11 | 18:05 | EPT Online 08 | 8-Max NLHE | $2,100 | $500,000 |
| Nov. 11 | 19:05 | EPT Online 09 [High Roller] | 6-Max 8-Game | $5,200 | $250,000 |
| Nov. 12 | 18:05 | EPT Online 10 [Super High Roller] | 8-Max NLHE | $25,000 | $2,000,000 |
| Nov. 12 | 19:05 | EPT Online 11 [Deep Stacks] | 8-Max NLHE | $1,050 | $500,000 |
| Nov. 13 | 18:05 | EPT Online 12 | 6-Max NLHE PKO | $1,050 | $500,000 |
| Nov. 13 | 19:05 | EPT Online 13 [High Roller] | 6-Max NLHE 6+ | $10,300 | $400,000 |
| Nov. 14 | 18:05 | EPT Online 14 [EPT Online Cup] | 9-Max NLHE | $215 | $500,000 |
| Nov. 14 | 19:05 | EPT Online 15 [High Roller] | 6-Max NLHE | $10,300 | $500,000 |
| Nov. 15 | 18:05 | EPT Online 16 [Main Event] | 8-Max NLHE | $5,200 | $5,000,000 |
| Nov. 15 | 19:05 | EPT Online 17 | 6-Max PLO | $2,100 | $500,000 |
| Nov. 15 | 20:05 | EPT Online 18 | 8-Max NLHE PKO | $1,050 | $500,000 |
| Nov. 16 | 19:05 | EPT Online 19 | 8-Max NLHE PKO | $530 | $500,000 |
| Nov. 17 | 18:05 | EPT Online 20 [Last Chance] | 9-Max NLHE | $1,050 | $500,000 |
EPT Online 05: $1,050 NLHE [8-Max, Win the Button]
Day 1 Started