Just Another Day at the Office: Celebrating Birthdays on the EPT

Level 3 : 100/200, 0 ante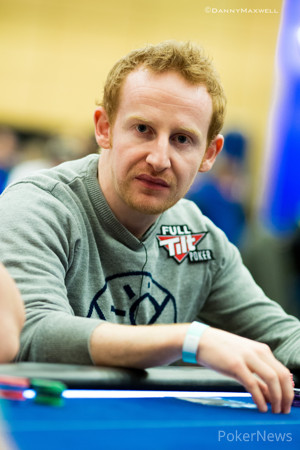 Celebrating birthdays alone is never fun. Fortunately, for those who will get a little bit older during the European Poker Tour Malta, they're never alone. That's because those on the EPT, from players to staff, have become an auxiliary family of sorts. Granted, it may not be as intimate as celebrating with either real family or childhood friends, but the EPT crew will do in a pinch.
"I've been lucky enough to be playing these for five years now, so I know a lot of staff and international players," Full Tilt Poker Ambassador Dermot Blain says before the start of Day 1b. "There's always someone to go have a drink with, to party with. It's my actually birthday. I'm turning 31. I was pretty depressed on turning it too, but I just need to deal with it, you know."
So what is it like spending one's birthday playing a poker tournament? Furthermore, with two starting flights to choose from, why did Blain opt to play on his actual birthday as opposed to playing Day 1a?
"I'm kind of happy to play today. I'm a big Man U fan, and yesterday they played Liverpool and we won," Blain explains. "So I had the choice to watch that or play. It's just another day at the office."
But what if he busts Day 1, that'd surely ruin his birthday, right?
"I wouldn't be happy," Blain admits. "I haven't had a run in these for a while, so it hasn't been going great. I'd certainly like to get through Day 1, but it wouldn't ruin my birthday. Probably go party. It's a good place to party here in Malta, so probably go out and drink some alcohol."
Indeed, Malta has proved a great place to party, which was evidenced last week on St. Patrick's Day. As fate would have it, Blain is Irish.
"It was crazy. I thought it was just us who went nuts on St. Paddy's day," says Blain. "This place was just carnage, I couldn't believe it. Drinks everywhere. It looks like everyone loves an excuse to drink. It's a great place to party here."
Speaking of the Irish, another person celebrating his birthday at the EPT Malta is noted poker photographer Danny Maxwell, who will turn 33 tomorrow.
"This will be my second one. Last year I had it in Vienna, and it was pretty trippy to be celebrating it in an actual palace," says Maxwell. " Last year the day ran late so I didn't have a chance to do so much. Just work, work, work, though during the day there was a surprise birthday cake, which was pretty nice."
As we all know, all work and no play can make one a dull boy, but Maxwell plans to combat that by taking advantage of the kind schedule in the EPT Malta Main Event.
"With tomorrow, Day 2 will finish early," Maxwell explains. "This time I'll be celebrating in Malta. Fingers crossed there will be some sunshine tomorrow. It should be pretty sweet. We'll get out to have a bite to eat and one or two drink."
Like Blain, Linda Goldmanova is celebrating her birthday today, but like Maxwell, she is busy working.
"It's my birthday today. I don't mind to be at work actually," says Goldmanova, who is manning the PokerStars Live registration desk. "It's nice. If you have friends, they come with presents [laughs]. Cake, presents, everything. I won't celebrate tonight I guess, but we'll definitely find time to go for a drink [later in the week]."
PokerNews did a little research to see if any other players would be celebrating their birthdays during the EPT Malta, but came up empty. That said, there are some notable poker birthdays on the horizon including: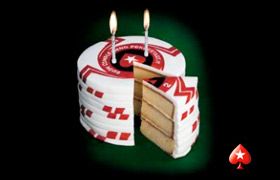 David "Devilfish" Ulliott

(April 1)

Jason Wheeler

& Carter Swidler (April 2)

Max Greenwood

(April 3)

Brandon Shack-Harris

(April 5)

Sander Lyloff

(April 7)

Fabian Quoss

(April 9)

Athanasios Polychronopoulos

(April 10)

Joe Ebanks

(April 11)

Jonathan Roy

(April 12)

Leo Fernandez

(April 13)
On behalf of PokerNews, happy birthday to all those celebrating in the coming weeks.