Deal Made
Level 26 : 600,000-1,200,000, 150,000 ante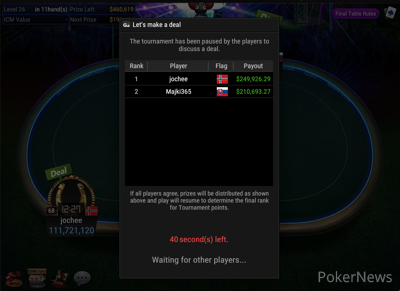 Joachim "jochee" Haraldstad got paid off on a river bet holding the second-nut straight to reduce "Majki365" back down to about 25 million.
Majki365 had put up the "deal" flag at the beginning of the final table, and lo and behold, after every other player had been eliminated except one, that last opponent opted to click the deal box also. With about 20 seconds left in the deal-making time, both players agreed to the numbers put forth by GGPoker.
Haraldstad earns $249,926 while Majki365 gets $210,693 under the new payouts.