Event Info
| | |
| --- | --- |
| Prize Pool | €2,243,200 |
| Players | 700 |
Level Info
| | |
| --- | --- |
| Level | 26 |
| Blinds | 30,000 / 60,000 |
| Ante | 4,000 |
€3,500 Irish Open Main Event
Day 4 Completed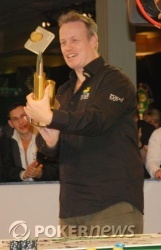 After four long days of top-class poker, we finally have a winner. As Christer Johansson raised his hard-won trophy in the air and shiny confetti was thrown over him to the sound of enthusiastic applause from the rail, no one could find a bad word to say about the popular Scandinavian -- his play was apparently flawless. On top of that, the general consensus seemed to be that he is a jolly nice chap who thoroughly deserved his victory.

As the TV crew started to pack up the final table and the last remaining sickos headed for the cash tables until it was time to catch their flights home, everyone agreed that it had been a tournament to remember. Many thanks to PaddyPower.com for putting on a thoroughly excellent festival, and of course many congratulations to the winners.

From PokerNews.com in Dublin, it's over and out.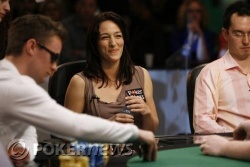 Kara Scott raised it up to 140,000, and Christer Johansson called.
They saw the
flop. Johansson checked. Scott bet 175,000. Johansson raised to 575,000. Scott reraised all in. Just like that.
Johansson sighed, as the enormous crowd of railers squashed up against the barrier and held their breath.
Call.
Scott:
for middle pair.
Johansson:
for top pair.
Turn:
River:
After an extraordinary run, EPT Live presenter and lovely lady Kara Scott is busto, and we have a champion.
After two hands which got as far as the flop and then went to the button raiser with a flop bet, one played out to the river:
Kara Scott minraised on the button (120,000), called by Christer Johansson. He check-called her 175,000 bet on the
flop. Both players checked the
turn, Scott only after a hand re-check and a bit of a think. Johansson checked the
river. Scott bet 250,000, and he made the call -- but mucked when he saw her
for the flopped straight.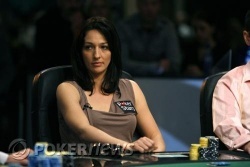 First hand back, Christer Johansson raised from the button, but passed with a giggle to a reraise from Kara Scott.
Kara folded her button the next hand, and the hand following that Johansson raised his button again to 140,000. Once more, Scott reraised -- now to 330,000. A pause from Johansson, and a call.
Flop:
Kara very quietly and deliberately pushed her whole stack across the line, but before it had got even halfway, Johansson handed his cards back to the dealer, and we play on.
The clock has been restarted, and play is underway.
There is currently a pause in the action owing to some sort of unexplained "technical difficulties" with the TV crew, and the clock has been stopped until they are resolved. Hopefully it shouldn't be too long now.
Scott raised to 100,000, swiftly called by uber-stack Johansson.
Flop:
Check, check.
Turn:
Check to Scott who bet 130,000, call from Johansson, and on to the river.
River:
Check, check again, and Scott just mucked as Johansson showed
to take the pot.
Level:

26
Blinds:

30,000/60,000
Ante:

4,000
After a few cagey button-raise-fold type hands, it's Kara Scott's button and she makes it 100,000 to go. Christer Johansson calls. They both check the
flop. On the harmless-looking
turn, Johansson check-calls a 100,000 bet from Scott quickly. But there's more to this than meets the eye -- the river
sees Johansson bet out 250,000, only to find Scott moving all in!
He takes his time considering the bet, and her, but eventually, smiling, he passes with a table tap.