In a world where high rollers events are more and more common, becoming an integral part of any tournament schedule, there always has to be a tournament to one up the rest. The Big One for One Drop Extravaganza is fulfilling that role to perfection.
After $1,000,000-buy-in editions at the World Series of Poker in Las Vegas in 2012 and 2014, the entire circus has descended upon the lavish French Riviera town of Monte Carlo, Monaco. The parameters were altered a bit with the buy-in upped to €1,000,000, the option to reenter until the start of Day 2, and the stipulation that no professional players could enter. The changes had some people up in arms, particularly when the event kicked off and it turned out some of the players weren't exactly the recreational players organizer Guy Laliberté promised they would be.
However, in the end, it was just like Daniel Negreanu said in an interview with PokerNews ; "Basically, if Guy wants to let someone play, he can let them play. It's that simple." And so regular players on the pro circuit like Talal Shakerchi and Paul Newey entered, joining former poker pros Andrew Pantling, Mark Teltscher and Jason Strasser.
After a luxurious lunch at noon, the tournament started at 2 p.m. local time. The most expensive tournament in poker's history was underway, and a total of 22 players initially sat down. They started with 5,000,000 in chips and blinds at 6,000/12,000 - Over 400 big blinds. It was a nice sight, as big towers of chips fit right in with the extravagant interior of the Casino du Monte-Carlo that includes gold plated ornaments on the ceilings and expensive high pile carpet leading to a marble balcony overlooking the Monte-Carlo bay area. The setting and atmosphere were just right; the staff was dressed for the occasion, a luxurious buffet awaited the players at all times, and top notch dealers added to the allure of something exclusive.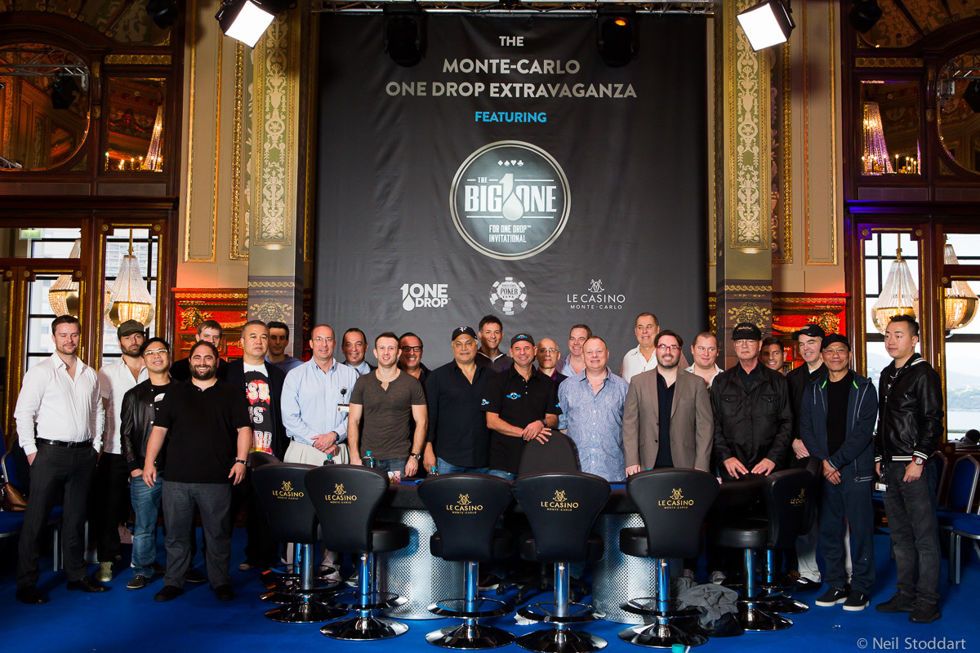 It didn't take long before the fireworks started. It was Guy Laliberté, the French-Canadian founder of Cirque du Soleil and One Drop, pushing the action early on. He first was caught check-raise bluffing the river against Anatoly Gurtovoy. That set Laliberté off in the wrong direction and things only got worse from there. He ran top-pair and top-kicker into the top-set of Patrick Madden and just like that, Laliberté was down to just a few big blinds. He lost those to Bob Safai not much later, ending up short with ace-ten against ace-king.
"He got it up to 5 million!" teased coach Daniel Negreanu, hinting at a possible reentry for Laliberté which would grant him a crisp 5 million-chip stack. In the end, he bought back in for another €1,000,000 to give it another shot.
"He approached me about a month ago," Negreanu told PokerNews about his coaching deal with Laliberté. "I thought it sounded like fun and I wanted to support a great cause. I got here a few days early, we've been hanging out on his yacht and going through a few things."
While those pointers did not pay dividends on Laliberté's first bullet, Negreanu was confident in Laliberté's abilities.
"He's more relaxed now, he's cooled off a bit and so I'm going to let him come to me when he wants to," said Negreanu.
Meanwhile, as Laliberté was just sitting down again for another try, Bobby Baldwin made his exit from the tournament. Baldwin wound up extremely short and eventually ran pocket nines into pocket kings. He did not buy back in, though it should be noted he can still decide to do so anytime before the start of Day 2.
Andrew Pantling, now the CEO of betting platform Matchbook, was a poker pro known as "ClockWyze" online in another lifetime and wasn't enjoying the best of days. He lost several pots to become the short stack when the dinner break commenced, and busted the tournament shortly after play resumed. It wasn't for long before Pantling bought back in as well, putting in another €1,000,000 to keep his chance at stardom and a big financial reward alive.
The atmosphere was as relaxed as most high rollers are. There were still plenty of well known poker pros around, but instead playing, they were coaching, with some much busier with their role than others. While Vanessa Selbst watched each and every hand played by David Einhorn, and Negreanu kept a close eye on Laliberté, the likes of Andrew Robl (coach of Jason Strasser) and Jean-Robert Bellande (coach of Bobby Baldwin) did not get out of their seats at the cash game tables even once.
In the end, a total of 26 players signed up and 2 reentries were recorded, bringing the total amount of entries of 28. Twenty-four players will come back at noon for the start of Day 2 where the goal is to play down to a final table of eight. Leading the way is Alfred Decarolis (leading photo) who'll bring 13,825,000 in chips, good for 115 big blinds, to the start of play. Second in chips is Dan Shak who has Scott Seiver on his side as a coach. Tony Bloom (1,200,000) and Zuo Wang (1,840,000) are at the bottom of the pack.
PokerNews.com will again be on the floor for live updates, interviews, and photos from Day 2 of the extravagant event.
| Table | Seat | Player | Chip Count | Big Blinds |
| --- | --- | --- | --- | --- |
| 9 | 1 | Pau Phua | 6,455,000 | 54 |
| 9 | 2 | Tony Bloom | 1,200,000 | 10 |
| 9 | 3 | Elton Tsang | 7,920,000 | 66 |
| 9 | 4 | Brandon Steven | 8,850,000 | 74 |
| 9 | 5 | Guy Laliberte | 4,000,000 | 33 |
| 9 | 6 | Mark Teltscher | 3,750,000 | 31 |
| 9 | 7 | James Bord | 7,375,000 | 61 |
| 9 | 8 | Pat Madden | 4,275,000 | 36 |
| | | | | |
| 10 | 1 | Rick Salomon | 2,255,000 | 19 |
| 10 | 2 | Cary Katz | 6,220,000 | 52 |
| 10 | 3 | Alfred Decarolis | 13,825,000 | 115 |
| 10 | 4 | Zuo Wang | 1,840,000 | 15 |
| 10 | 5 | Andrew Pantling | 7,600,000 | 63 |
| 10 | 6 | Paul Newey | 2,805,000 | 23 |
| 10 | 7 | Jason Strasser | 5,585,000 | 47 |
| 10 | 8 | David Einhorn | 8,375,000 | 70 |
| | | | | |
| 11 | 1 | Bob Safai | 4,600,000 | 38 |
| 11 | 2 | Haralabos Voulgaris | 8,765,000 | 73 |
| 11 | 3 | Anatoly Gurtovoy | 4,475,000 | 38 |
| 11 | 4 | Sean Dempsey | 6,380,000 | 53 |
| 11 | 5 | Pierre Garand | 3,585,000 | 30 |
| 11 | 6 | Talal Shakerchi | 6,280,000 | 52 |
| 11 | 7 | Yaqi Sun | 2,645,000 | 22 |
| 11 | 8 | Dan Shak | 10,735,000 | 89 |