PLOmaggedon
Level 12 : 1,000/2,000, 0 ante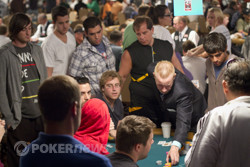 Prepare yourself for some mental gymnastics. PLO is a gambler's game, and if you've ever wondered why it's called four-card bingo, this ought to explain it.
The hand started like any other. Dario Alioto opened to 5,200. Emil "whitelime" Patel called from middle position, and Aaron Schaff called from the hijack. David Ewing in the cutoff only had 29,800 and tried to go all in. But Patel pointed out that he could only raise to 29,000, so he took back his 800, laughing about how it was going to change everything. Then the small blind, EPT Grand Final winner Ivan Freitez, cold called, and things started to get interesting. Alioto called as well, putting the action to Patel. He surprised everyone by repotting, putting himself all in for around 140,000. Oh boy.
Schaff called all in for about 105,000 . Ewing tossed in his last 800. And all eyes were on Freitez, who had everyone but Alioto covered. After a minute of thought, Freitez moved all in as well. It was 158,400 for Alioto to call. With four people all in in front of him, he could only shrug and make the call.
By this point, half of the players left in the tournament were crowding around the table and everyone was shouting at the dealer about how best to pull in the chips and separate the side pots. Five minutes in, the dealer was still counting stacks. The players couldn't wait any longer for showdown and started flashing their cards to each other. Somehow, no one had aces. With the floor calling for calm and the crowd closing in on the table, it was finally time for showdown and a board.
Ewing:
- covered by everyone (5.84% to win main pot)*
Schaff:
- covered by everyone but Ewing (22.01% to win main pot)*
Patel:
- covered by Freitez and Alioto (27.47% to win main pot)*
Freitez:
- covered by Alioto (21.42% to win main pot)*
Alioto:
- (19.7% to win main pot)*
At long last, the flop came
. Schaff was the only one with a spade draw, and Freitez hit two pair. The
on the turn gave Schaff a flush and Freitez a set of fours. He could scoop the whole thing if he hit a boat. The river was a total blank - the
. Schaff took the main pot and the smaller side pot, eliminating Ewing. Freitez took the rest, knocking out Patel. Alioto started shouting at the floor about needing to pay off an extra 20,000 to Freitez that wasn't in the pot. Finally the floor quieted him, the dust settled, and the chips were restacked.
Results:
David Ewing - eliminated
Emil Patel - eliminated
Aaron Schaff - 348,000
Ivan Freitez - 227,000
Dario Alioto - 351,000
Devilfish came over from the next table to add his two cents. "There's a cash game later, guys, and you're all invited."
*calculated at twodimes.net