Matt Waxman Eliminated in 7th Place ($58,093)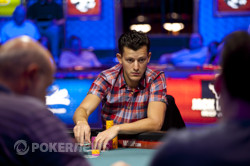 It took two hands to see Matt Waxman eliminated from this final table. The first was a Razz hand and it left him crippled and the very next hand was Stud and that sent him home.
The Razz hand began when John Monnette brought it in with a
. Paul Sokoloff then called with a
and Waxman completed with a
. Sokoloff called and drew and
, while Waxman drew a
. Sokoloff bet and Waxman called as Sokoloff drew a
and Waxman a
. When Sokoloff bet here, Waxman said, "I can not beat you in a pot, no matter what," and folded his cards.
That left him with less than a big bet and on the next hand, when the rotation was changed to Stud, Waxman committed the last of his chips during the first round of betting with an
showing against Abe Mosseri and John Monnette. Mosseri and Monnette battled it out until fifth street when Mosseri folded, and then the cards were turned face-up.
Monnette's
(in no particular order), was good for two-pair and enough to send Waxman's
into the muck.
For that effort, Waxman goes home with $58,093 and we are now six-handed.