Brunelli Busts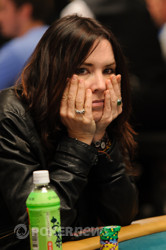 Annie Duke is in the field nursing a short stack sharing a few insights with her table and Dennis Phillips. Melanie Weisner is also in the same boat sitting with around 4,000 over in the bronze section. Randy Lew is also in the Bronze section, but seems to be moving in the other direction. With over 20,000 Lew continues to gather chips and put himself in great position.
We don't know exactly how the action went, but we do know after a series of raises Diego Brunelli was all in and at risk preflop.
Brunelli:

Opponent:
The board came
and Brunelli was eliminated when his pair of tens couldn't find any help.
Player
Chips
Progress

Randy Lew

24,000

8,000

Team Online

Erika Moutinho

22,000

5,000

Dennis Phillips

12,000

3,000

James Akenhead

12,000

-1,000

Max Pescatori

12,000

6,000

Cherish Andrews

10,000

4,000

Melanie Weisner

4,000

-12,000

Annie Duke

4,000

Diego Brunelli

Busted

Team Online Pro