Michael Gagliano Eliminated in 7th Place ($83,428)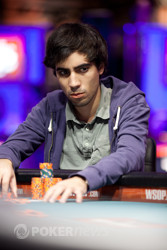 Michael Gagliano had only just doubled up when he found himself in another milestone of a hand. Let's take a peek at what happened.
Bradley Lipsey raised to 85,000 in first position, Joey Weissman made the call from his left shoulder and Michael Gagliano made the call in the big blind. The flop was
and the action checked through to Weissman who bet 125,000. Gagliano was next and he tanked before check-raising to 300,000. The grey-hooded Lipsey laid it down and the original bettor, Weissman, raised it up to 495,000!
There was a silence surrounding the table as the voyeurs realised that this pot was pretty serious. Gagliano riffled his newly won chips and pondered his next move. About two minutes elapsed before Gagliano moved all-in and Weissman called.
So Gagliano revealed top pair with a jack kicker and Weissman had him crushed with top two pair. The turn was the
and Weissman turned to his fans - who were delirious - and moved his forearm back and fore in delight. The rather irrelevant
was dumped onto the felt and the gracious Gagliano embraced Weissman before leaving in 7th place.