Steve Zolotow Springs the Ambush on Unsuspecting Amateur
Level 3 : 150-300, 0 ante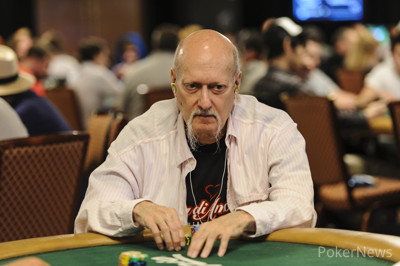 Earlier in the day we encountered a fairly common sight on the first day of a World Series of Poker tournament: a lively player with a larger stack than he started with, beginning to table talk as if the tournament was already won.
"See, now I called there, I just called," the player told his latest victim. "That means I might've had a flush draw, but you didn't notice."
With more than 45,000 during the first level of play, the player had plenty of reason to feel confident, and he regaled the table with stories of his strategic prowess.
"Now, I have my reasons for everything I do," the player continued, after opening for a large raise before the flop that many players would not consider to be standard operating procedure. "The number of limpers, my position, who's left to act behind me... there's a lot of factors behind my moves. It's something like a Rubik's cube."
Steve Zolotow, a noted tactician on the felt who has cashed dozens of times at the WSOP, winning two gold bracelets in his long and storied tournament career, decided to join the lively conversation, telling the player not to reveal too much so early in such an important event.
"Don't give away your strategy now," said Zolotow with a sinner's smile spreading across his face. "Just keep on doing what you're doing... it's working."
With the pit now dug and a thatch of fresh leaves laid over his trap, Zolotow returned his focus to the game at hand, and a few hours passed by without incident.
That is, of course, until Zolotow found the perfect opportunity to double through his mark. With the flop of
arranged neatly across the felt, and a bet already in front of the amateur opponent, Zolotow raised it up to 6,500 and stared silently into the ether.
"How much do you have left there?," said the player to the pro, before suddenly shoving his stack forward for an all-in move.
He soon found out that Zolotow had precisely 32,050 in his stack, as the experienced tournament player and veteran of the famed Mayfair Club in New York City snapped him off with
for a flopped set.
The once confident player could do nothing but turn over
in shock, his Rubik's cube suddenly a jumble of discordant colors. When the turn (
) and river (
) failed to deliver a face saving four, Zolotow secured a well deserved double, the predator having laid a trap hours earlier before waiting patiently to ambush his prey.