"Have You Met Richard?"
Level 20 : 10,000-20,000, 0 ante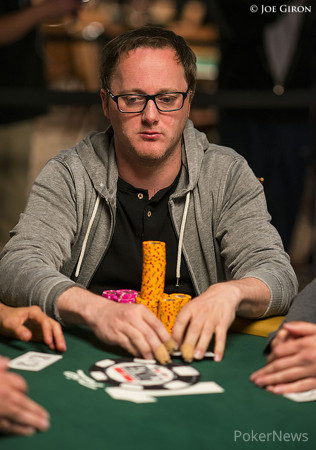 Jason McPherson check-called a bet from Richard Ashby on a board of
. The river was the
, McPherson check-called another bet, and Ashby tabled
- a straight and the nut low. McPherson showed
for trip tens.
Ashby was then involved in a three-way pot with Gregory Jamison and Marco Johnson on a flop of
. Jamison bet, Johnson raised, Ashby called, Jamison raised, and both Johnson and Ashby called.
The turn was the
, Jamison checked, Johnson bet, and Ashby raised. Jamison shot out out of his chair in disgust, then unhappily folded his hand. Johnson called.
The river was the
, Johnson checked, and Ashby quickly fired out a bet.
"OK," Johnson said, folding after a two-minute tank. "Set and a low."
Ashby didn't say a word.
"You had the wheel, right?" Johnson asked.
Again, no answer.
"Have you met Richard?" Andrew Brown asked Johnson, grinning.