Keeping it Close to the Vest
Level 13 : 800-1,600, 200 ante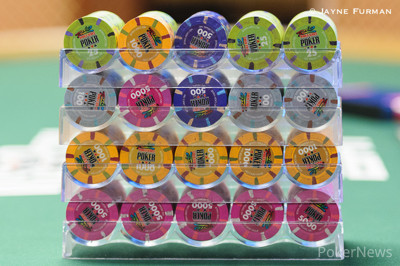 With hand-for-hand play entering its third or fourth deal, Richard Vest saw his chances of backsliding into the money slipping away with every 200 ante he was forced to sacrifice.
Down to just a single black T100 chip, things were looking bleak indeed for Vest, a resident of Okeechovee, Florida in town to compete in the World Series of Poker like thousands of other seniors.
Vest has cashed here at the Rio once before, when he finished in 268th place for $1,836 in a $1,000 No-Limit Hold'em event back in 2012, but even he couldn't imagine finding away to turn the trick again, not with one-half an ante left to work with.
That final chip was tossed into the pot blind and Vest peered down to peek at
, not exactly a monster hand but one which would likely be live against the ace-highs looking to send him home short of the money. After one player raised to isolate the vulnerable Vest, it turned out he wasn't even drawing live, as his ragged hand was up against
.
Vest was all but packing his things to make the ignominious walk of bubble shame, but in a flash the dealer and the deck decided his fate, as a
appeared right in the window to extend a tenuous lifeline. The pair of deuces dodged tens on the turn and river, and with that Vest managed to drag a pot containing right around 1,000 chips. At the same time, another player ran his multiple draws into two pair and whiffed, leading to the long awaited announcement that the bubble had burst.
After dwindling down to a lone chip, Vest rebounded to receive a payday here in the Seniors Championship, and shortly afterward his
managed to flop a flush to score him another pot.
He had the chip, and he still has his chair, so we'll see if Vest can continue the miraculous comeback and build a stack with which to start climbing the payout ladder.